Trump adjusted his tone, but not his message of a country in dire need of fixing
EghtesadOnline: The key moment of Donald Trump's presidential inauguration address came almost precisely at its midpoint, 722 words into the 1,433-word speech. That's when Trump transitioned from a litany of America's past failures to a vision of its future successes, announcing, "from this moment on, it's going to be America first."
Trump's closing crescendo brought his campaign slogan to the National Mall, promising to "make America strong again," then "wealthy," "proud," "safe," and finally "great again," accounting for five of Trump's 34 mentions of "America" or "American(s)" in the speech. That patriotic fervor set an all-time record for mentions of "America" or "American(s)" in an inauguration speech (24 mentions per 1,000 total words) and contrasted sharply with his predecessor, Barack Obama, whose two inauguration speeches mark a notable dent in the general uptrend of "America" mentions since 1789, Bloomberg reported.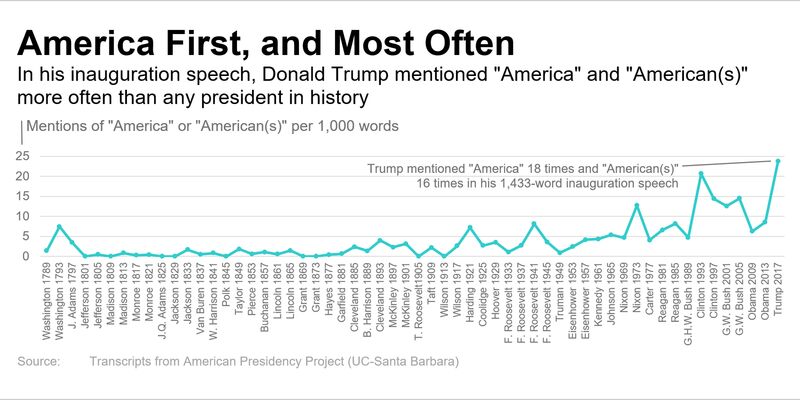 When Trump put "America First" in an international context, he continued to upend precedent. Trump called it "the right of all nations to put their own interests first," a far cry from the "ultimate goal of ending tyranny in our world" from George W. Bush's 2005 inaugural, or from the famous promise in John Kennedy's 1961 inaugural to "pay any price, bear any burden, meet any hardship, support any friend, oppose any foe to assure the survival and the success of liberty."
Trump did follow – or at least tiptoe into – his predecessors' footsteps when he adjusted his tone to fulfill the historical mission of an inauguration speech, broadening support beyond a new president's electoral base. His prepared remarks on Friday included four instances of "together," compared to just one in his 2016 Republican National Convention speech – the RNC mention referred to Republicans, not all Americans, and was in a speech four times as long as the inauguration address.
As past presidents have shifted from candidate to commander-in-chief, they've tended to replace the "me" language in their convention speeches with more "we" language in their inauguration speeches. So did Trump, whose sky-high self-references in the campaign gave way to an inauguration speech with fewer mentions of "I," "me," or "my" than any debate or other major moment in the past two years.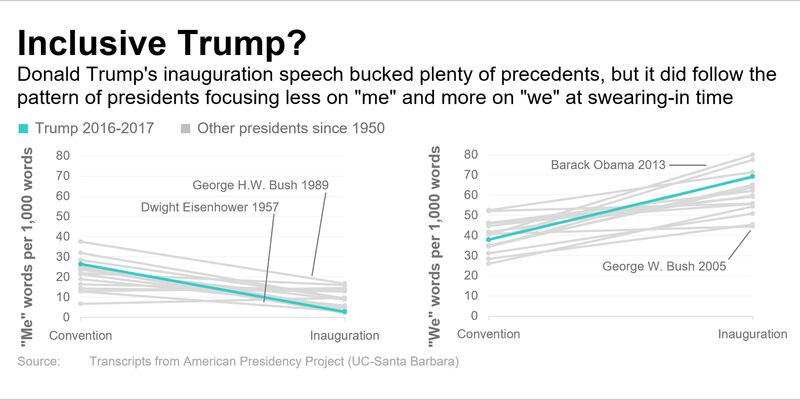 For all of his tonal adjustment, the most remarkable parts of Friday's inauguration speech were trademark Trump, packed with visceral descriptions of America gone awry. In fact, the 45th president's speech included these five words and phrases, among others, that have never before appeared in 228 years (and 135,602 words) of inaugural address history:
"carnage:" Trump's harrowing account of "American carnage" included several more words never before used in an inaugural address, like the children "trapped" in poverty, the crime that has "robbed" American potential, and abandoned factories as "tombstones" across the country.
"forgotten men and women": Trump worked the "forgotten man" into his stump speech late in the 2016 campaign, cribbing the line from Franklin Roosevelt, who mentioned "the forgotten man at the bottom of the economic pyramid" in his own 1932 campaign. But FDR chose not to use the phrase in any of his four inaugural addresses, so Trump became the first when he promised "the forgotten men and women of our country will be forgotten no longer."
"Islamic": Barack Obama used "Muslim" for the first time in his 2009 inauguration speech ("We are a nation of Christians and Muslims, Jews and Hindus and nonbelievers."), but Trump became the first to use "Islamic," and in a much different context. He promised to "unite the civilized world against radical Islamic terrorism, which we will eradicate completely from the face of the Earth."
"politicians": On a dais full of America's leading politicians, Trump didn't hesitate to call out politicians – twice. "Politicians prospered," he said of recent American history, "but the jobs left, and the factories closed." And later, "We will no longer accept politicians who are all talk and no action." Only William Harrison came close to such a line, when he much more optimistically said in 1841 that "the scheming politician" would be thwarted by "the spirit of liberty."
"America first": Trump's climactic line about putting "America first" was an inauguration-day first, too.