EghtesadOnline: National Front leader Marine Le Pen lost ground in the race to become France's next president as Republican Francois Fillon expanded his base among older and catholic voters and centrist candidate Emmanuel Macron gained traction, a major poll published Wednesday showed.
Le Pen led in most surveys until November and is now trailing Fillon, a former prime minister who won the Republican nomination last month promising tough economic reforms, the monthly Ipsos Sopra Steria poll for Le Monde newspaper and SciencesPo university showed. With 18,013 voters participating, the poll is roughly 18 times the size of typical French political surveys, according to Bloomberg.
Since the election of Donald Trump as U.S. president on Nov. 8, the French race has been closely-watched as another crucial battle between populist and establishment forces. The unexpected victory of Fillon in the Republican primary, Socialist President Francois Hollande's decision not to run again and the rise of newcomer Macron may be complicating Le Pen's efforts to turn her political success into an electoral victory in the two rounds of voting scheduled for April 23 and May 7.
Fillon would obtain between 26 percent and 29 percent of the votes in the first round and Le Pen would get between 24 percent and 25 percent, the poll showed. The National Front leader lost about 3.5 points since the last survey in November.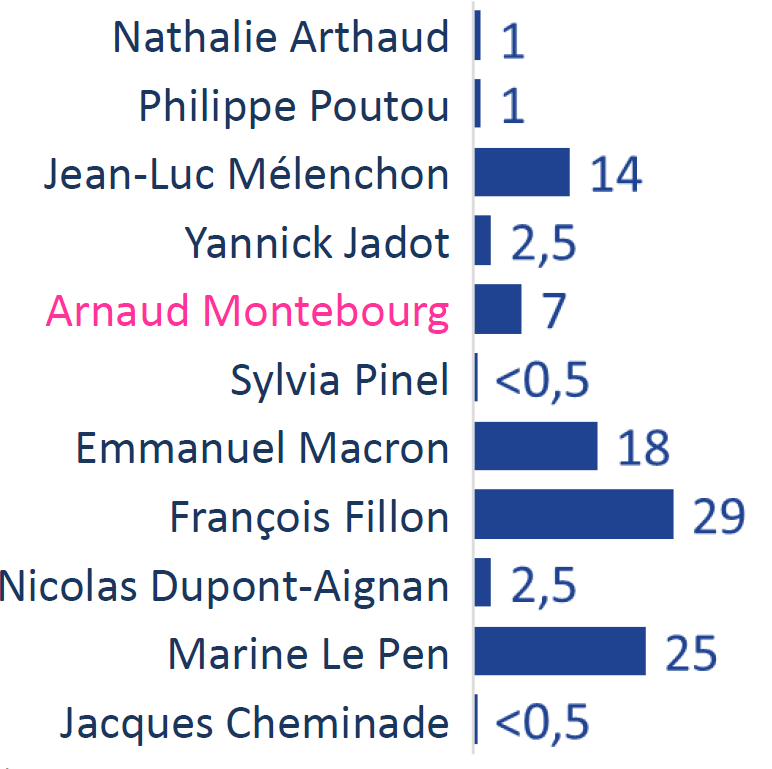 Ipsos Sopra Steria voting intention poll in case where Montebourg is candidate
Macron, a former minister under Hollande, is running as a centrist without affiliation to an established party and made the biggest gains. His support was as high as 18 percent, depending on who emerges as the Socialist party nominee from the party's January primary. At 38, Macron is the youngest contender in the race and is pitching himself as a fresh face in a country where most candidates have been in the public eye for decades.
The Socialists hold a primary contest in two rounds on Jan. 22 and 29 to select their presidential candidate. Former Prime Minister Manuel Valls is seeking the nomination, along with former ministers Arnaud Montebourg, Benoit Hamon and Vincent Peillon.