EghtesadOnline: As the world gets to grips with the unthinkable, the Middle East is bracing for the unknowable.
Donald Trump's presidential election victory throws up a wild card that's dividing opinion on whether it spells more or less trouble in a region beset by war and plunging oil revenue. His threat to bar Muslims from the U.S. reverberated around the Arab world and particularly in traditional allies like Saudi Arabia and Jordan, while he has called the nuclear deal with Iran a "disgrace."
According to Bloomberg, Trump's foreign policy is "terra incognita," said Aaron David Miller, vice president for New Initiatives at the Wilson Center and a former State Department adviser. There's a "volatility factor with Trump, a set of unknowns that is going to make many of our allies very nervous," he said.
Some argue a President Trump could encourage the hardliners in Iran if he scraps the accord. He also would embolden Syrian President Bashar al-Assad if he doesn't push back against his Russian support in the civil war while further distancing America from its Gulf allies. Others say that Trump's admiration of Russian President Vladimir Putin actually will mean less conflict and that his inexperience is a plus because he will seek advice.
"His constructive attitude to Russia would be a welcome new element in geopolitical stabilization generally, and for the region in particular," said Riad al Khouri, a director at political risk adviser GeoEconomica GmbH based in Amman, Jordan.
Messy Inheritance
The next U.S. president was always going to inherit a Syrian civil war with no end in sight. It's been going on for more than half of President Barack Obama's term in office. Another proxy conflict between Iran and the Saudis escalated in Yemen, while Gulf countries have already been angered by the Iranian nuclear deal. The U.S. has been leading a coalition against Islamic State extremists that is providing air support for Arab and Kurdish ground forces, but progress has been slow.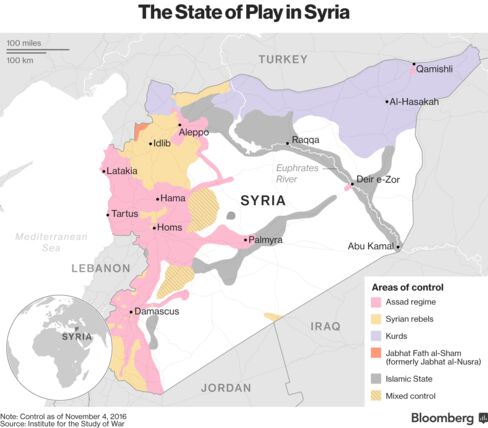 At least there is progress, unlike for the peace process between Israel and the Palestinians, and Trump is unlikely to spend time restarting it.
Anat Berko, a member of Israeli Prime Minister Benjamin Netanyahu's governing Likud party, said he will be "an excellent partner for Israel and will work to make Israel strong against our enemies." Nabil Abu Rudeineh, spokesman for Palestinian President Mahmoud Abbas, urged the president-elect to see Palestinians as key to a stable region and accept the "principle of achieving permanent peace in the Middle East based on the two state-solution."
Saudi Overhaul
On the economic side, low oil prices have forced Saudi Arabia into an unprecedented transformation. Trump told the New York Times in March that he might stop buying oil from Arab countries unless they committed ground troops to combat Islamic State or paid the U.S. for its efforts. Then there's Turkey, where the economy is suffering and the lira has sunk to new lows following President Recep Tayyip Erdogan's authoritarian drive.
The two countries where the impact of a Trump presidency might be most dramatically felt will be in Syria and Iran, where official reaction was swift. Iranian Foreign Minister Mohammad Javad Zarif said it's important for the future U.S. president to "comply with the commitments of the multilateral nuclear deal and we are certain that the international community also has this expectation."
Trump repeatedly criticized the 2015 Iran nuclear deal on the presidential campaign trail, calling it a "disgrace" and promising to renegotiate its terms or scrap it. Under either scenario, the U.S. likely would reimpose sanctions on foreign banks and companies.
Risky Strategy
If he does start over, it will weaken the moderates in Iran, including President Hassan Rouhani, said Paul Salem, vice president of the Middle East Institute in Washington. "It will be ideal for the right-wing in Iran and to tell Rouhani and his people, 'we told you so, you can't work with the Americans,'" said Salem. "For the region, this will mean doubling down on sectarianism and radicalism."
Retired Saudi General Anwar Eshki, who heads the Middle East Center for Strategic and Legal Studies in Jeddah, disagreed. He said a tough U.S. position on Iran could lead to the end of the hardliners' influence and foster peace elsewhere. "If the regime changes in Iran, the problems in Syria, Iraq and Yemen will end."
In Iraq, U.S.-backed forces are fighting to retake the Islamic State stronghold of Mosul. Trump has said he knows more about the jihadist group than the military and that he has a secret plan to defeat it. He said he would "convene my top generals" and give them 30 days to see what they can come up with. Yet in the wider Syrian war, which has killed close to 300,000 people, Trump is expected to even be less involved than the Obama administration.
"He will look favorably on a dominant Russian role in Syria which will certainly please the Assad regime and its allies," said Salem.
Cooler Relations
In the Gulf, U.S.-Saudi relations cooled under Obama and the kingdom has lost the clout it used to have in Washington. Trump suggested during the election campaign he would review support for Saudi Arabia because "we get nothing for it and they're making a billion dollars a day," though Eshki said the new president will come to realize how important the Saudis have been to the U.S. and the kingdom has been paying its bills to the U.S.
Trump's relations with the Gulf could be uneasy, said Dov Zakheim, former undersecretary of defense during the Bush administration. "He's a showman and he could turn on the charm," he said. "My guess is the Gulf states - the Saudis, the Emiratis - will see right through it."
Among ordinary Arabs and Iranians, there was the usual mix of hope and fear that goes with an electoral upset that's shocked much of the world.
Sitting in a shared taxi as news of Trump's win came out, Lebanese seamstress Rima Fattouh, 50, said she wished Trump "would get rid of these bad ideas he has about Muslims and try to make friends with us." "He will see how life will be better for the Americans and us," said Fattouh, as she adjusted her head cover.
After living through the U.S. war to remove Saddam Hussein and then the occupation, Kathem al-Darraji, a retired Iraqi civil servant, said he wanted the new president to be constructively engaged in the region and bring prosperity to it.
"The Americans claimed, and we believed them, that they came to Iraq for democracy and human rights, but they only came for their own interests and to undermine Arabs," said al-Darraji, 65. "We want the new president to be engaged for the good of all people, not just the Americans. That way, the hatred many Arabs feel for America will lessen."