EghtesadOnline: As the "Stronger Together" plane touched down in Cedar Rapids, Iowa, on Oct. 28, 11 days before Election Day, Hillary Clinton's advisers scrambled to piece together what FBI Director Jim Comey had just done -- and whether it could ruin her bid to become America's first female president.
"She got a little smile on her face," Palmieri recalled. "I said, 'What's that for?' and then I said, 'You knew we weren't done.'"
"Yeah,'' Clinton said. "I knew there'd be another twist in this road."
According to Bloomberg, Clinton has withstood more twists than maybe any candidate alive, except perhaps her own husband, former President Bill Clinton -- he the Comeback Kid, she the ultimate survivor. Not this time. A lifetime of political scrapes and personal drama caught up with Hillary Clinton once and for all, at the hands of an unorthodox and bombastic candidate who tapped into a deep well of American anger, much of it directed at her personally.
Dogged, Flawed
Interviews with more than a dozen of Clinton's advisers, surrogates and friends tell the story of a dogged -- if deeply flawed -- campaigner who concluded her best chance of prevailing against a role-shattering rival like Donald Trump was to come to the fight better prepared. Rely on data, infrastructure and plans over showmanship. Build a coalition of the groups Trump alienated. Stand aside and wait for him to damage himself. And always -- always -- expect something bad to happen.
She counted on Barack Obama's coalition of suburban women, young adults, black and Hispanic voters. She figured they'd be eager to make history a second time. She never tried to flip Trump voters, figuring they were part of a shrinking, dying Republican base.
She bet wrong, both ways. Trump was masterful at turning anger -- over lost jobs, lost wages, lost stature, a very nation at risk of being lost -- into votes. He was an outsider who called her the embodiment of the Washington establishment they reviled, and she never crafted a capable comeback. Nor did she craft a message to tell people why they should vote for her.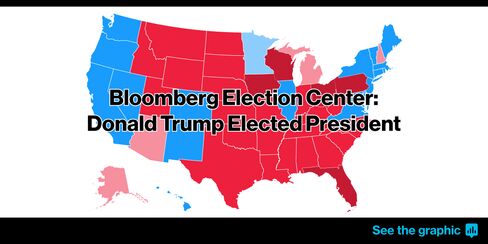 As for Obama's coalition, Clinton fell short. One-third of Hispanic men voted for Trump, according to exit polls, despite his vow to build a wall on the Mexican border. More than half of white women chose Trump. Almost half the voters who called themselves political independents also voted for the billionaire businessman.
Take one of the most storied counties in American politics, Macomb County, Michigan, the birthplace of blue-collar "Reagan Democrats." Obama won it with almost 52 percent in 2012. Hillary lost it with 42 percent this year. Multiply that result county by county, state by state, and Trump is going to the White House.
Her husband won with an obsessive focus on the economy. Hillary Clinton lost in part because she failed to convince voters that a real estate mogul who outsourced jobs and ducked federal taxes was the kind of person they should be angry at as they fretted over their own economic pain.
'Wrong Bet?'
"We made a data-driven assessment that we would win this race and build a coalition we needed by making this race about really big things like his divisiveness and his temperament," said Navin Nayak, the campaign's director of opinion research. As a result, the campaign placed less emphasis in advertising on showing how Trump's economic policies would actually harm Rust Belt voters.
"Did we make the wrong bet?" he said.
And then there was Comey. His on-again, off-again investigation into Clinton's use of a private e-mail server while she was secretary of state was in many ways the story of her political career condensed: a revelation, followed by stonewalling, conflicting explanations and finally a grudging admission that mistakes were made.
Public weariness for this sort of thing is so familiar, it even has a name: Clinton fatigue. And in a single day, voters may have issued a final verdict on one of the great dynasties in American politics.
Comey "reinforced our vulnerabilities," said Kristina Schake, Clinton's deputy communications director. "She's a really hard candidate in a change election, and she's been working to overcome that. The e-mails have been our Achilles heel throughout" because it reinforced people's questions about her, Schake said.
'We Had Control'
A little more than a week before Comey re-entered the picture, Clinton's aides had been giddy.
As she walked off the stage in Las Vegas after the third and final presidential debate, they believed her advantage over Trump in each debate had been decisive and left him especially damaged with women.
In the Clinton campaign's "boiler room" at the debate site, aides stuck three huge sheets of paper to a wall, marked "HRC," "DJT'' and "Moments" to track rhetorical hits and misses. When Trump said "I'll keep you in suspense'' over whether he'd accept the election results as legitimate, aides scribbled it on the "Moments" page as the boiler room erupted.
"After he basically said he wouldn't accept the results I think we felt like we had it," campaign chairman John Podesta said. "We had control."
It was reminiscent of the feeling the campaign had at the end of the Democratic primaries, when they vanquished a surprisingly tough candidate in Senator Bernie Sanders. There, they honed their general election messages -- competence, electability, qualifications.
It was also a test of how Clinton would deal with the burgeoning anti-Wall Street, anti-globalism sentiment in the country. Sanders hammered Clinton for giving paid speeches behind closed doors to Goldman Sachs Group Inc. and other financial institutions and her past support of free trade.
The campaign adapted. Clinton kept her distance from many of the Wall Street connections who in a normal year could have boosted her. Instead, she looked for strength among some of the most aggrieved black voters in the country -- the Mothers of the Movement, women who lost their children to gun violence and overzealous policing; residents of Flint, Michigan, whose water had been poisoned by lead; and many of the same black Southern voters who had passed her over for Obama eight years earlier.
They were just enough to vanquish the army of millennials who sustained the Sanders campaign. They were not enough to beat Trump.
Trump, the reality TV star who had once defended the Clintons' honor, was building a populist movement that depended in part on questioning Obama's U.S. citizenship, characterizing Mexican immigrants as criminals, doubting the allegiances of Muslim-Americans, denigrating women and emboldening white supremacists.
'Unstoppable'
"People forget, when Donald Trump won the primary, people were like, 'Oh my God, there's this global force marauding through Western culture,"' an anti-establishment wave that also propelled the British vote to exit the European Union, Mook said. "It felt unstoppable, it was impressive."
Again, Clinton's campaign tried to adapt. In addition to massive money, manpower and campaign infrastructure, Clinton's team had extensive polling and focus-group operations. Courting women and minorities was a no-brainer. But they found another opening: Early research showed people were troubled by Trump's temperament.
Nayak cited two other important discoveries: that college-educated white voters were breaking for Clinton in a way that defied expectations because of their aversion to Trump, and that Trump's own words were Clinton's most effective weapon.
In a campaign where free media became far more consequential than paid advertising, Clinton's team found their two most effective commercials against Trump juxtaposed images of children with audio and video of Trump using divisive words and coarse language or denigrating women.
But the polls had a a troubling finding for Clinton: By 2 to 1, people said they wanted a fundamentally new direction for the country. It was a case a former first lady, U.S. senator and secretary of state was incapable of making.
The Debates
Coming out of a successful convention in Philadelphia, Clinton was building a widening lead over Trump in national polls. The next markers for both campaigns would be the three presidential debates.
With her eye on solidifying support among women, Clinton used her first debate against Trump, in late September, to put him on the defensive. Near the close, she surprised Trump by bringing up his public criticism of Alicia Machado for gaining weight back when she was Miss Universe and he owned the contest. As Trump sputtered on the stage -- "Where did you find this? Where did you find this?" he demanded -- Clinton delivered her shot: "She has become a U.S. citizen, and you can bet she's going to vote."
Clinton was given another gift on Oct. 7 as she prepared for the second presidential debate. A 2005 outtake surfaced from an interview with "Access Hollywood'' in which Trump said he could kiss women or grab them "by the pussy'' and get away with it because he was famous.
But at Clinton's debate preparation session at the Doral Arrowwood Hotel in White Plains, New York, the candidate focused on another piece of news the same day, the official assessment by U.S. intelligence agencies that Russia was involved in e-mail hacks of the Democratic National Committee. Clinton said now that Russia had been fingered officially, she should call on Trump to acknowledge the conclusion and condemn Russian involvement.
One of her top aides, Jake Sullivan, said he didn't see how that would go very far because, of course, Trump would condemn the hacking. Clinton disagreed. "No he won't," she predicted. "He will not." She was right.
Playing Trump
To prepare for the debate, Megan Rooney, a former Clinton speechwriter at the State Department, proposed that Trump should be played by Clinton's former aide Philippe Reines, a colorful character whose combative relations with the press had unfolded in e-mails later made public. Sullivan embraced the idea. So did Reines, who wore lifts in his shoes and a back brace to approximate Trump's stature and posture, according to one of the people involved.
Clinton sipped Diet Dr. Pepper during the debate sessions, where aides said they threw everything at her. That including allegations about her husband's past infidelities and accusations lobbed at him by women, and questions about her own responses to those allegations. They knew Trump and his campaign might go that route. They didn't know exactly how or when.
The "Access Hollywood" tape and allegations from at least 11 women that Trump had groped them over the years paved the way for Trump's retaliatory move.
Just hours before the debate started, Trump staged a news conference with women who in years past had accused Bill Clinton of assaulting them. Trump's campaign also invited them to attend the debate. Palmieri and Schake heard about it while talking with a CNN reporter.
Immediately they were up and moving, texting Mook, Sullivan and Podesta: Get back to the boiler room. Clinton was still at the hotel with her aide and confidante, Huma Abedin. How she reacted in that moment remains between her and Abedin. By the time the rest of her team saw her, they said, she had her game-face on, she understood that Trump was trying to break her, and she dismissed the notion quickly. If it shook her at all, many close to her never saw it. Betsy Ebeling, Clinton's friend since childhood, said Clinton never spoke of the episode and that she never asked about it.
In mid-October, with the last debate behind her, polls showed a widening lead over Trump. Clinton was increasingly positioned for a win. Then came Comey's bombshell that Friday as she flew to Iowa.
Comey's Return
The investigation into her e-mails, and whether they had imperiled national security, became the single most damaging drag on her 2016 presidential campaign. It renewed questions about the Clintons' judgment, the interplay between her husband's foundation work and her policy decisions and her trustworthiness.
Even as Comey had taken criminal charges off the table back in July, his criticism of her judgment -- that she and aides were "extremely careless" with classified information -- was a damning blow hours before her first joint campaign appearance with Obama. It left a stain that prevented a complete political exoneration.
Now, long after that investigation was supposed to be over, Comey had returned to the spotlight with a terse announcement that newly discovered e-mails would have to be reviewed. He offered no guarantee he could answer the questions he was raising by Election Day. Finally, on Sunday, Comey said that the review didn't change his July findings. The Clinton campaign felt there was little upside to crowing about the conclusion because it would only call more attention to the controversy. She's barely mentioned it since.
Inspiration at Church
Two days after Comey announced that he'd reopened the inquiry, Clinton's running mate, Senator Tim Kaine, was in church on Sunday when Father Jim Arsenault told the story of Zacchaeus, an unpopular tax collector who climbed out onto the limb of a sycamore tree to see Jesus as he came through Jericho. Jesus visited Zacchaeus's home and declared him saved after he pledged to make amends to people he'd wronged.
"I said, 'Have any of you ever gone out on a limb?'" Arsenault recalled. Kaine's face "sort of lit up and I could tell he was engaged."
Though they rarely campaigned together and hadn't been particularly close before, Kaine and Clinton discovered an affinity for one another. Clinton, a Methodist, and Kaine, a Catholic, both saw scripture as a way to frame their values and thinking.
Arsenault wasn't thinking of the presidential race in his sermon, but on that particular morning, the fate of the campaign was very much on Kaine's mind after Comey's move. As Kaine's wife looked on incredulously, he whipped out his phone during the Mass and started sending a text. It's OK, he explained, I'm texting Hillary. ''I just couldn't help think about my running mate, who has spent a lifetime going out on limbs,'' he said, recalling Arsenault's words. Clinton acknowledged the epiphany, he said, with appreciation.
Counting on the Cubs
If the story of Zacchaeus served as a premonition to Kaine, Clinton was hoping for one from baseball. She was always a little superstitious. Before each debate, she fist-bumped with Sullivan, her policy adviser, for good luck. Clinton was intently following the Chicago Cubs' quest to win their first World Series title in 108 years, and aides fretted privately about the potential effect on her psyche if they lost.
The Wednesday before Election Day, as Clinton flew from Florida to Nevada to Arizona, the Cubs were playing in the decisive game seven of the series. Palmieri and other aides repeatedly told Clinton not to think of the game as having some cosmic bearing on the presidential election results.
Clinton watched some of the game backstage after speaking to 15,000 people at Arizona State University in Tempe. Not wanting to hold up her motorcade indefinitely, she climbed into her Chevy Suburban, where she watched the final few outs on Reines's iPad. After cheering the victory, she called out to Palmieri. "Hey Jen, pretty good omen, huh?"
Ebeling, the childhood friend, was back home in Illinois where she'd been watching the World Series all night at the edge of her seat. Overjoyed, and maybe a bit superstitious too, she texted Clinton, her dear friend from the sixth grade who would soon be the first woman to become president of the United States. The Cubs won!
Clinton texted back with one word that seemed to Ebeling to say it all: "Hallelujah."
A week later, vanquished by Trump, her campaign sent supporters home from what was supposed to be a victory party. Clinton never appeared.