EghtesadOnline: More than 12 million Turkish retirees, or about 15 percent of the total population, will get a check in the mail from the government a week before elections on June 24.
The ruling party says the payment will be the first of two tied to national holidays, yet to many they look more like a blatant and expensive effort to buy support for President Recep Tayyip Erdogan, who's seeking to extend his 16 years in power. The two payments of 1,000 liras each ($244) will cost Turkey an additional $5.9 billion by year end, according to Bloomberg.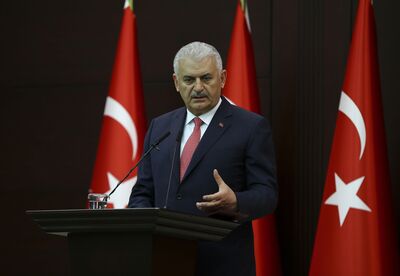 Binali Yildirim on April 30.
Photographer: Guven Yilmaz/Anadolu Agency/Getty Images
But it doesn't stop there. Prime Minister Binali Yildirim announced the windfall for retirees after a cabinet meeting on Monday as one of a raft of measures that'll forgive debts, erase interest payments, restructure fines, taxes and social security obligations -- and cost the government a fortune. Yildirim didn't provide a breakdown of the estimated costs.
The idea of distributing a pair of cash payments to retirees was originally proposed by the main opposition party in the run-up to an election three years ago. That sparked criticism from Deputy Prime Minister Mehmet Simsek, who said the party would deserve the Nobel Prize and get his vote if it could figure out how to meet those promises without increasing debt, exploding the current-account gap or "taking Turkey to a crisis."
Simple Politics
In a statement on consultations with Turkey earlier this year, the International Monetary Fund warned that Turkey's economy appeared to be "overheating" on the back of state-backed incentives that have boosted consumption. It also urged policy makers to deliver a "front-loaded monetary tightening" to help control inflation.
The incentives announced by Yildirim show the ruling AK Party headed in the opposite direction, according to Tim Ash, a strategist at BlueBay Asset Management in London, who also said the extra spending comes as no surprise.
"Having announced a hit-and-run election, the AKP will leave nothing to chance to ensure victory," Julian Rimmer, a trader at Investec Bank Plc, said by email on Tuesday. "I'm not sure where the government can find $5.9 billion to incentivize voters and how well thought-out the economics are, but the politics are simple."