EghtesadOnline: The anti-establishment Five Star Movement said it's seeking new elections in Italy as early as June after efforts to start government talks with both the center-right alliance and the center-left Democratic Party failed.
"At this stage there is no solution other than returning to elections as soon as possible, then of course the decision will be up to" President Sergio Mattarella, Five Star leader Luigi Di Maio said on Monday in a video statement on Facebook. He called on the League's Matteo Salvini, also leader of the center-right, to join him in seeking the new vote.
The search for a new Italian government is at an impasse two months after a general election produced a hung parliament. With the political forces at odds with one another, the center-right received a boost on Monday as results of local elections in the northern region of Friuli-Venezia Giulia put its candidate ahead. That followed a win in the southern region of Molise earlier this month, Bloomberg reported.
Italian government bonds extended losses, sending the 10-year yield to an intra-day high of 1.82 percent after Di Maio's video message.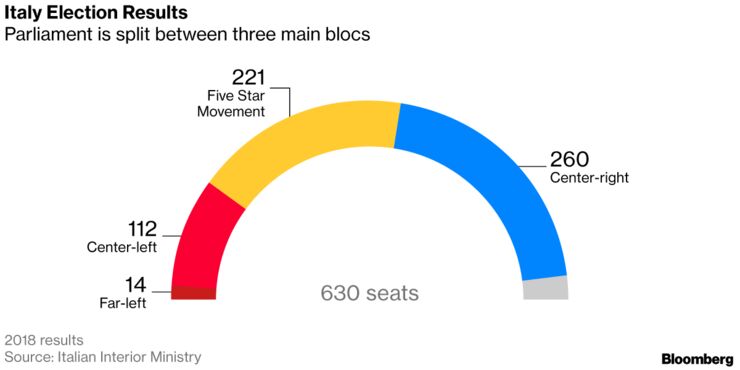 General elections "in June would be very hard, if not technically impossible," said Roberto D'Alimonte, professor of political science at Luiss University in Rome. "It is more likely that Italy will vote again in September, with caretaker premier Paolo Gentiloni leading an institutional government until then."
Support for the League was close to 22 percent compared to 17.4 percent at the March 4 election, according to a survey by Demos & Pi conducted on April 26 and 27. The Five Star Movement remains the most popular party with about 33 percent of backing, similar to what it got in March, and the Democratic Party is third with 17.8 percent, down from 18.7, the poll showed.
"A new election would be a de facto ballot between Salvini and Di Maio. The center-right and the League would be more favored than Five Star in this scenario -- it is more likely that Salvini will be able to obtain a majority, even if this is not certain," said D'Alimonte.
Renzi's Stance
In his video message Di Maio blamed former premier and the Democratic Party's ex-leader Matteo Renzi for throwing into disarray an attempt to begin discussions for government forming with the Five Star.
Renzi, who counts many loyal lawmakers in the Parliament houses, reiterated in a televised interview on Sunday night his opposition to government talks without waiting for a meeting of his party's executive scheduled May 3.
Di Maio also criticized Salvini for failing to hold exclusive talks with Five Star for "a government of change" and for remainig loyal to the other parties of the center-right coalition, including former premier Silvio Berlusconi's Forza Italia.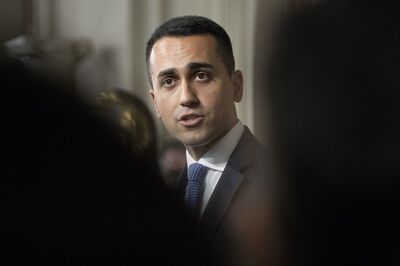 Photographer: Alessia Pierdomenico/Bloomberg
Salvini's decision appeared to be vindicated as early returns suggested that more than half of voters in the Friuli region of 1.2 million people bordering Austria and Slovenia backed the alliance's candidate, Massimiliano Fedriga from the League, with more than 90 percent of ballots counted. The Five Star's candidate was running third.