EghtesadOnline: Even by the standards of Crown Prince Mohammed bin Salman, whose meteoric ascent has put him on the cusp of the Saudi throne at the age of 32, the Saturday night crackdown was stunning.
In just a few hours, security forces arrested princes, billionaires, ministers and former top officials as soon as King Salman announced a sweeping anti-corruption drive. Those detained included billionaire Prince Alwaleed bin Talal, who was picked up at his desert camp outside Riyadh, according to a senior Saudi official. Before midnight, the suspects' names were already being leaked to local media, first as initials and later in full. Saudi media put the total of those in custody at more than three dozen, including 11 princes and four ministers and former officials. No charges have been filed, according to Bloomberg.
The king also relieved Prince Miteb bin Abdullah from his post as head of the powerful National Guard, taking out one of the last senior royals that had survived a series of cabinet reshuffles that promoted allies of his son. Prince Mohammed became heir to the throne in June when his cousin was removed in a palace shakeup.
The scale of the campaign fits into the style of the royal -- known overseas as MBS -- with a knack for shock and awe. Since 2015, the prince has embarked on an unprecedented shakeup to prepare the economy for the post-oil era, plunged the kingdom into war in Yemen and severed diplomatic and transport links with neighboring Qatar. In the meantime, he has taken control of every lever of power from defense to oil policies.
Sidelining powerful opponents has long been part of Prince Mohammed's rise to the throne, and "he is only a few steps away from that now," Ayham Kamel, head of the Middle East and North Africa department at Eurasia Group, told Bloomberg TV. The purge also aims to deliver a wider message: "Mohammed bin Salman will require loyalty," he said.
Investors' Struggle
The round-up risks overwhelming local and foreign investors struggling to get their heads around the rapid changes shaking the kingdom. The benchmark Tadawul All Share Index dropped as much as 1.4 percent, the most since Oct. 11, on Monday after edging up 0.3 percent Sunday.
Two weeks ago, he unveiled a blueprint for Neom, an envisioned megacity on the Red Sea backed by more than $500 billion in investments. A conference last month held at a convention center adjacent to the palatial Ritz Carlton in Riyadh, drew some of the world's top bankers and financiers, including Blackstone Group LP Chief Executive Officer Stephen Schwarzman.
On Sunday morning, a reporter found the Ritz compound completely shut -- the massive gates uncharacteristically closed -- without a security guard in sight amid speculation the detainees were being held there. A duty manager reached on mobile said that the 492-room hotel was closed and guests were told the hotel had been taken over for government use. A note on its website said that "due to unforeseen circumstances, the hotel's Internet and telephone lines are currently disconnected until further notice."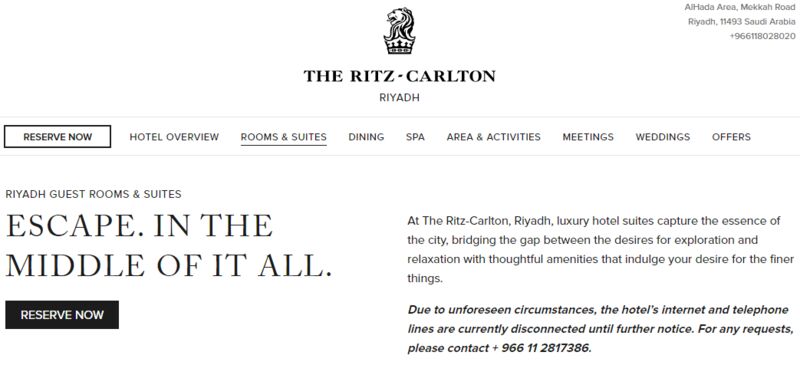 A screenshot of the message on the Ritz Carlton Riyadh's website.
Alwaleed Arrest
The arrest of Prince Alwaleed, a major shareholder of companies including Citigroup Inc. and Twitter Inc., "could well dampen international interest in investing in the crown prince's much-heralded Vision 2030 to make the non-oil private sector the new motor of the economy," said David Ottaway, Middle East fellow at the Wilson Center.
Overseas investors weren't MBS's main audience, though. The prince's move appeared designed to tap into a popular vein among young Saudis who are bearing the brunt of low oil prices and complaining, privately and on social media, that the kingdom's elite were above the rule of law.
"Anti-corruption is definitely a new campaign in Saudi Arabia and it's an effort by Mohammed bin Salman to present himself as a reformist, as a popular figure who cares about the people, but there is certainly a political dimension to this," Eurasia's Kamel said.
Public reaction was initially positive.
Many shared a clip from a television interview earlier this year in which the crown prince said nobody was above the law. Trending Saudi hashtags on Twitter, a key barometer in a country where polls are banned, on Sunday included one celebrating the purge as the "November 4 Revolution."
Saudi Pride
The decision "made us proud as Saudi citizens," Fatimah Al-Qhtani, a resident of the eastern city of Khobar, said in an interview. "Our leadership has ensured that we are equal, that corruption has no place among us and that we are all accountable for what we do."
Conversations with seven other Saudis who asked not to be named showed a more mixed reaction. Some viewed the announcement as a sign that even the powerful could be held accountable even as it smacked of a power grab; others saw it as a pure political play.
On Saturday, the king also replaced Economy and Planning Minister Adel Fakeih with Mohammad Al Tuwaijri, his deputy. Removing Fakeih, who was close to MBS, helps "prevent the move from being seen as a witch hunt of critics or potential rivals," said Miriam Eps, regional security analyst at risk-management consultancy Le Beck International. "He cannot be seen as a critic or obstacle to MBS."
Al Tuwaijri, a former HSBC Holdings Plc banker, was already a member of the crown prince's inner circle in charge of steering the economy through the transition away from oil. In the past two years, the government has cut subsidies and slashed capital spending to lower a ballooning budget deficit. Authorities also plan to introduce value-added taxes for the first time next year.
As austerity measures undermine a decades-old social contract based on exchanging welfare in return for unquestionable loyalty, "a visible crackdown on corruption tells the country that they can trust the government to not misuse their money," Eps said.
In the short run, however, the scale of change may prompt businesses to pause before committing more in the biggest Arab economy.
"The attack on major figures in the Saudi economy is really puzzling," said Gregory Gause, a professor of international affairs at Texas A&M University and a Saudi specialist. It's "a time when the kingdom is encouraging investment both from the local private sector and foreigners."