EghtesadOnline: German Chancellor Angela Merkel outlined her post-election agenda, saying she'll seek a coalition with the Free Democratic Party and Greens while keeping her options open on further integration of the euro area.
Thirteen days after an election that sent support for her Christian Democratic Union-led bloc to the lowest level since 1949, according to Bloomberg, Merkel faced criticism of her policies and style by delegates at a CDU youth convention who said she's straying from the party's conservative roots and demanded she rejuvenate her cabinet.
While polls suggest that Merkel, 63, retains broad support among her bloc's supporters, the contentious meeting in Dresden on Saturday points to the forces buffeting the chancellor as she seeks to build a fourth-term government after 12 years in office. Before that, she needs to settle a resurgent conflict with her Bavarian sister party over limits on migration.
"This might seem like squaring the circle, but with a bit of goodwill it should be possible," Merkel said of calls by Bavaria's Christian Social Union party for an upper limit on migration, which she again rejected during her speech in Dresden. And "it's clear that difficult negotiations lie ahead" with the FDP and Greens, she said.
Taking up calls by French President Emmanuel Macron for more integration in the euro area, Merkel stuck to her stance that the role of a joint finance minister for the currency union needs to be defined first. "Shared debt without oversight won't happen as long as we are in charge," she added, referring to the CDU-CSU.
'Crushing Defeat'
Support for Merkel's bloc declined in the Sept. 24 election by almost 9 percentage points to 32.9 percent. That leaves Germany's biggest political grouping dependent on allying with two smaller parties after the Social Democrats fell to 20.5 percent and said they're ending their coalition with Merkel. A date for starting coalition talks hasn't been set yet.
"The SPD isn't in a position to govern at the national level for the foreseeable future," Merkel said.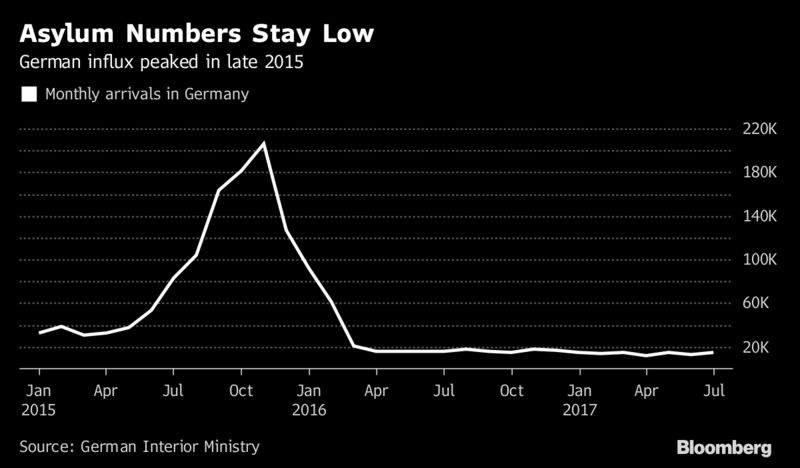 The election was "a crushing defeat" for the CDU-CSU bloc, Hans Reichhart, a Bavarian delegate, told Merkel during an open-floor debate after her speech. A delegate who urged Merkel to resign was booed.
The chancellor gave little ground, including on the refugee issue, which she acknowledged was polarizing Germany and wouldn't go away anytime soon. Taking up a demand by the youth organization, she pledged to put any coalition contract with the Greens and the pro-market Free Democrats to a vote by a party convention.