EghtesadOnline: Russian President Vladimir Putin again rejected U.S. calls for new sanctions against North Korea after its sixth and most powerful nuclear test, echoing China's resistance to more punitive measures to pressure Pyongyang into abandoning its atomic and missile programs.
The Russian leader criticized sanctions as "useless and ineffective," instead urging the international community to offer security guarantees to North Korea, according to Bloomberg.
"They'll eat grass, but they won't abandon their program unless they feel secure," he told reporters Tuesday at an emerging markets summit in Xiamen, China, which was hosted by his Chinese counterpart Xi Jinping.
U.S. Ambassador to the United Nations Nikki Haley said Monday the Trump administration would seek the strongest possible sanctions against Kim Jong Un's regime. Kim was "begging for war" after testing what he claimed was a hydrogen bomb, she said after a meeting of the UN Security Council.
Haley said the U.S. would circulate new draft sanctions and wants the Security Council to vote on them Sept. 11. Trump administration officials including Secretary of State Rex Tillerson and Defense Secretary James Mattis on Wednesday will hold an all-senators briefing on North Korea.
Japan backed the U.S., with Deputy Prime Minister Taro Aso on Tuesday calling for additional measures. "There's no chance of talks progressing without increasing pressure," he told reporters in Tokyo.
But Haley also signaled the limitations of sanctions during an event in Washington on Tuesday, saying, "Do we think more sanctions are going to work? Not necessarily, but it cuts off revenue to allow them to develop missiles."
The standoff between North Korea and the U.S. has become the most dangerous foreign crisis facing President Donald Trump, as the isolated state accelerates its program to develop weapons of mass destruction.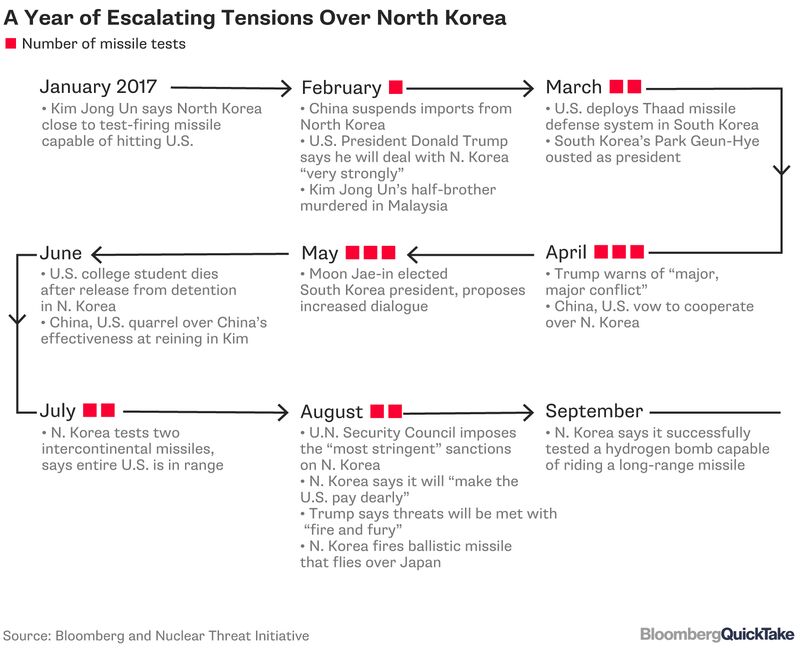 Even before North Korea detonated its most powerful nuclear bomb on Sunday, Japan was calling for moves to cut off its oil supply. Afterward, Trump threatened to halt all trade with any country that does business with Kim Jong Un's regime. China, which supplies most of its food and fuel, called the warning "unacceptable."
Chinese Foreign Ministry spokesman Geng Shuang batted off a question at a briefing in Beijing on whether his nation would consider limiting oil shipments to North Korea. "The actions and reactions of the Security Council will depend on the conclusions reached through debate by its members," Geng said, according to an official transcript.
Since the Korean War, Beijing has avoided prodding North Korea to the point it might collapse, fearing a destabilizing economic blow and the possibility of the U.S. military gaining influence on its border via a unified Korea. That calculation has held even while China's interests have diverged from those of North Korea.
Even so, South Korean Foreign Minister Kang Kyung-hwa said Tuesday that her Chinese counterpart Wang Yi told her that Beijing is open to additional sanctions.
ICBM Launch
South Korea's Defense Ministry on Wednesday denied a local media report that the country requested the U.S. to deploy an aircraft carrier near the maritime border with North Korea.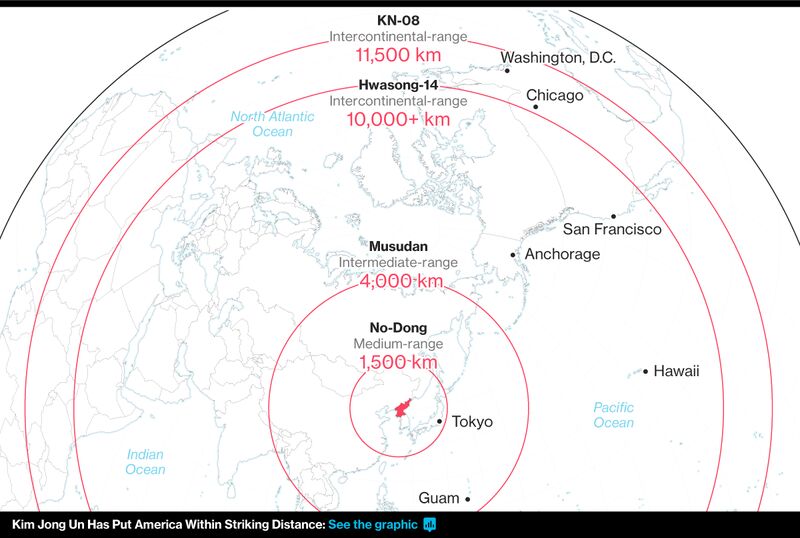 The Seoul-based Asia Business Daily reported Tuesday that North Korea was preparing to launch an intercontinental ballistic missile before Saturday. South Korea's Defense Ministry declined to comment on the report that said the ICBM was being moved to a launch site.
South Korea has detected "continued activities" related to North Korea missile tests, according to a government official who asked not to be named in line with government policy.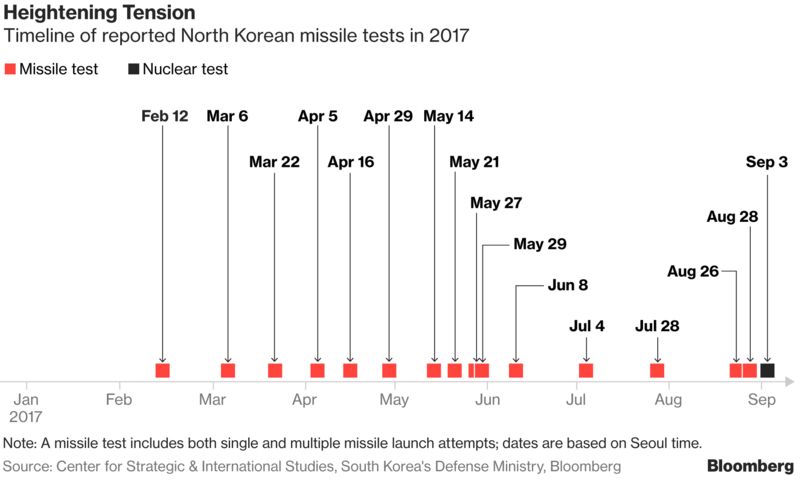 Sunday's test, North Korea's first since Trump took office, was a "perfect success" and confirmed the precision and technology of the bomb, the regime said. Energy from the underground explosion was about six times stronger than the last test a year ago, South Korea's weather agency said.
Commercial satellite imagery, obtained the day after North Korea conducted its largest nuclear test, appears to show numerous landslides throughout the nuclear test site and beyond, according to an analyst report on the 38 North website. The report said there doesn't appear to be any evidence of a collapse crater.