EghtesadOnline: U.S. President Donald Trump agreed to support billions of dollars in new weapons sales to South Korea after North Korea's largest nuclear test, while his ambassador to the United Nations said the U.S. would seek the strongest possible sanctions against Kim Jong Un's regime.
Ambassador Nikki Haley, said Monday at a meeting of the UN Security Council that Kim was "begging for war" after testing what he claimed was a hydrogen bomb. "Only the strongest sanctions will enable us to resolve this problem through diplomacy," Bloomberg quoted her a saying.
Hours after Haley spoke, the Seoul-based Asia Business Daily reported that North Korea was preparing to launch an intercontinental ballistic missile before Saturday. In a phone conversation with South Korean President Moon Jae-In on Monday, Trump said he'd support "in principle" the U.S. ally fitting its missiles with heavier warheads, boosting its deterrence against North Korea.
Trump and Moon "agreed to maximize pressure on North Korea using all means at their disposal," according to the White House statement. Trump "provided his conceptual approval" for South Korea to buy "many billions of dollars' worth of military weapons and equipment" from the U.S.
Haley said the U.S. will circulate new draft sanctions and wants the security council to vote on them Sept. 11.
South Korea meanwhile said it had detected preparations by North Korea for another possible ICBM launch in the aftermath of its sixth and most powerful nuclear detonation.
The isolated state is moving an ICBM slowly during the night to a launch site, and there's a high chance of a launch before the September 9 national foundation day, the Asia Business Daily reported, citing an unidentified intelligence agency official. The newspaper mainly focuses on business and economics.
The standoff between North Korea and the U.S. has become the most dangerous foreign crisis facing Trump, eclipsing continued military operations in the Middle East and Afghanistan.
Chang Kyung-soo, acting chief of the Defense Ministry's policy planning office, told lawmakers in Seoul on Monday that North Korea was readying a missile firing, but didn't give a timeframe. The Yonhap News Agency cited the South Korea's spy agency as saying there is a chance Pyongyang could fire an ICBM into the Pacific Ocean. North Korea has previously threatened to launch missiles toward Guam.
South Korea's Defense Ministry will review "various possible options" to find a "realistic" solution to North Korea's threats, spokesman Moon Sang-gyun told reporters in Seoul on Tuesday. He was clarifying Defense Minister Song Young-moo's comment yesterday that redeployment of U.S. tactical nuclear weapons could be an option.
The nation's navy also began live-fire drills involving 20 vessels -- exercises that will continue through Saturday,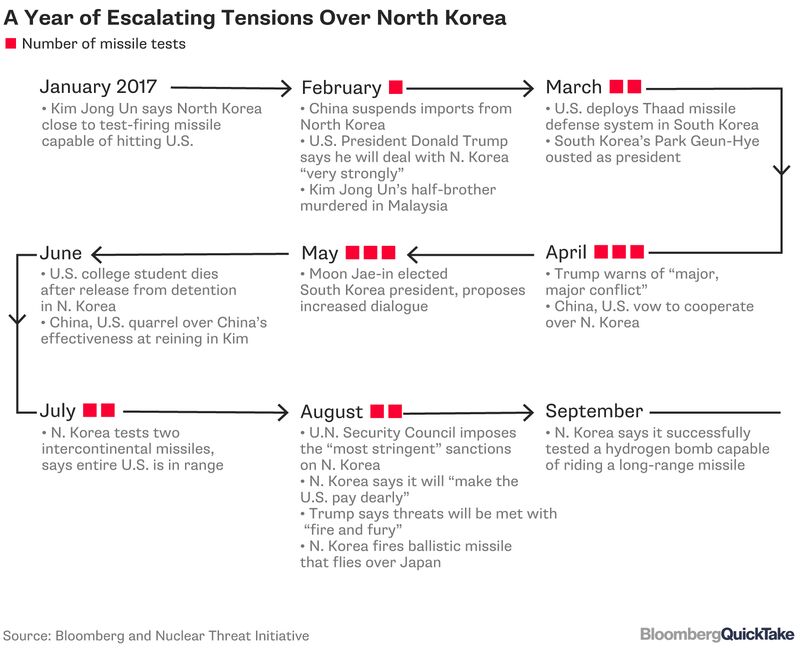 South Korea has removed the final administrative hurdle for the full deployment of a U.S. missile defense system known as Thaad, which China views as a threat to the region's "strategic equilibrium."
South Korea's military also conducted a live-fire drill on Monday, firing a surface-to-surface ballistic missile and air-to-ground rocket into the sea between the Korean peninsula and Japan, with North Korea's nuclear test site the virtual target.
Haley reinforced Trump's threat on Twitter to cut off trade with nations that do business with North Korea, though many observers say that would be an unlikely step. While the U.S. has often threatened a China trade war, Trump is yet to follow through, in part given the risk that would create for his own economy.
China is North Korea's main ally and trading partner. It is also the U.S.'s biggest trading partner. Foreign Ministry spokesman Geng Shuang said Trump's trade comments were "neither objective nor fair."
"What is definitely unacceptable to us is a situation in which on the one hand we work to resolve this issue peacefully but on the other hand our own interests are subject to sanctions and jeopardized," Geng said at a regular briefing in Beijing.
Trump, who reportedly threatened over the weekend to pull out of the U.S.-South Korea trade agreement, had taken aim on Sunday at President Moon's administration. South Korea is finding its "talk of appeasement with North Korea will not work," he said on Twitter.
In response, Moon's office said war shouldn't be repeated and that South Korea and its allies "will pursue the denuclearization of the Korean peninsula through peace."
Moon took power in May pledging to seek talks with Kim's regime. He initially opposed the early deployment of Thaad though has shifted in recent months as North Korea advanced its push for an ICBM that could strike the U.S.
The tensions between the allies comes as Trump's administration looks to convince China and Russia to support stronger sanctions against North Korea. While Trump didn't rule out an attack on the regime when asked by a reporter on Sunday, the focus of his tweets and remarks by Treasury Secretary Steven Mnuchin were on sanctions. China and Russia oppose using military force against Kim.
Moon said in a phone call with Russian President Vladimir Putin that it is time for the UN to "seriously consider to fundamentally block North Korea's foreign currency sources by cutting off crude oil supplies and banning its overseas labor," according to a text message Monday from Moon's office.
Sunday's test, North Korea's first since Trump took office, was a "perfect success" and confirmed the precision and technology of the bomb, the regime said. Energy from the underground explosion was about six times stronger than the last test a year ago, South Korea's weather agency said.