EghtesadOnline: North Korea fired an unidentified ballistic missile over Japan on Tuesday, rattling Asian markets as the U.S. and its allies weighed a response to Kim Jong Un's latest provocation.
The missile landed in the Pacific Ocean about 1,200 kilometers (745 miles) east of Japan's northern island of Hokkaido, Chief Cabinet Secretary Yoshihide Suga told reporters. South Korean President Moon Jae-in ordered a show of force in response, with four F-15K jet fighters conducting bomb-dropping drills, Bloomberg reported.
"A missile passing over Japan is an unprecedented, grave and serious threat," Prime Minister Shinzo Abe told reporters in Tokyo. Abe said he spoke with President Donald Trump for 40 minutes, and they agreed to increase pressure on North Korea. He also called for China and Russia to take action. There was no immediate statement from the White House or Trump tweet after the launch.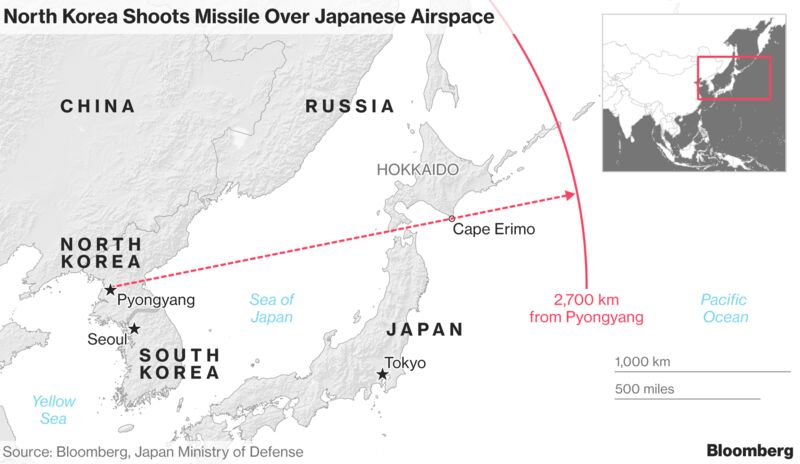 It was the first North Korean projectile to fly over Japanese airspace since the regime launched a rocket over Okinawa in 2016, and undermines nascent hopes for dialogue with North Korea. That's after tensions had appeared to cool following a war of words between Trump and Kim earlier this month.
With sanctions having little impact and any war likely to be catastrophic, the U.S. and its allies have few good options to stop Kim from obtaining the capability to hit North America with a nuclear weapon.
"North Korea is acting as if it's a nuclear weapons state," John Park, director of the Korea Working Group at Harvard Kennedy School, told Bloomberg Television. "You can draw any number of red lines; in North Korea's mind they're on the cusp of getting itself the capabilities that are in the realm of the great powers."
South Korean stocks led regional losses, with the Kospi index sliding as much as 1.6 percent in morning trade, while haven assets from gold to Treasuries and the yen advanced. Futures on the S&P 500 Index dropped 0.6 percent.
While Trump spoke with Abe, there was no official statement so far from the White House. Last week Trump said Kim was "starting to respect us," a shift in tone after he vowed earlier in the month that threats from North Korea would be met with "fire and fury." He has previously said military force is an option to prevent Kim from gaining a nuclear-tipped intercontinental ballistic missile.
North Korea has said it won't place its nuclear program on the negotiating table unless the U.S. drops its "hostile" policies. It has strongly protested annual military exercises now underway between the U.S. and South Korea, saying they are aimed at regime change and could spark an accidental war.
After North Korea fired three short-range missiles on Saturday, Secretary of State Rex Tillerson continued to push for dialogue with North Korea. South Korea also urged talks.
Following the launch on Tuesday, Japan asked the United Nations Security Council to hold an emergency meeting and said now wasn't the time for dialogue.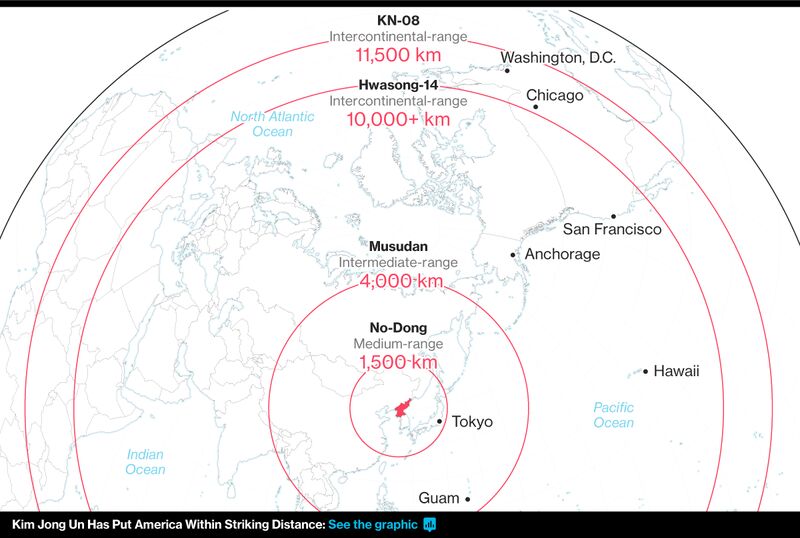 "This will make it more difficult for the U.S. to get Japanese support for diplomacy, unfortunately, at exactly the time when the situation is heating up," said David Wright, a co-director of the Union of Concerned Scientists. He called the launch a "big deal," saying North Korea previously tested missiles at a high trajectory to avoid flying over Japan.
The missile was launched from near Pyongyang, traveled 2,700 kilometers in an easterly direction and reached an altitude of 550 kilometers, South Korea's military said.
It was likely an intermediate-range ballistic missile, according to Japanese Defense Minister Itsunori Onodera. Japan didn't shoot it down after an assessment that it wasn't aimed at its territory.
Pyongyang had threatened earlier this month to fire a missile over Japan toward the U.S. territory of Guam, which prompted threats of retaliation from American military officials.
Japanese Foreign Minister Taro Kono told reporters that the launch of a missile to the east, rather than south towards Guam, showed Pyongyang "flinched" in the face of U.S. warnings.
North Korea has shown recent advancements in its technology by testing ICBMs at high altitudes, reflecting progress toward being able to reach the continental U.S. with a nuclear warhead. That has happened despite further international sanctions aimed at squeezing Kim's economy.
Missile Defense
"They flew the missile over Japan because they felt the need to test a missile over a longer range," said Ralph Cossa, president of the Pacific Forum CSIS in Honolulu. "By firing it into the North Pacific, it makes it harder to recover the pieces and warheads than if they flew it toward Guam."
Japan and South Korea have both stepped up their efforts on missile defense. After the latest launch by North Korea, Seoul released footage of tests last week of its own ballistic missiles, according to Yonhap News. China has voiced opposition to its neighbors beefing up missile defenses, saying they could also be used to counter its own capabilities.
While China backed UN sanctions earlier this month that crimped a third of North Korea's exports, it has resisted cutting off food and fuel supplies that are vital to the survival of Kim's regime. China is wary of doing anything that would lead to North Korea's collapse, a scenario that could potentially put U.S. troops directly on its border.
Trump may see more success at getting North Korea to halt testing by sending an envoy directly to Pyongyang, said John Delury, an associate professor of Chinese studies at Yonsei University in Seoul.
"The road to Pyongyang does not go via Beijing," he said. "It goes straight from Washington to Pyongyang."