EghtesadOnline: North Korea threatened the U.S. on Tuesday, saying it will face "merciless revenge" for ignoring Pyongyang's warnings over annual military drills with South Korea.
The isolated nation said it would be a misjudgment for the U.S. to think that North Korea will "sit comfortably without doing anything," the state-run Korean Central News Agency said, citing an unidentified military spokesman. The ongoing drills and visits of U.S. military officials to South Korea create the circumstances for a "mock war" on the Korean peninsula, KCNA said.
According to Bloomberg, the comments represent a more belligerent tone after a war of words between the U.S. and North Korea appeared to have subsided. U.S. President Donald Trump praised North Korean leader Kim Jong Un last week for waiting to launch missiles over Japan into waters near Guam, after previously warning of "fire and fury" if he continued to threaten the American homeland.
Tensions increased in July after North Korea conducted two intercontinental ballistic missile tests. Trump has said military force is an option to prevent Kim from gaining an ICBM that could deliver a nuclear weapon to the U.S.
On Monday, South Korea President Moon Jae-in said North Korea shouldn't use the latest round of drills as an excuse for any further provocations. The exercises "are not aimed at raising military tensions on the Korean peninsula at all," Moon told Cabinet members.
Kim made a visit in early August to a guard post about 1 kilometer (0.6 miles) from the border with the South, Yonhap News reported, citing unidentified South Korean government officials. The South Korean military considers the visit an unusual act and is preparing to prevent a possible military provocation, Yonhap said.
Kim's regime also unveiled a video of its threat to fire missiles near the U.S. territory of Guam, Yonhap reported.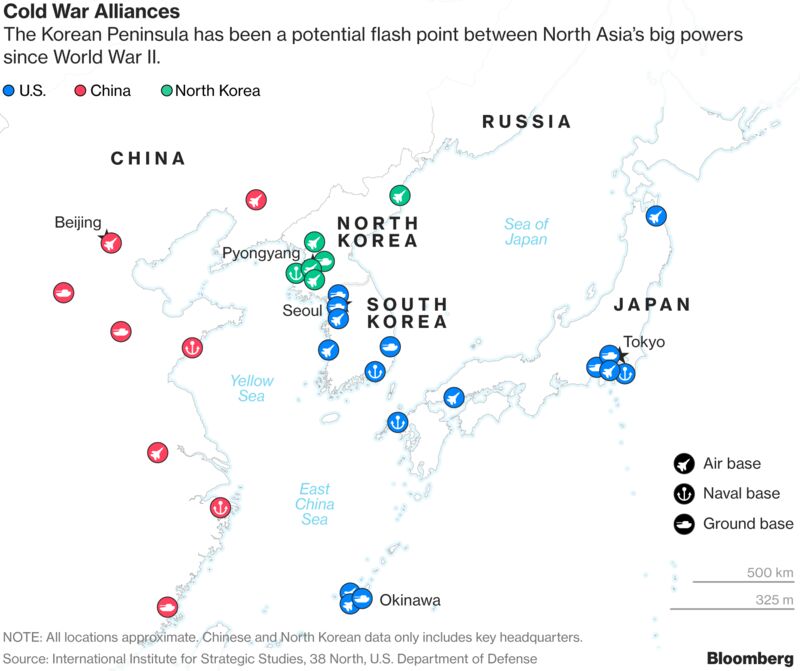 The Ulchi-Freedom Guardian military drills routinely spark condemnation from North Korea. During last year's drills, North Korea launched a ballistic missile from a submarine and put its military on the highest alert.
The exercise is a computerized command-and-control simulation, said a spokeswoman for U.S. Forces in Korea. It will be of similar size to last year's event with no field training, she said.
About 17,500 U.S. service members are taking part, down from 25,000 last year. Defense Secretary James Mattis said the reduction in numbers simply reflects a need for fewer personnel, and hasn't been scaled back in response to tensions with North Korea.
The U.S. should never forget that North Korea is watching its moves closely with "fingers on triggers, ready to pour a fire shower of penalties at any time," according to KCNA.