EghtesadOnline: Martin Schulz's biggest obstacle to returning Germany's Social Democrats to power may not be Angela Merkel but a feel-good economy that's proved more egalitarian than its European peers.
The chancellor's main opponent in the Sept. 24 election is struggling to ignite his candidacy with a platform of social justice amid a stretch of 12 quarters of unbroken growth. "Just because Germany is doing well doesn't mean everyone in Germany is doing well," Schulz told Der Spiegel magazine in comments published Aug. 3. "Many Germans aren't doing well at all."
According to Bloomberg, polls suggest his pitch is a hard sell at a time when Germans are happier with their economic situation than in any of the last five election cycles. Europe's biggest economy expanded 0.6 percent in the second quarter, driven by domestic demand, the Federal Statistics Office said Tuesday.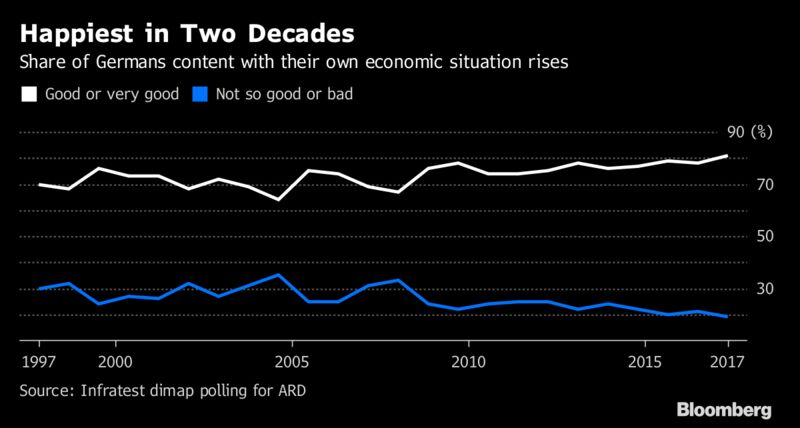 What's more, measures of income inequality and distribution during much of Merkel's 12-year tenure put Germany at the low end of the scale among major European economies. The chancellor, a Christian Democrat, regularly touts the solid economy at campaign stops.
Germany's Gini coefficient, a measure of household-income disparities, eclipsed even the traditionally egalitarian Netherlands, according to the most recent data from the Organization for Economic Cooperation and Development. The data include capital income and public transfers while stripping out income tax and social-security contributions.
European Union data suggest that income distribution in Germany had widened midway through her latest term compared with her first full year as chancellor in 2006, after Merkel took over from Social Democrat Gerhard Schroeder. Yet the gap remained below the EU average and stayed within a narrow range after 2007.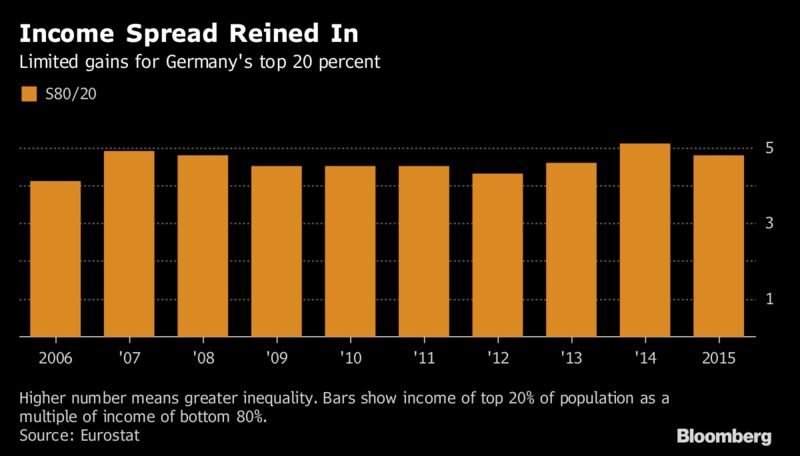 Schulz, 61, took over last spring as leader of the 154-year-old SPD, Germany's oldest party, whose roots go back to the industrial-era struggle for workers' rights. With unemployment at a historic low, he's making a broad campaign pitch for a just society, including safe retirement benefits, equal pay for women and comprehensive free child care.
After an initial poll surge, the Social Democrats have fallen back as polls suggest Germans are more concerned about migration than about pensions or the economy. With less than six weeks to go until the election, Merkel's Christian Democrat-led bloc leads the SPD by 12 percentage points in the Bloomberg Poll Tracker.