EghtesadOnline: For North Korea's fledgling economy, the latest round of sanctions will cut deep. The curbs on everything from lead and fish exports to shady North Korean companies coincide with a deadly drought that's ruining crops, darkening an already dire humanitarian picture.
An estimated 40 percent of the population is already under nourished and two-thirds are reliant on food aid, according to estimates by the United Nations Food and Agricultural Organization and the World Food Programme.
Rajiv Biswas, Asia-Pacific chief economist at IHS Markit in Singapore, expects a "severe recession" this year as sanctions crimp the mining and manufacturing industries, which together make up 33 percent of North Korea's output, Bloomberg reported.
But for all the humanitarian and economic pain, the new measures aren't likely to deter Kim Jong Un from his ambition of developing an arsenal of nuclear-tipped missiles. That's because Kim, who's banking on military power to survive, has a web of illicit channels to skirt sanctions and the new curbs leave out the vital ingredient of oil.
"North Korea's dependency on Chinese fuel is China's choke hold on Pyongyang," said Dennis Wilder, former senior director for Asia at the National Security Council during the George W. Bush administration. "If this goes, the North Korean air force can't fly jets and their electricity system can't function."
China Trade
Even after North Korea last year had its quickest expansion since 1999, its per-capita gross national income is meager at around $1,300.
The nation's total trade value was $6.55 billion in 2016, up 4.7 percent from the previous year, according to the Korea Trade-Investment Promotion Agency in Seoul. Trade with China accounted for about 93 percent of the total.
While China in February banned coal imports from North Korea, analysts say the effectiveness of this and the latest sanctions depends on total trade and how rigorously Beijing implements the new curbs. The so-called Hermit Kingdom purchased $935 million worth of exports from China in the three months through June, 17 percent more than in the same period a year earlier, Chinese official data shows.
'Important Leverage'
"Oil is absolutely critical to the stability of the North Korean economy," Bradley Babson, Chair of the DPRK Economic Forum at the U.S.-Korea Institute, John Hopkins School of Advanced International Studies, told Bloomberg Television. "Both Russia and China over several decades have used oil as important leverage in their relations with North Korea."
He said there is a lack of transparency on the amount of oil that China sells to North Korea.
"North Korea is very aware that China could pull the plug on them any time they want to," Babson said.
China has been regularly accused of failing to fully implement previous UN resolutions. And as other nations shunned trade with North Korea in recent years, China has shown a willingness to step in to fill the gap.
While China backed the latest UN sanctions in a bid to cool tensions on the Korean Peninsula, it also fears that the collapse of Kim's regime could lead to a refugee crisis and U.S. troops on its border. The Communist Party-affiliated Global Times said in an editorial last week that Beijing should stay neutral if North Korea strikes the U.S. first, but block the U.S. and South Korea from toppling Kim.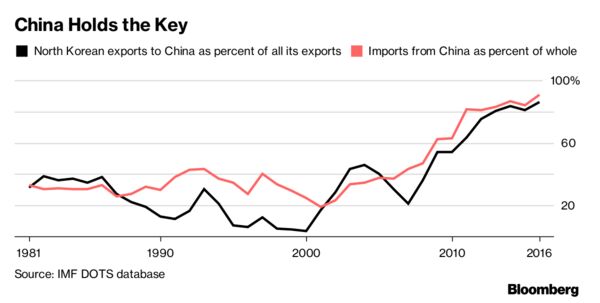 "China is leaving a life line for North Korea," said Yang Moo-jin, a professor at the University of North Korean Studies in Seoul.
China has said its imports from North Korea fell 13 percent to $888 million in the six months to June 30 compared with the same period a year earlier. Yet data from its customs bureau also shows that the trade surplus remains, thanks to a steady stream of Chinese exports.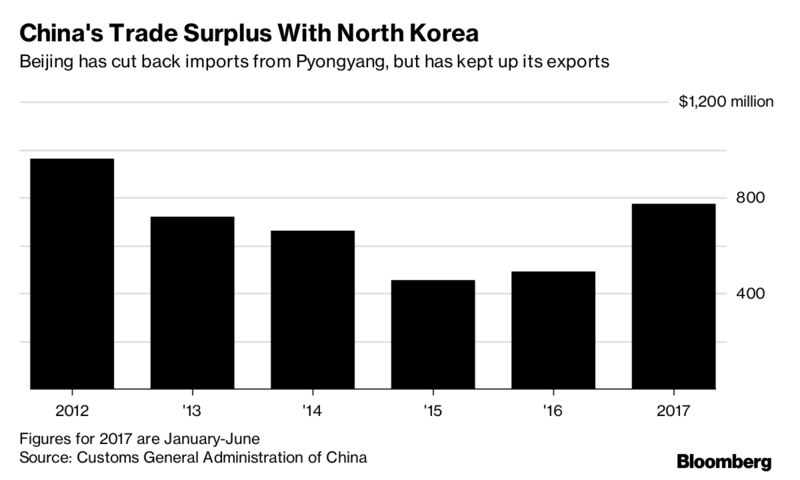 Even if China does cooperate more fully in sanctions, North Korea is already well versed in sidestepping such penalties, said Henri Feron from the Center for Korean Legal Studies at Columbia University.
He cites the case of North Korean seafood, which is sold internationally and packaged to say it comes from China. Feron said efforts to crack down on North Korean businesses and workers outside the nation will be hampered by the difficulty in tracking them.
North Korea has streams of income from selling weapons, drug smuggling, operating about 100 restaurants in 12 countries and money sent home by as many as 60,000 citizens working in more than 50 countries, according to the South Korean foreign ministry and United Nations.
"The fact that North Korea can circumvent certain sanctions should not, however, distract from the fact that they undeniably have a negative effect on the North Korean economic development," Feron said.
In its latest round of sanctions, the UN Security Council aims to cut North Korean exports by about $1 billion a year, ban the opening of new joint ventures or cooperative entities with North Korea, and cap the number of North Koreans working in other countries at current levels. Existing joint ventures would also be prevented from expanding their operations.
Estimates from Seoul indicate the North Korean economy may have grown by an average 1.2 percent annually during Kim Jong Un's era -- and as much as 3.9 percent in 2016 -- compared with 0.2 percent when his father Kim Jong Il led the country.
Getting a true gauge of the situation is notoriously difficult and South Korea's central bank has cautioned that Pyongyang's weapons development actually feeds into investment and production and can boost GDP growth in the North.
It is clear though that the economic gap with South Korea remains enormous.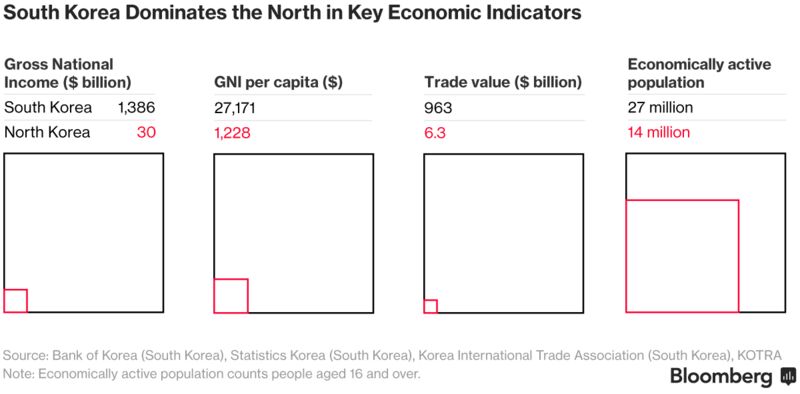 But the survival instinct, not economic calculations, appears to be driving Kim Jong Un's decision making. The increased sanctions may prompt the regime to double down with nuclear and missile tests, said Kim Byung-yeon, a professor of economics at Seoul National University who recently wrote "Unveiling the North Korean Economy."
"If Kim Jong Un stops nuclear and missile tests because of sanctions, that would reveal his weakness," he said. "Kim may think he needs more weapons development because of the sanctions."