EghtesadOnline: Britain is having a flashback to the 1970s, and it's not flared trousers making a comeback.
As Parliament breaks for the summer, Prime Minister Theresa May needs to come up with answers to the political drama unfolding at home and threatening her Brexit strategy as investors predict more trouble on the horizon for a country once seen as the stable counterpoint to European turmoil, Bloomberg reported.
You would have to go back 40 years to find a time when the country was deemed this politically risky, according to Mark Dowding, a London-based money manager at BlueBay Asset Management.
The ambivalence toward Europe, the political fragility of the government and a population grown weary of making sacrifices are all reminiscent of a time when Britain was tormented over whether to join a forerunner of the European Union and an economic crisis forced it to seek a humiliating bailout.
"Back in the 1970s the U.K. went to the IMF eventually and that's likely where we will be once more," warned Dowding. "We seem to have created some self-inflicted wounds here and it looks like we'll be struggling for some time."
Like Edward Heath in 1974, May took a gamble in calling a snap election only for the Conservatives to lose their majority. Unlike him, she stayed on but with her future the subject of constant speculation and her rival, Labour leader Jeremy Corbyn, waiting in the wings with a promise to loosen the fiscal reins.
The latest poll shows that no prime minister since 1977 has been as unpopular as she is a mere month after prevailing in elections. The next big test of her authority will be the Conservative conference in October, where challengers for the leadership might emerge.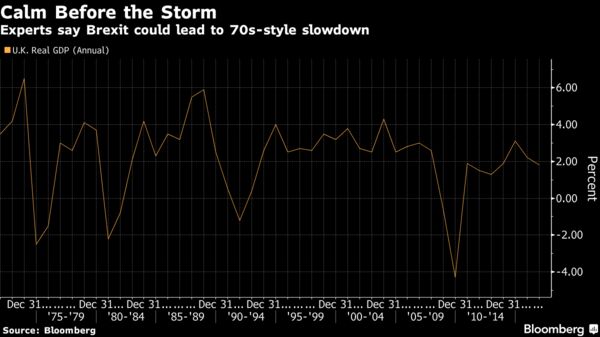 Eurasia Group Managing Director Mujtaba Rahman said that "even though May will survive through to the party conference it's unclear whether she survives on the other side of that."
The fallout from the Brexit vote, May's tenuous position and a heightened security alert have created a level of turmoil rarely seen since the so-called lost decade when widespread labor unrest and political instability played out against a backdrop of terrorist attacks by Irish republicans.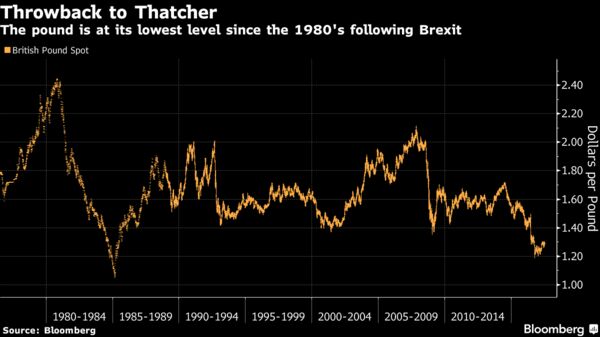 The weakness of sterling was one of the factors weighing on investor confidence in the 1970s. High levels of public spending aimed at reviving a moribund economy led to double-digit inflation and a pound crisis.
Finally in 1976, a Labour government sought an unprecedented loan from the International Monetary Fund and was forced to make deep spending cuts. Fast forward to now and the budget and trade deficits continue to play on economists' minds, while the pound has dropped sharply since the shock 2016 referendum result.
"The U.K. has a less stable political situation than many emerging markets," said Ben Kumar, a money manager in London at Seven Investment, which oversees about 10 billion pounds ($13 billion). "You can see that reflected in the value of sterling. The pound never used to move on political announcements, but you'd be hard pressed to say that today."
Ultimately the 1976 crisis showed the dangers of propping up a sick economy with stimulus but voters are demanding the same again, with young Britons fired up over Corbyn's plans to re-introduce free university tuition. May is struggling politically to stick to austerity and ratings companies have raised the alarm.
"What we see unfolding in the U.K. is an increase in the pressures facing the government to loosen the fiscal purse," said Yves Lemay, a managing director at Moody's for sovereign risk.
So how did the story end 40 years ago? A succession of strikes against government-imposed pay caps, with trash piling up in the streets and bodies left unburied, became known as the "Winter of Discontent." Five years of unstable Labour governments came to an end when Prime Minister James Callaghan lost a motion of no confidence by a single vote.
The aftermath saw Margaret Thatcher sweep to power on the back of the slogan "Labour Isn't Working," ushering in 18 years of Conservative rule.
To be clear, there are key differences in the situation then and now. There is still appetite for government debt, inflation is under control and interest rates are at historic lows. However, the takeaway is not to get too comfortable.
"The upheaval we are currently observing, might, in fact, just be the calm before the storm," said Florian Otto, Head of Europe Research at global risk consultancy Verisk Maplecroft.