EghtesadOnline: The French are voting Sunday for the fourth time in two months and the main outstanding question is just how big a majority they will hand President Emmanuel Macron.
Polls from Harris and OpinionWay last week projected that Macron's Republic on the Move movement, known as REM, may take up to 80 percent of the seats in the 577-member National Assembly. Both estimated that REM will have between 440 and 470 deputies together with its allies. That would be the biggest landslide in a quarter century, according to Bloomberg.
The 39-year-old Macron was elected president in May after creating a centrist political movement that brought together millions of moderates who in the past had backed the Socialists or Republicans. Those two parties had dominated French politics for decades but Macron has pushed them to the margins during his first month in office, cementing his popularity with some high-profile positions on climate change and economic reform, and poaching some of their leading members for cabinet positions. In the parliamentary elections, he's also benefited from low turnout.
"It's a vote of validation," said Yves-Marie Cann, head of political studies at Elabe. "There is no suspense. But they should be careful because the large majority they'll have in the National Assembly is not reflective of the country as a whole."
French markets have rallied since Macron topped the polls in the first presidential ballot on April 23, signaling that the populist threat of Marine Le Pen's National Front would be held in check. The spread between French and German 10-year government bonds has more than halved, to about 35 basis points on Friday, while France's benchmark stock index is up about 4 percent.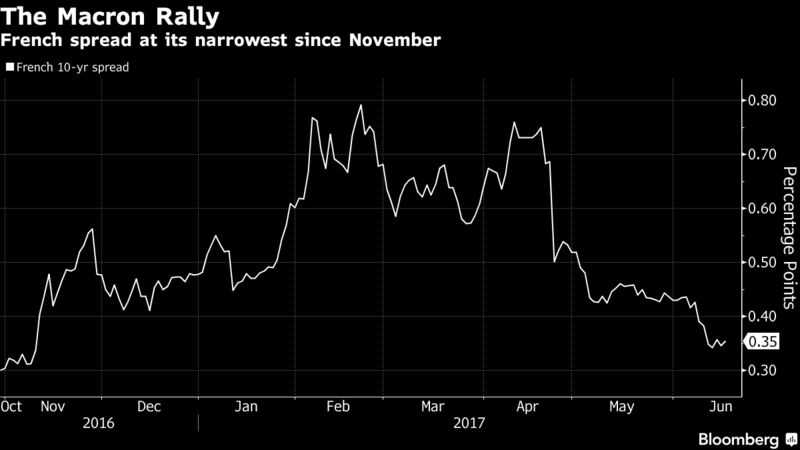 Polls open at 8 a.m. Paris time and most booths will close at 6 p.m., though local prefects can allow voting to continue until 8 p.m., when the first results can be reported. The interior ministry will release turnout figures at noon and again at 5 p.m. In 2012, about 55 percent of registered voters went to the polls in the second round, but Odoxa says only about 47 percent will bother this time.
Historic Victories
After Sunday though, the French get a break -- there are no nationwide elections in 2018. Voters will elect their European Parliament representatives in 2019, city councils in 2020, and departmental and regional councils in 2021, and, if the past is any guide, these elections will partly be judgments on the national government. The Senate will be selected this September, but it's elected indirectly and has limited powers.
Republic on the Move, or REM, won about 33 percent of the vote in the first round of voting last Sunday, when 49 percent of those registered showed up, a record-low turnout. Four candidates won enough votes to be elected in the first round, with all the other districts holding runoffs this Sunday.
REM candidates made the second round in 453 circumscriptions and its MoDem allies qualified in another 62. Pollsters say most Macron candidates who made the second round are favorites because their centrist appeal enables them to scoop up votes from eliminated candidates, whether on the right or the left.
Macron's victory looks set to rival the historic majorities of the Fifth Republic -- former President Jacques Chirac's center-right party won 398 seats in 2002 and 472 in 1993. But Chirac faced a united Socialist party holding most of the rest of the legislature, whereas Macron's opposition looks set to be split among several parties all facing internal problems after a bruising presidential campaign.
Macron's Plans
With his majority in place, Macron plans to have his cabinet transcribe some elements of France's emergency rule into common law at the June 21 cabinet meeting, and then a week later give the government the power to liberalize France's labor code by decree. Parliament will debate those measures in July. Macron wants to also start working over the summer on changes to France's tax code that would cut labor costs.
The scale of Macron's expected majority has revived calls in France to make the electoral system more proportional, which is the rule in all its neighbors.
"The question is how someone who got 14 percent of registered voters and ends up with 70 percent of the deputies," defeated far-left presidential candidate Jean-Luc Melenchon said on Europe1 June 16. "That's the unhealthiness of France's presidential monarchy."
Introducing some proportional representation was part of Macron's campaign pledge and Prime Minister Edouard Philippe said June 13 on France Info some degree of proportionality would be "useful," though didn't give details.
Proportional representation in France has been rejected over the years because it would allow the anti-immigration National Front to get a toehold in parliament. The Front's Le Pen won 34 percent of the vote in the second round of the presidential election, yet her party is expected to win fewer than 10 seats in parliament.