With only four basic requirements and an eye on Mars, the agency is inundated with applications.
EghtesadOnline: It's not too late to be an astronaut. NASA doesn't have an age limit for this gig, and the basic requirements aren't as onerous as you might think. The odds of scoring one of those coveted seats to the stars, however, are getting long.
The U.S. space agency named 12 new astronautsWednesday—a hyper-elite squad winnowed from 18,300 applicants. That's right, in every 100 CVs, Uncle Sam finds .07 astronauts.
There have been about 350 professional star voyagers in the nation's history. Some 56 of them are active or in training and 22 are "management astronauts" no longer eligible for a space flight. About 60 are deceased. Given the numbers, a more realistic career goal might be playing quarterback in the NFL or running a Fortune 500 company. The pay for both of those paths would be far better, to boot, Bloomberg reported.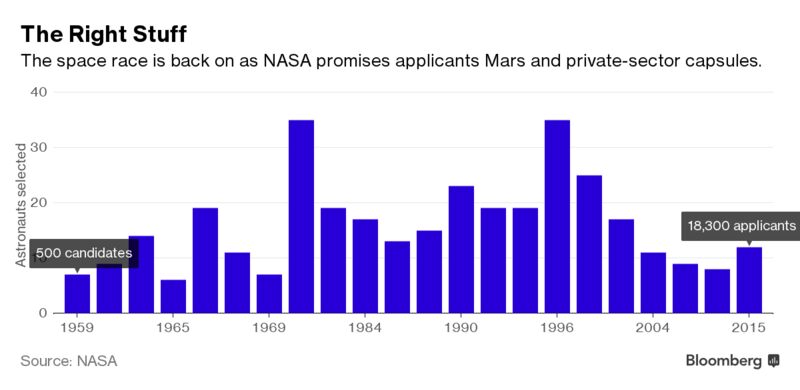 That said, the requirements for your latest job were likely tougher than NASA's most recent "astronaut" classified listing. One no longer has to be a test pilot or a rocket scientist. Donald Trump and Mark Zuckerberg probably wouldn't make the cut (not enough schooling), but virtually every high school science and math teacher does, as well as physicians and professional pilots.
"Some people would be surprised to learn they might have what it takes," NASA Flight Director Brian Kelly said in soliciting the current crop of candidates. "We want and need a diverse mix of individuals to ensure we have the best astronaut corps possible."
Getting in the door requires four things:
U.S. citizenship.
A Bachelor's degree in engineering, science or math.
The ability to pass a NASA physical (20/20 vision is a must but glasses and corrective surgery are accepted).
1,000 hours flying a jet or three years of "related, progressively responsible, professional experience" (graduate school and teaching both qualify).
After NASA tosses the applicants who don't meet those criteria, a panel of 50 people—mostly active astronauts—narrow the list to a few hundred top prospects. These are the folks who have their references called.
The field is then shrunk to 120 candidates. They are brought in for more medical screening and "intense interviews." Finally, 50 of them are called back for a week of more of interviews and medical screening. (It helps to know how to swim and speak Russian.)
For the recent search, NASA estimated at least 3 million U.S. residents would have met the basic requirements. Not all of them applied, but Americans do seem particularly keen on the space race these days. Applications almost tripled from the past hiring round as NASA played up the likelihood of a busier flight schedule. In calling for candidates, the agency noted incoming crews will soon be able to fly to space from Florida—rather than rural Russia since the Space Shuttles were mothballed—as it brings online new crew capsules from both Boeing Co. and SpaceX. Meanwhile, the agency is prepping its new Orion craft for deep-space missions, pushing to launch astronauts on the pod by 2023.
"You may be the first to travel to Mars," Vice President Mike Pence told the rookies at Wednesday's announcement.
Historically, most astronauts eventually get to ride on a rocket. Leaving aside the 2013 class, which only recently completed preliminary training, only about 6 percent of astronauts have failed to fly on a mission, according to NASA data.
Not surprisingly, there are no slouches in the new class. All of the new astronauts have at least one graduate degree and four of the 12 are trained test pilots, much like the original Mercury astronauts back in the days of The Right Stuff. Then there's Jonny Kim, a decorated Navy SEAL who finished 100 combat missions and went on to Harvard Medical School.
"It makes me personally feel very inadequate when you read about what these folks have done," NASA Administrator Robert Lightfoot said.
With a starting salary of $66,026, the pay isn't all that great for this diligent dozen—but the travel benefits are next level.