EghtesadOnline: When it comes to North Korea's nuclear threat, U.S. President Donald Trump sees no middle ground.
"You either support North Korea or you support us," Nikki Haley, the U.S. ambassador to the United Nations, told reporters earlier this month. "If you are a country that is supplying or supporting North Korea, we will call you out on it."
For all the sanctions placed on North Korea over the years, it still retains diplomatic and trade ties with dozens of nations around the globe. Trump is trying to change that as he steps up pressure on Kim Jong Un's regime to stop its pursuit of a missile that can deliver a nuclear warhead to North America -- an advancement that may come as early as this year, according to Bloomberg.
North Korea has fired back at Trump's threats, saying that the international community rejects the U.S.'s "brigandish logic meant to make all countries be obedient to its will." The State Department so far hasn't named any countries that have heeded the call to downgrade diplomatic or commercial ties.
Here's a look at North Korea's engagement with the world:
Trade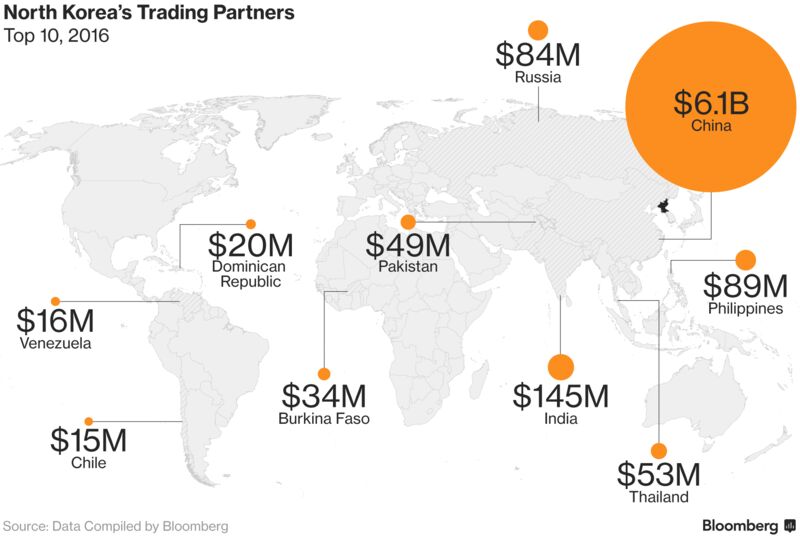 Despite steadily tightening UN sanctions imposed after North Korea's first nuclear test in 2006, the regime still managed to rack up trade with scores of partners worth about $6.6 billion last year. China accounts for about 90 percent of the total, giving Beijing unique economic leverage over Pyongyang.
Diplomatic Ties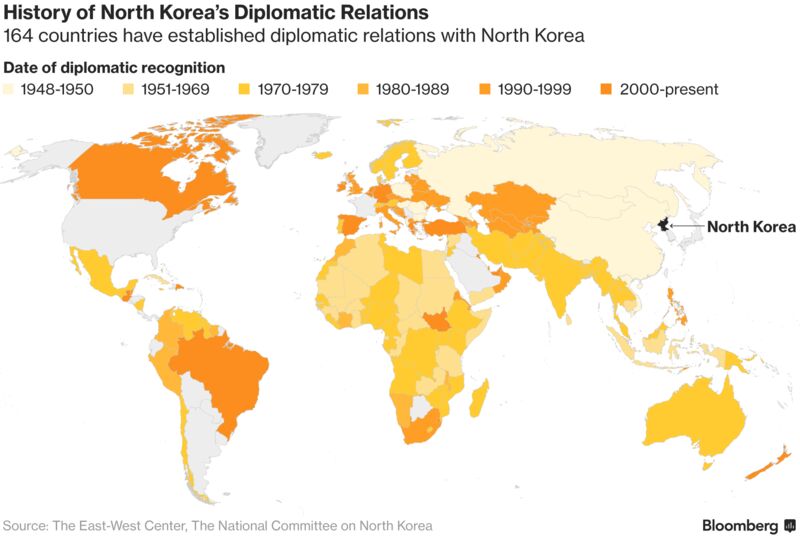 North Korea has established diplomatic ties with 164 countries since it was founded in 1948 in the aftermath of World War II, according to the National Committee on North Korea. Its closest partners historically have been Russia and China, with Mao Zedong once saying the relationship was "as close as lips and teeth." Over the decades it steadily added non-aligned, neutral or left-wing countries, and more recently established relations with nations like the U.K. and Germany when its nuclear program was supposedly frozen.
Foreign Embassies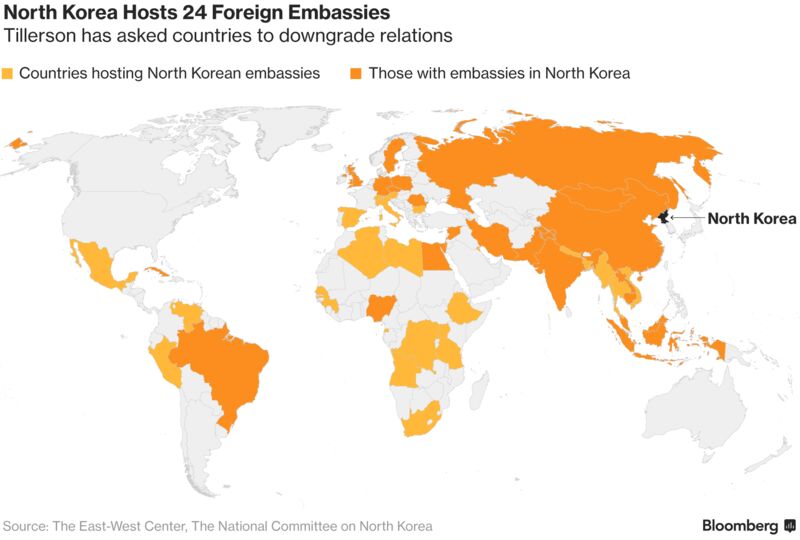 North Korea maintains embassies in 47 countries, and 24 of them also have embassies in Pyongyang. Many of the country's foreign outposts are expected to cover theirs costs and provide hard currency to Kim's regime through income-earning activities both legal and illegal -- from operating restaurants to selling arms and drug smuggling. Sweden's embassy in Pyongyang acts a proxy for Australia, Canada and the U.S.
Guest Workers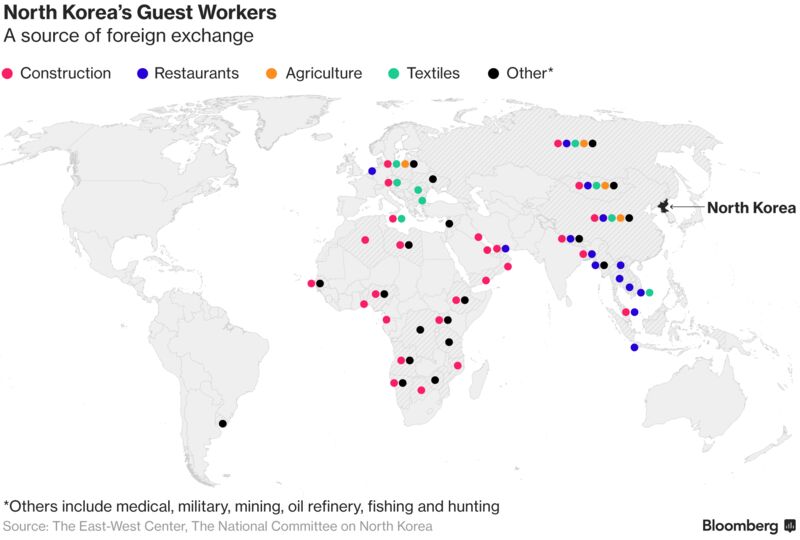 As many as 60,000 North Koreans are working in more than 50 countries, according to estimates from South Korea's foreign ministry. U.S. Secretary of State Rex Tillerson has called on the international community to suspend the flow of North Korean guest workers, who earn between $1.5 billion and $2.3 billion a year. They toil under the supervision of North Korean officials, according to the United Nations, which estimates between 60 percent and 90 percent of their wages are sent home as "loyalty funds."
Restaurants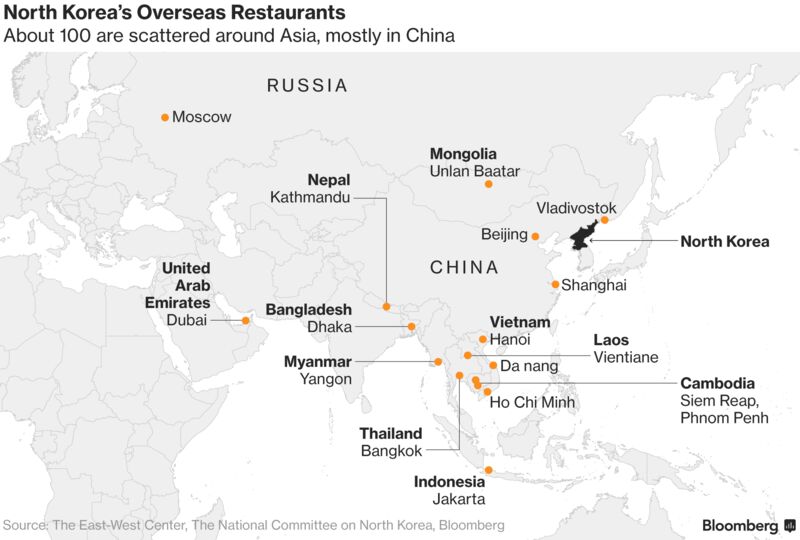 About 100 North Korean restaurants are scattered across about a dozen countries, with most of them in China, according to South Korea's foreign ministry. The number has decreased from a peak of about 130 in 2013, mainly due to pressure from the international community to discourage visits. South Korea has also advised its citizens to avoid the restaurants on overseas trips.