EghtesadOnline: The Pentagon claimed success in intercepting a mock intercontinental ballistic missile in a crucial test Tuesday of a long-troubled system that's taken on increased urgency with North Korea's escalating nuclear weapons program.
"A ground-based interceptor was launched from Vandenberg Air Force Base, California, and its exo-atmospheric kill vehicle intercepted and destroyed the target in a direct collision," the Missile Defense Agency said in a statement.
According to Bloomberg, it was the first test of the ground-based interceptor system since one that the agency says was a success in June 2014 -- after two that failed in 2010. Tuesday's intercept test was the first intended to replicate the flight profile of an ICBM that could be deployed by North Korea, based on modeling and predictions.
Progress by North Korea's ruler Kim Jong Un toward developing a nuclear missile that can hit the U.S. mainland has focused new attention on the array of missile interceptors tipped with Raytheon Co. warheads based in California and Alaska. Success is a political boost for President Donald Trump, who has vowed that North Korea won't be permitted to develop an ICBM.
"This system is vitally important to the defense of our homeland, and this test demonstrates that we have a capable, credible deterrent against a very real threat," Vice Admiral Jim Syring, director of the Missile Defense Agency, said in the statement.
More Tests Needed
The test's success was an important step toward demonstrating that improved interceptors the agency is now installing in silos "are capable and can be relied upon to defend the U.S. homeland from a ballistic missile attack," Cristina Chaplain, the missile defense director for the nonpartisan Government Accountability Office, said in an email.
But she cautioned that it was "one of several tests needed" to demonstrate that the system is capable of defending the U.S. and said further analysis "is also needed to ensure that no further changes are needed to the interceptors currently undergoing production."
The Missile Defense Agency, in its statement, acknowledged as much, saying, "Initial indications are that the test met its primary objective, but program officials will continue to evaluate system performance based upon telemetry and other data obtained during the test."
The GAO said in a report issued earlier Tuesday that the ground-based system continued to make progress last year as the Pentagon expands a 30-interceptor force to 44 by year-end, a decision made in May 2013 to counter North Korea's growing threat. There are 36 interceptors in silos today.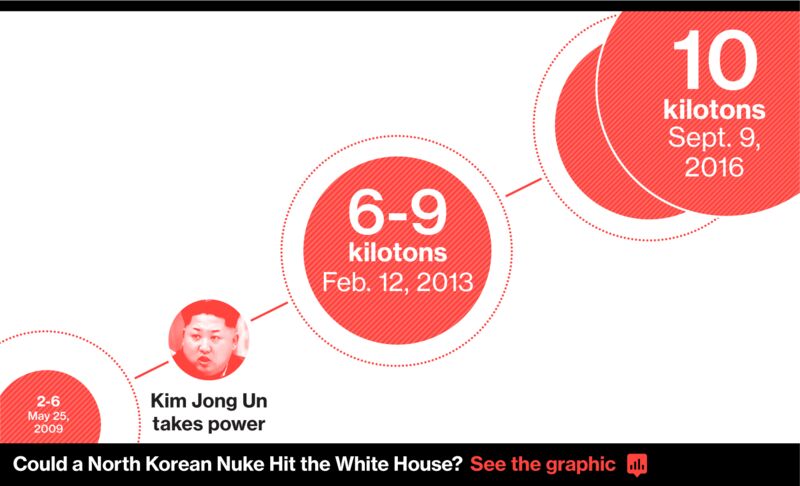 The Missile Defense Agency has said its extensive efforts to fix flaws with the interceptor's warhead have paid off. But the Pentagon's weapons testing office has said the $36 billion system of ground-based interceptors can't yet be counted on to shoot down a nuclear-armed missile aimed at the U.S. West Coast by an adversary such as North Korea or Iran.
The network of radar, communications and interceptors managed by Boeing Co. has demonstrated only a "limited capability to defend the U.S. homeland from small numbers of simple" intercontinental ballistic missiles, the testing office said in January in its latest annual report.
Other Improvements
In addition to replicating for the first time the first time the speed, trajectory and closing velocity of an ICBM, Tuesday's launch also tested avionics updates to the booster rocket built by Orbital ATK Inc. that carries an improved version of the conventional warhead made by Raytheon, Missile Defense Agency officials have said.
Syring, the missile defense agency director, has said he is "very confident" in the systems that would be used "to intercept a North Korean ICBM were they to shoot it toward our territory."
But Laura Grego, a missile defense analyst with the Union of Concerned Scientists, said last year that none of the interception tests since 2010 have used targets representative of actual threats or complex countermeasures.
Since its inception, the system "has destroyed its target fewer than half the 17 times it has been tested, and its record is not improving over time," she said at the time. "The system has a three-for-nine record," since a 2004 deployment decision, said Grego, co-author of a July 2016 report titled "Shielded From Oversight: The Disastrous U.S. Approach to Strategic Missile Defense."
The GAO said Tuesday that the system, which has been hobbled by sporadic testing and reliability flaws in some parts, is demonstrating mixed progress. Tuesday's test used a warhead equipped with new thrusters designed to adjust its flight path as it approaches the mock ICBM and other components intended to remedy obsolescence of some parts and reliability shortcomings.