EghtesadOnline: North Korea boasted on Monday that its new rocket could carry a "large-size heavy nuclear warhead" over long distances, with analysts estimating that it could reach U.S. military forces on the island of Guam.
Kim Jong Un witnessed Sunday's launch of the "new ground-to-ground medium long-range strategic ballistic rocket Hwasong-12," the official Korean Central News Agency said. It was fired at a steep trajectory "in consideration of the security of neighboring countries," reaching an altitude of 2,111.5 kilometers (1,312 miles) before hitting open waters 787 kilometers away, KCNA said.
Nikki Haley, the U.S. ambassador to the United Nations, said the latest test shows Kim is "in a state of paranoia" and that Washington will "continue to tighten the screws" on his regime. The launch defies UN sanctions and provides an early challenge for South Korea's new leader, Moon Jae-in, who has vowed to engage with the regime to bring peace to the peninsula, Bloomberg reported.
U.S. President Donald Trump has said military action is an option to prevent Kim's regime from developing missiles that could carry a nuclear warhead to North America. If launched on a maximum trajectory, the latest missile could have flown about 4,500 kilometers, within range of the U.S. military base at Guam, according to aerospace engineer John Schilling.
'Substantial Advance'
"North Korea's latest successful missile test represents a level of performance never before seen from a North Korean missile," Schilling wrote on 38 North, a website run by the U.S.-Korea Institute at Johns Hopkins University's School of Advanced International Studies. It may constitute a "substantial advance" toward developing an intercontinental ballistic missile, he said.
The successful test follows several failures since March. It proved technical specifications and reconfirmed the reliability of a new rocket engine, KCNA said. It also verified the homing feature of the warhead and accurate performance of its detonation system, it said.
South Korea and the U.S. agree with North Korea's claims on the missile's altitude and distance flown, South Korean Joint Chiefs of Staff spokesman Roh Jae-cheon said at a briefing in Seoul on Monday. Further analysis is needed to confirm the regime's assertion that it met technical specifications and the new engine was reliable, Roh said.
U.S. Pacific Command said the projectile, which fell into the Sea of Japan, wasn't consistent with an ICBM and didn't pose a threat to North America. A missile needs to be able to travel 5,500 kilometers to count as an ICBM.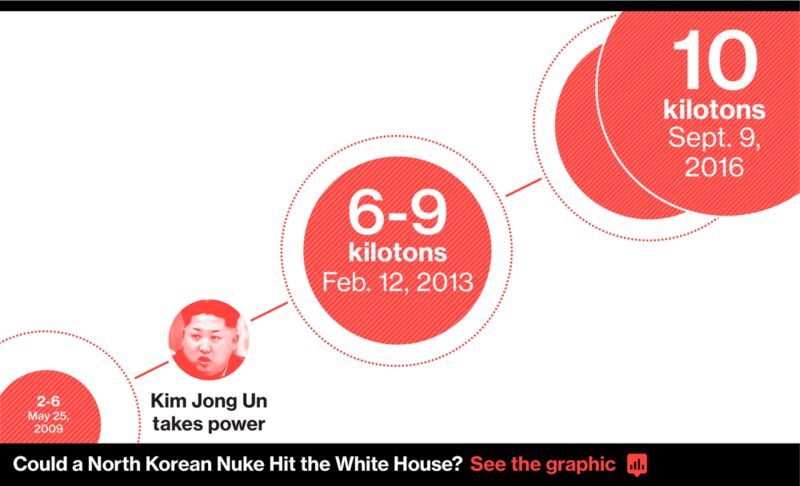 The Hwasong-12 may represent a new stage in the development of North Korea's missile program because it might have been powered by an engine completely designed and constructed in North Korea, according to Jeffrey Lewis, director of the East Asia Nonproliferation Program at the Middlebury Institute of International Studies at Monterey, California.
"'If that is true, it has big implications for what comes next," Lewis said. "The possibility of developing an ICBM that works reliably is much more real."
New President
North Korea said it will prepare for more tests. Kim "gave the scientists and technicians in the field of rocket research the order to continuously develop more precise and diversified nukes and nuclear striking means," KCNA said.
Moon, who won a May 9 election in South Korea, has said he would visit Pyongyang under the "right circumstances." He favors a combination of sanctions and talks to bring a halt to Kim's nuclear weapons program.
Moon convened a national security council meeting on Sunday, where he said the launch was a challenge for global security, according to spokesman Yoon Young-chan. South Korea remains open to the possibility of talks but will deal sternly with North Korea's provocations, Yoon quoted Moon as saying.
The U.S. is going to "continue to tighten the screws" on Pyongyang, "whether it's sanctions, whether it's press statements, anything that we have to do," ambassador Haley said on ABC's "This Week" on Sunday. "There's a lot of sanctions left that we can start to do."
Asked whether the missile firing may trigger more sanctions, Commerce Secretary Wilbur Ross said he doesn't know what action Trump might take. But he noted the White House statement indicating that the missile landed closer to Russia, with whom North Korea shares a border, than Japan.
"Whether that will give the Russians some interest in doing something, I don't know," Ross said on the Fox News Channel's "Sunday Morning Futures."
The White House statement late Saturday said "the President cannot imagine that Russia is pleased" about the test. Russia's Defense Ministry said that it tracked the missile and it posed no danger to the country.