EghtesadOnline: The French presidential election may see a record-low turnout this year, political analysts predict -- a factor largely seen to favor the National Front's Marine Le Pen, who has the most committed supporters.
Yet historical data show that victory might be elusive for the anti-immigration, anti-euro candidate even if that happens, Bloomberg reported.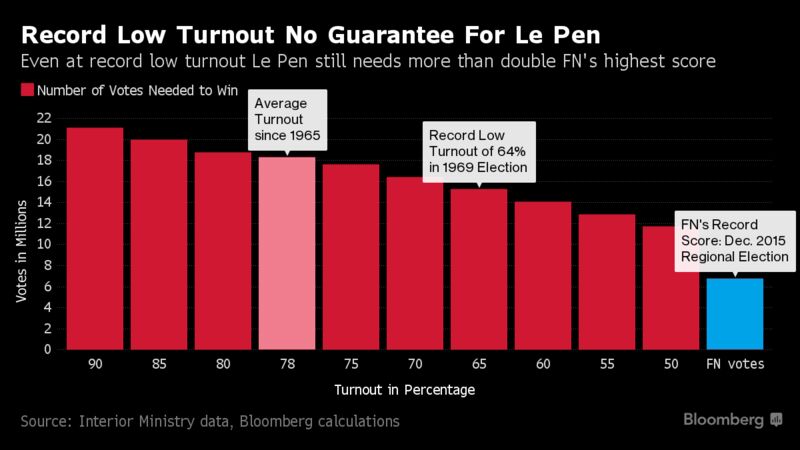 Data compiled by Bloomberg show that even if the turnout goes to the 1969 record low of 64 percent, Le Pen would need more than double the National Front's highest election score -- 6.8 million votes nationwide at the Dec. 2015 regional election -- to win. With a 50 percent turnout, winning a majority would require 11.7 million votes.
Le Pen's voting base is the most committed of the top three candidates, and that could boost the turnout of her supporters on voting day relative to that of her rivals. More than 80 percent of her voters are sure of their choice, according to polling company Ifop. That's much more than independent candidate Emmanuel Macron, about 63 percent of whose supporters say they are sure of voting for him. For Republican nominee Francois Fillon that number stands at 76 percent.
Protest Votes
Nearly 90 percent of adults in France are registered voters and the average turnout at a presidential election since the first direct vote in 1965 is 78 percent. A part of the electorate may not vote, put in a blank or invalid ballot in protest. Pollsters and political analysts, including at Cevipof and Ifop, estimate the overall turnout this year may fall below 65 percent. Their estimate doesn't include the blank or other invalid ballots.
That latest polls show Le Pen is neck-and-neck with Macron in the first round, each getting about a quarter of the votes and Fillon a distant third. In the run-off, all the polls show Le Pen would lose against either of these two rivals. Yet in the May second round, disenchanted supporters of the far-left, the Socialist party or the eliminated mainstream candidate may abstain or put in an invalid protest vote, effectively boosting Le Pen's chances.
France's two-round, direct vote presidential election will be held on April 23 and May 7.