EghtesadOnline: South African President Jacob Zuma is coming under increased pressure from inside his ruling African National Congress to justify sweeping cabinet changes in which he fired the finance minister, sending the rand tumbling and borrowing costs soaring.
ANC Treasurer-General Zweli Mkhize on Saturday joined Deputy President Cyril Ramaphosa and Secretary-General Gwede Mantashe in questioning the manner in which the cabinet changes were handled. The trio make up half of the party's committee of top officials. The South African Communist Party, which governs the country in an alliance with the ANC, has urged Zuma to quit, describing his actions as "recklessness."
"I have my reservations on the process followed and the manner in which this cabinet reshuffle was done," Mkhize said in an emailed statement. "The briefing by the president left a distinct impression that the ANC is no longer the center and thus depriving the leadership collective of its responsibly to advise politically on executive matters."
According to Bloomberg, Zuma's decision to fire Pravin Gordhan, with whom he feuded over control of state finances, brought to the open South Africa's biggest political crisis in almost a decade. While a group of party veterans accused Zuma of undermining the 105-year-old ANC, opposition parties are pushing for his ouster in parliament. The rand was the world's worst-performing currency this week, while bond yields jumped to their highest levels since January.
'Zuma Must Go'
Repeated chants of "Zuma must go" echoed through Johannesburg City Hall, which was filled beyond capacity on Saturday for the memorial of Ahmed Kathrada, an anti-apartheid activist who was jailed with former South African President Nelson Mandela. Kathrada died on Tuesday. It is "very clear" what and who South Africa's problems are, Gordhan said at the memorial.
Kathrada's wife, Barbara Hogan, a former minister, called on Zuma to respect her husband's wishes expressed in a letter to the president last year to resign, saying he would not be able to withstand the will of a "people united."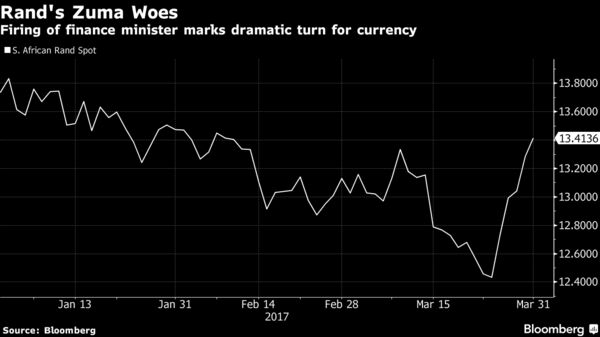 The cabinet changes come before Zuma is due to step down as ANC leader in December, and exactly a year after the nation's top court found that he violated his oath of office when he refused to repay taxpayer funds spent on his private home. His second and final term as the nation's president is due to end in 2019.
Gordhan, 67, has been at loggerheads with Zuma, 74, for months over plans to build new nuclear plants and the management of state-owned companies. The former finance chief also came under pressure from members of the Gupta family, who are friends of the president, to intervene after the nation's biggest banks shut their company accounts. The Guptas and Zuma deny any wrongdoing.
Deepening Trouble
"The timing of Zuma's cabinet reshuffling and the deepening banking troubles faced by the Guptas is not, therefore, fortuitous," the South African Communist Party said in an emailed statement on Friday. "Once more it lays bare a disturbing reality. Increasingly our country is being ruled not from the Union Buildings, but from the Gupta family compound."
The party's top six leaders weren't consulted about most of the cabinet changes, with a list of nominees being "thrown at us," Mantashe said, adding that the list was "developed somewhere else and it's given to us to legitimize it." The party's chief whip in parliament, Jackson Mthembu, said he opposed the removal of Gordhan and his deputy, Mcebisi Jonas. "Their crime is incorruptibility. We stand with them," he said in a post on Twitter.
Ramaphosa, who's seen as a top contender to become the party's next leader, called Zuma's reasons for removing Gordhan as unacceptable. His main rival is Nkosazana Dlamini-Zuma, the former head of the African Union Commission and the president's ex-wife. Mkhize also said the ANC's leadership cannot ignore that Zuma kept ministers "whose performance is rather unsatisfactory."
'Unsubstantiated Allegations'
An intelligence report that Zuma said showed Gordhan was trying to undermine his government was "unsubstantiated allegations," Ramaphosa said, adding that the former finance minister "served our country with such distinction." Gordhan has said the report is a lie. Zuma told his party's leaders that Gordhan was divisive in the cabinet and blocked other ministers' projects, according to a person with knowledge of their meeting.
"Zuma's actions are compelling some people within the ANC who have been standing on the sidelines to take action," said Ongama Mtimka, a political science lecturer at the Nelson Mandela Metropolitan University in the city of Port Elizabeth. "If it was unthinkable about five or six months ago that there may be a parliamentary coup; I think the time will be ripe for that."