EghtesadOnline: Alibaba Group Holding Ltd. added $7.5 billion to its market value after reporting quarterly results that beat estimates and raising its full-year sales forecast.
China's biggest e-commerce company increased its projection for fiscal 2017 revenue growth to 53 percent, from 48 percent previously, as Chinese spending stays strong and the company wrings revenue from fledgling areas such as cloud computing, entertainment and search. That may help assuage investors concerned that a deceleration in the world's second-largest economy is curtailing Alibaba's main online commerce business, Bloomberg reported.
Despite a fairly stagnant user base of about 443 million, Alibaba benefited from a record Nov. 11 Singles' Day spending spree, and gained a larger share of online advertising from rivals such as Baidu Inc. It also more than doubled sales from cloud computing in the December quarter. As transaction growth slows, Alibaba is generating more revenue from merchants by selling them services to draw in buyers, and expanding its Netflix-like entertainment arm.
"The growth is mostly coming from the strong performance in Alibaba's digital entertainment platforms, its ability to make money from cloud computing," said Ray Zhao, a Shenzhen-based analyst at Guotai Junan Securities Co. "Investors will have a huge reaction to the revenue forecast raise."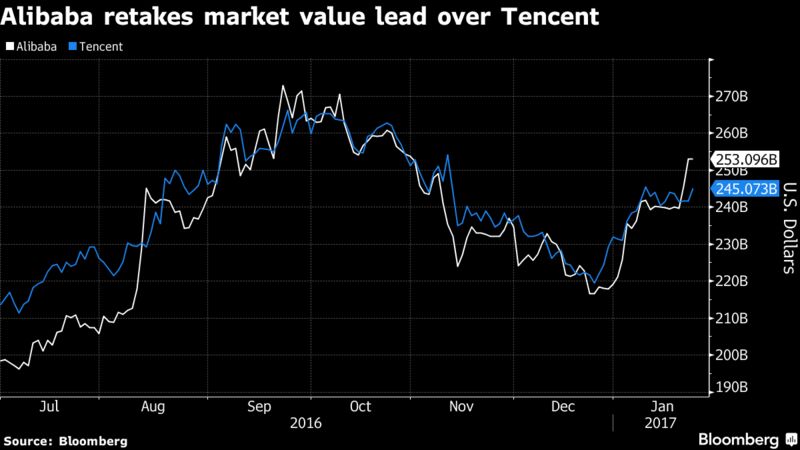 Alibaba shares rose 3.1 percent to $101.43 at the close of trading in New York. The company, which gets most of its revenue from its home market, wants to accelerate its globalization this year, Chief Executive Officer Daniel Zhang told analysts on a conference call. Other priorities include pushing deeper into rural China, and pitting its burgeoning cloud business against the likes of Amazon.com Inc. and Microsoft Corp.
It's also spending enormous amounts to acquire Hollywood content to power its loss-making digital media division. Zhang however said the bleeding will slow as more paying customers come onboard, given their ability to convert shoppers into viewers.
"Digital content will make up an increasingly large proportion of total consumption volume of young consumers," Zhang said.
Group sales rose 54 percent to 53.2 billion yuan ($7.8 billion) in the December quarter, topping the 50.1 billion-yuan expected by analysts. Adjusted earnings-per-share came to 9.02 yuan compared with estimates for 7.70 yuan. Net income climbed 38 percent to 17.2 billion yuan, also outstripping the 13.6 billion-yuan average of estimates compiled by Bloomberg.
Chinese retail e-commerce revenue jumped 42 percent to 40.8 billion yuan in the quarter, driven by demand for the marketing services that merchants pay for. About 80 percent of that came from mobile platforms, where sales climbed 73 percent. Chief Financial Officer Maggie Wu said the company's active buyer base could surpass 500 million.
The number of annual active buyers grew 9 percent from a year earlier, while mobile monthly active users increased 25 percent. That discrepancy in growth is a sign that Alibaba is now becoming "increasingly seen as a platform for users to spend time as opposed to just shop," said James Cordwell, an analyst at Atlantic Equities LLP. "That's good for Alibaba for ad revenue, but for merchants on Alibaba, they want to be selling items. There does seem to be a slight difference of objective between Alibaba and its merchant base, which does raise a few concerns."
Alibaba is now also expanding into traditional retail, experimenting with technology to revamp a fragmented $4.8 trillion market. This month, it unveiled a $2.6 billion deal to take control of mall operator Intime Retail Group Co., thus gaining a "full-scale" laboratory in which it can test ideas for merging the worlds of physical and online retail, Zhang said.
For now, the company still derives most of its business from its home market. But Alibaba is aiming to attract a million small businesses in the U.S. onto its platform within five years, hoping those entities will create one new job each. The initiative was brought up by Chairman Jack Ma in a meeting with Donald Trump in January, as a means to display goodwill after the online emporium was again labeled a "notorious market" awash in counterfeits by the U.S. Trade Representative.
Ma said as early as in 2015 that the company wants more than 50 percent of revenue from outside of China. He also said in January last year he wanted to serve 10 million small businesses abroad. That international drive entails spending on marketing.
Revenue from digital media and entertainment rose almost four-fold to 4.1 billion yuan, bolstered by its online video service Youku and search through UCWeb.
Alibaba's cloud unit remained one of its fastest revenue drivers, supporting the more than $17 billion of sales that flowed through its platforms during the Singles' Day promotion. Revenue from the business more than doubled to 1.8 billion yuan last quarter as paying customers rose to 765,000.
Like Amazon, the cloud service emerged from the enormous computational power needed to handle millions of online shopping transactions. But unlike its U.S. counterpart, it enjoys home-field advantage in China, where internet-based computing is still novel to many enterprises.
The company this month struck a deal to sponsor the Olympic Games through 2028. That sponsorship is worth $800 million, a person familiar with the matter said earlier this month. Vice Chairman Joseph Tsai said Tuesday that the numbers about the Olympics that've been reported so far have not been accurate.
What's clear is Alibaba will provide online computing services and data analytics for the sporting contest, while creating a marketplace for official merchandise and developing an online video channel for viewers in China.
"Brands and merchants spent more due to the shopping promotions on Alibaba this quarter," Julia Pan, a Shanghai-based analyst at UOB Kay Hian, said before the earnings. "Alibaba is trying to offer more targeted marketing strategies for brands using big data and cloud computing services, and also a one-stop solution with its shopping sites and video streaming platform."