EghtesadOnline: V Technology Co., a small Japanese supplier to display makers, added a surprising new shareholder last June: Renaissance Technologies.
For the secretive U.S. hedge fund started by Jim Simons, it turned out to be an especially savvy bet. Shares of V Tech, as it's known, surged almost threefold in 2016, with much of the gain coming after Renaissance first reported a stake. V Tech, whose market value has jumped to $662 million, posted the second-best stock performance in a broad index of Tokyo-listed companies last year, Bloomberg reported.
While Renaissance is staying silent on why it built a $27.8 million position in the stock, V Tech President Shigeto Sugimoto says he's never been more confident about his company's outlook. He's betting V Tech will soon sign a revenue-doubling deal with one of the Chinese screen makers seeking to break Samsung Group's dominance of the latest big thing in mobile phones: organic light-emitting diode displays.
"The OLED market will have to grow," Sugimoto, 58, said in an interview in Yokohama. "Our products can help make that happen."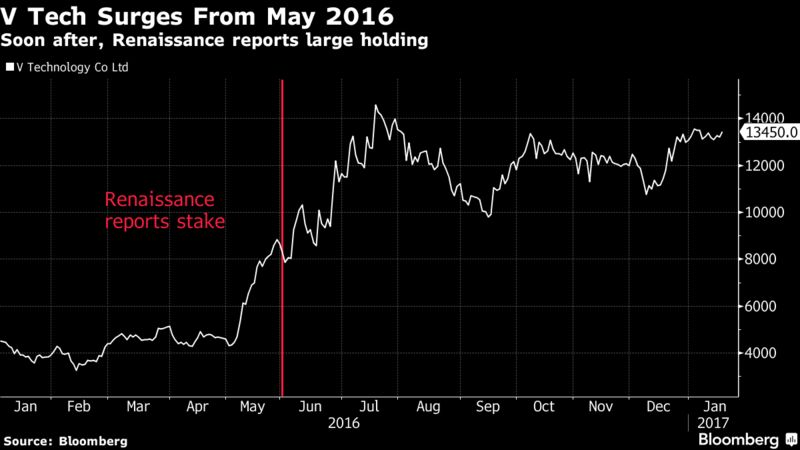 Display makers in China, the world's largest smartphone market, are stepping up investments in OLEDs as an increasing number of handsets come with OLED displays, which don't need a backlight and have the potential to be curved, bendable and wearable. Perhaps ironically, China's attempts to wrest market share from South Korea are expected to benefit Japanese suppliers such as V Tech.
V Tech spent five years developing a key component of machines for manufacturing OLED screens, Sugimoto says, unveiling in 2016 an upgraded version of what it calls fine hybrid masks, which are used for patterning the organic layers on the displays. The masks are a potential alternative to those currently used by Samsung Electronics Co.'s display unit. Samsung controls about 98 percent of the OLED display market, according to Yi Choong-hoon, chief analyst at UBI Research in Seoul.
V Tech is in talks with several Chinese display makers and hopes to sign a deal with one of them by March to supply the masks and other equipment, according to Sugimoto, who declined to identify the companies.
Revenue Boost
Such an agreement could bring in sales of as much as 50 billion yen ($440 million), Sugimoto says. V Tech's revenue more than doubled to 39.2 billion yen in the fiscal year ended March. "Our company would double in size in one go," he says.
While Samsung Electronics adopted OLED screens for its smartphones in 2008, others stayed away due to high manufacturing costs. But as the technology develops and demand grows for more innovative mobile devices, more smartphone makers are opting for OLEDs. Apple plans to ship at least one new iPhone with an OLED screen this year, people with knowledge of the matter told Bloomberg last year.
This isn't Sugimoto's first time to sense shifting tides in the display industry.
The former engineer founded the company in 1997 as a maker of equipment for producing plasma displays. A few years later, he realized that manufacturers were shifting to liquid crystal displays. V Tech turned its focus to LCDs, which have been the dominant technology for mobile phones since the early 2000s.
In June 2015, Sugimoto bought a color-filter business from bearings-maker NSK Ltd. Color filters are used in producing LCD screens, which suddenly became increasingly in demand in China.
"It was like winning the lottery," Masahiko Ishino, a senior analyst at Tokai Tokyo Research Institute Co., said of the acquisition. "They bought the business for 2 billion yen and won supply orders worth 15 billion yen and 18 billion yen," he said. V Tech said the 18 billion yen order also included other products.
V Tech shares soared 185 percent last year as LCDs helped boost earnings and investors bet on the company's success in the OLED business. Renaissance first reported a holding in June and owned 4.8 percent of shares as of its latest filing, according to data compiled by Bloomberg. Renaissance declined to comment.
V Tech surged 13 percent in heavy trading on Monday morning in Tokyo. The stock headed for its biggest gain in six months and its highest close in more than a decade, even as the broader Topix index slid.
With its new mask, V Tech is aiming to build on the OLED experience it gained through supplying quality-testing equipment to Samsung since 2009, Sugimoto said.
Chinese Phones
China's OLED production capacity will probably more than double each year, accounting for 32 percent of the global total by 2021 from 6 percent in 2016, according to research firm Display Supply Chain Consultants. Huawei Technologies Co. and Xiaomi Corp. are among Chinese phone makers that have already adopted OLED screens for some models.
"China isn't a land of risk for those in the display industry: it's a land of opportunity," said Sugimoto. "Upstart Chinese makers are willing to try out new techniques," he said. "I'm asking the companies we're in talks with to make a decision quickly."
Not everyone is optimistic that V Tech will succeed in finding a Chinese OLED partner.
"It's going to take time to go through the process of proving their new technology works," said Jerry Kang, a display analyst with IHS Markit in Seongnam city near Seoul. "New technologies will raise new challenges. I question whether any company is willing to go down that road with them."
Sugimoto sees a 60 percent chance of winning a contract. Any failure would be cushioned by a solid outlook for V Tech's LCD business, he says. The company's 70 billion yen sales forecast for the fiscal year ending March 2018 excludes its new OLED products, according to Sugimoto, who jokes he may retire if a deal comes through.
"It'll be huge if the company finds a business partner in China," Tokai Tokyo's Ishino said. "The odds are hard to predict but it would be explosive for the stock."