EghtesadOnline: Soundtrack Your Brand, the Spotify Technology SA-backed streaming service that targets businesses rather than consumers, has expanded its catalog to 26 million songs after securing licensing deals with rights holders including Sony/ATV Music Publishing, the world's largest music publisher.
The new agreements with music labels and publishers include a per-stream-based compensation model to pay artists and composers accurately from background music from retailers, restaurants and hotels, Chief Executive Officer and co-founder Ola Sars said in an interview.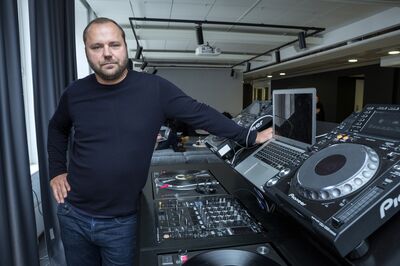 Photographer: Johan Jeppsson/Bloomberg
"The market for background music or commercial music services has been dysfunctional and is still 10 years behind the consumer streaming services," Sars said. "Now, this represents a significant area of growth for the entire music industry."
According to Bloomberg, the market for business background music is worth as much as $5 billion, less than a third of the size of the consumer market, but it has much better margins, said Sars, who helped create Beats Music. Soundtrack, which streams cloud-based background music to customers including LVMH's TAG Heuer watch stores and McDonald's restaurants, used Spotify's catalog for its first 18 months of operations, but last year pursued a more independent path by building its own library of music.
Consumer streaming has become the music industry's largest source of growth in the past few years, but small and medium-sized business have by and large used consumer services illegally. Larger enterprises and chains have used commercial services, but haven't had access to the benefits of full streaming, and have worked off CDs or patchy satellite feds, Sars said.
Soundtrack's exclusive focus on businesses means its isn't under the same pressure to reach a mass audience as the likes of Spotify and Apple Inc., which dominate streaming for consumers. A cafe or a shop pays about $35 a month for Soundtrack Your Brand's service, compared with about $10 for a consumer service.
Soundtrack is pushing into global markets to attract retailers with hundreds or even thousands of locations to its cloud-based music and still counts Spotify as one of its largest external shareholder.
Sars and Andreas Liffgarden, co-founder and chairman of Soundtrack, are hoping the Stockholm-based startup can replicate the success Spotify had in weening users of pirated music or illegal streaming now their catalog is big enough.
"We now have business-to-business service that can compare with the consumer products," said Liffgarden.
New features on Soundtrack's service include the ability to drag-and-drop Spotify playlists straight into the music mix, unlocking them for legal use in a commercial setting, said Liffgarden. That will entice more and more businesses go from "rogue to righteous," by using Soundtrack's services rather ones that aren't licensed for commercial use, he said.