EghtesadOnline: A Moscow court ordered telecommunications companies to block Telegram in Russia after the chat app refused to grant intelligence authorities access to users' encrypted messages, in a blow to the company just weeks after it raised $1.7 billion from investors.
Telegram Group Inc., run by its Russian founder Pavel Durov, failed to comply with local legislation, according to the ruling Friday by Tagansky court judge Yuliya Smolina that granted a request by Russian communications regulator Roskomnadzor to restrict user access with immediate effect. The decision can be appealed within 30 days, Bloomberg reported.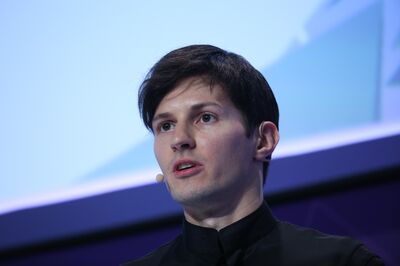 Photographer: Chris Ratcliffe/Bloomberg
Telegram will be using built-in methods to bypass the block, Durov told Russian users on his page on the VK.com social network after the ruling. The company is insulated from the power that local governments typically have over IT companies because it has the "luxury of not caring about revenue streams or ad sales," Durov said in a message posted on his Telegram channel.
The Virgin Islands-registered company has over 9.5 million users in Russia, according to researcher Mediascope. Telegram said last month its total audience globally surpassed 200 million users, driven by attention for the world's largest initial coin offering, which raised funds to create a blockchain network that processes transactions many times faster, and has a built-in cryptocurrency for Telegram users.
Encryption Keys
Because Telegram is recognized as an operator of information dissemination in Russia, the company is required to provide encryption keys to let the Federal Security Service read the correspondence of suspected terrorists. Telegram had fought to have that deemed unconstitutional, but lost a bid in the country's Supreme Court last month.
Roskomnadzor warned Telegram March 20 that it had 15 days to comply. After Durov publicly declined to provide encryption keys to authorities, the watchdog turned to the court to authorize it to block access to the messenger. With a court ruling, Roskomnadzor is set to include Telegram in a list of banned internet resources and will order the country's communications providers to restrict access. Roskomnadzor said on its website it will start the procedure to block Telegram once it receives a written ruling from the court.
Appeal
Agora, an international civil-rights group that defends Telegram in Russian courts, said in a statement its lawyers skipped today's "farce hearing" and plan to appeal the ruling.
"After Russia earlier blocked LinkedIn and file-sharing site RuTracker, they lost a big chunk of their audience, even though some users turned to the TOR browser and proxy servers to access them," said Karen Kazaryan, an analyst at internet lobby group Raec. "Telegram will be more difficult to shut as it's highly popular and offers users means to bypass blocking."
Russian presidential spokesman Dmitry Peskov said last week that a block on Telegram would be very regrettable, but that Kremlin officials who use the app would find alternatives if the service was banned.
President Vladimir Putin signed laws in 2016 on fighting terrorism, which included a requirement for messaging services to provide the authorities with means to decrypt user correspondence.
Last Holdouts
The court decision on Telegram is intended to make one of the last holdouts among communications companies bow to Putin's efforts to track electronic messaging. Durov in June registered the service with the state communications watchdog after it was threatened with a ban over allegations that terrorists used it to plot a suicide-bomb attack.
Telegram doesn't require users to know each other's phone numbers to communicate, just a screen name. Thousands of people using different operating systems can have their own secure chat and share a wide range of attachments. Durov, who was forced to sell his remaining stake in Russia's largest social network, VK, to a Kremlin-friendly billionaire in 2014, has said Telegram can't be bought -- at any price.