While consumers must wait until 2018 for a $35,000 electric car, efforts to fix bottlenecks are sapping resources elsewhere in Elon Musk's empire.
EghtesadOnline: There will be no $35,000 Teslas in 2017. The electric carmaker updated its website for customer reservations on Wednesday, including a table that shows the base Model 3 won't be available until some time next year.
That follows a painful earnings call for Chief Executive Officer Elon Musk, who described the company as being in the "eighth level of hell" (there are nine, in case you're counting). The stock price fell 8.9 percent on Thursday, the most in more than 16 months, Bloomberg reported.
People from key teams at Tesla are focused on fixing bottlenecks that have hobbled production, said Musk, who held his earnings call at the Nevada battery factory where he and co-founder J.B. Straubel are spending their days and nights. Despite earlier reports that it was the company's California assembly plant that was gumming up the works, it turns out the famed Gigafactory is the heart of the problem. The reallocation of resources to fix the difficulties may be contributing to delays for Autopilot, the Solar Roof, the Tesla Semi, and the Tesla Network.
"Tesla's cash burn is astounding, and time is ticking," said Salim Morsy, an electric-car analyst at Bloomberg New Energy Finance. "They have some pretty urgent things to deal with, and we just don't have any visibility right now."
Here are five key products still waiting to catch an elevator out of the inferno:
1. The Model 3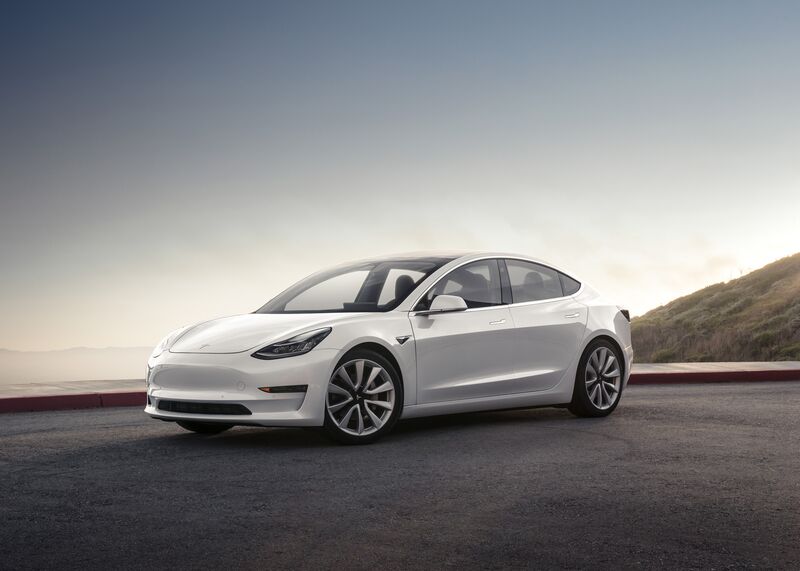 Tesla Model 3
Source: Tesla
The "$35,000 electric car" has been Tesla's top goal and marketing calling card for years. It's an important price point, competing with entry level luxury gasoline-powered cars like the BMW 3 Series and the Mercedes C Class. When you include a $7,500 U.S. tax credit, the price is cheaper than the average new U.S. car and more in line with a well-optioned Toyota Camry.
But on Wednesday's call with analysts, Tesla pushed back its timelines for the Model 3 by three months. A production rate of 5,000 a week won't be achieved until the end of March, rather than the end of next month. The $35,000 base model has been pushed back from November 2017 to sometime in 2018. (Tesla still plans to start selling a $49,000 long-range version with options to the public in time for Christmas.)
Perhaps the biggest warning flag: Musk would no longer give a timeline on when Tesla would reach a production rate of 10,000 a week. Last quarter he was unequivocal on that point: "What people should absolutely have zero concern about—and I mean zero—is that Tesla will achieve a 10,000 unit production week by the end of next year."
2. The Solar Roof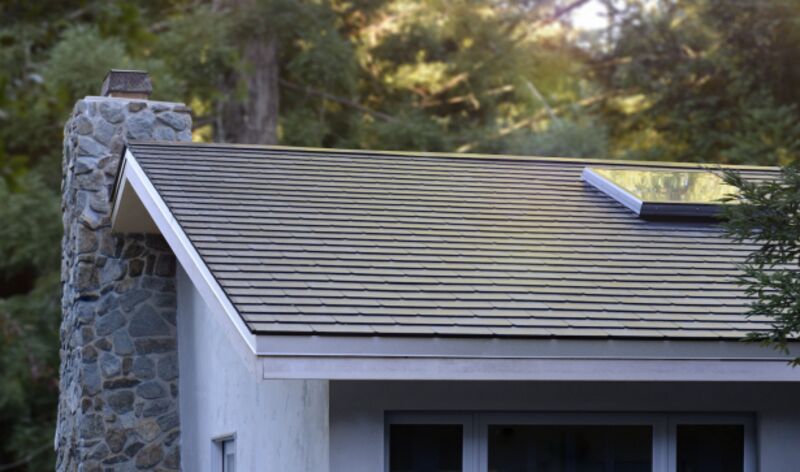 One of the first completed installations of a Tesla Solar Roof.
Source: Tesla
A year ago this week, Tesla unveiled its remarkable solar shingles with much fanfare in Hollywood on an old set of "Desperate Housewives." It began taking deposits in May. There's still little indication of when the product might roll out. Tesla said things will move slowly in the coming quarter while it gets its new factory in Buffalo, New York, up and running. Then, the company said, the product will ramp up "in 2018." That's a wide window for customers trying to plan a roofing project.
Perhaps a better indication of where things stand is this: Tesla's website currently shows job postings for 24 "lead roofer" positions—all in California. Each position, according to the descriptions, would be second-in-command of a small roofing team. Meanwhile, the amount of standard solar installations being done have dropped 42 percent compared with the same quarter last year, just before Tesla bought SolarCity.
3. Autopilot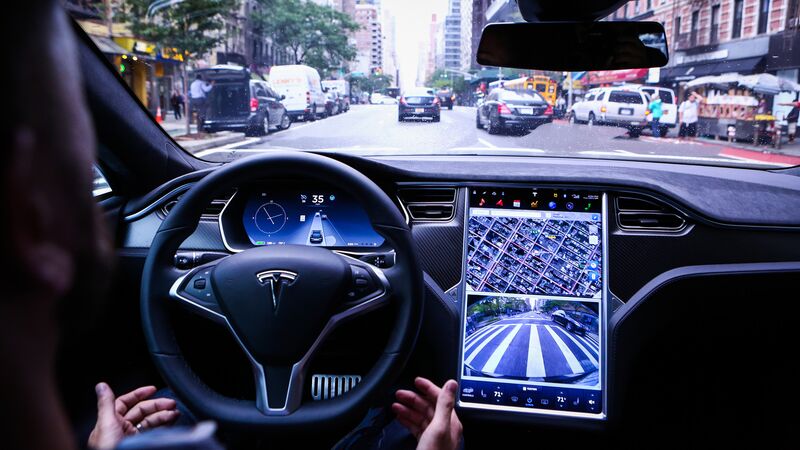 No hands.
Photographer: Christopher Goodney/Bloomberg
A year after Tesla started charging $8,000 for a feature called Full Self Driving, there's still no sign of a rollout of such features, and Musk hinted that a more powerful supercomputer may be needed to achieve its goal. On Wednesday, he said the current hardware can reach "approximately human-level autonomy."
Musk concedes that the system will probably need to be significantly safer than the average human driver in order to achieve regulatory approval, so a hardware upgrade may be necessary. "We'll have more to say on the hardware front soon, we're just not ready to say anything now," said Musk. As a consolation, anyone who has already paid for the option will get a free computer swap.
Tesla said new features will be coming for its less-ambitious $5,000 Enhanced Autopilot package in the next few months. Musk said the other hardware for autonomous driving—8 cameras, a radar and 12 ultrasonic sensors—will be sufficient. Other companies pursuing autonomous driving are also including expensive lidar kits. Musk was undeterred: "We are certain that our hardware strategy is better than any other option, by a lot."
4. Tesla Semi
Tesla was set to unveil its first all-electric long-range semi truck back in September. Then it was moved to October. Then it was pushed until Nov. 16, explicitly so that resources could be diverted to deal with Model 3 problems.
Tesla Semi unveil now Nov 16. Diverting resources to fix Model 3 bottlenecks & increase battery production for Puerto Rico & other affected areas.

— Elon Musk (@elonmusk) October 6, 2017
Tesla reiterated the same unveiling date by press release Wednesday. However, it's notable that such an integral and imminent product for Tesla didn't even come up on the analyst call.
5. The Tesla Network
Tesla is working on a system that will allow owners to rent out their cars using what they've dubbed the Tesla Network. Once fully autonomous driving is achieved, the idea is that fleets of privately owned Teslas will function like a driverless Uber or Lyft, picking up and delivering passengers for a fee that will be shared between Tesla and the individual car owners.
In the shorter-term, the Tesla Network could function more like Zipcar. An owner could switch a setting online and open their car for someone to rent. The Model 3 uses key cards and Tesla's smartphone app instead of a key, so in theory anyone could be granted access through an automated system.
The Tesla Network, which accounts for billions of dollars in long-term revenue in many analyst models, is supposed to be unveiled this year. With all of the bigger delays drawing the attention, it didn't even get a mention on Wednesday.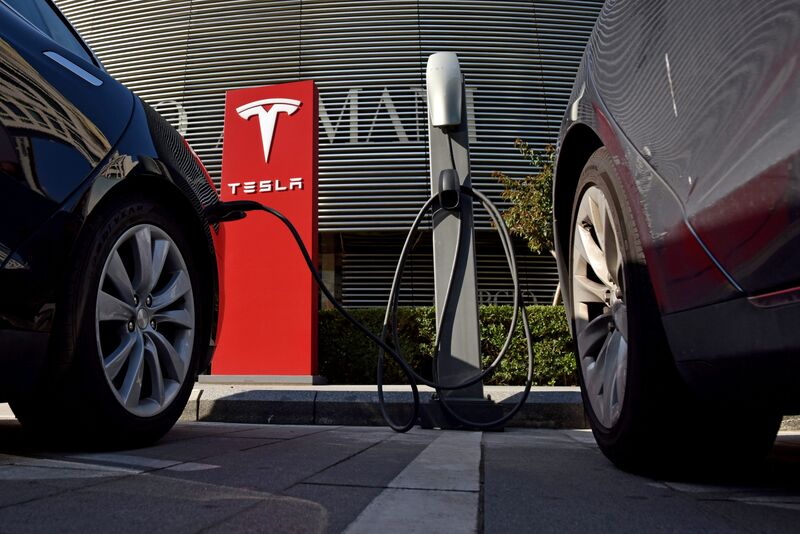 Photographer: GREG BAKER/AFP via Getty Images