EghtesadOnline: The cryptocurrency Cassandras are starting to look right. The sector has lost about a third of its market value since peaking in early June, pushing it into what traditional equity market analysts label as a bear market.
Bitcoin, the largest of the digital currencies, is down about 20 percent from its peak of $3,000, reached June 12. Smaller rivals such as ethereum and ripple are getting hit even harder, according to Bloomberg.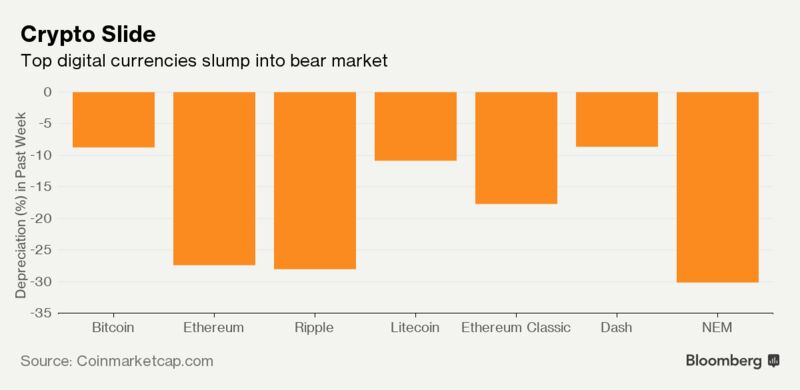 "When when we look for signs of excess in the market, I look at bitcoin and to me that looks pretty scary," Richard Turnill, global chief investment strategist at BlackRock Inc., said during a midyear outlook presentation in New York on Tuesday.
Whether the virtual currencies were caught up in an asset-price bubble was debated as the market capitalization of the sector soared this year, raising skepticism from pundits including tech billionaire Mark Cuban. Backers such as Ripple Chief Executive Officer Brad Garlinghouse, whose money-transfer company is tied to the third-largest cryptocurrency by market value, said he isn't convinced.
"I would be surprised if there was a major crash," Garlinghouse said in an interview at Bloomberg's New York headquarters Monday. "Could we see digital assets continue to double or triple or quadruple from where we are today? That wouldn't surprise me at all."
Digital coins are currently worth around $80 billion, down from a market capitalization of $100 billion on Friday and $115 billion on June 14, according to data from Coinmarketcap.com.
This week's slump coincides with initial hearings in the trial of the former head of Mt. Gox, the bankrupt Japan-based bitcoin exchange that imploded in 2014 after losing hundreds of millions of dollars' worth of bitcoin. Chief Executive Officer Mark Karpeles pleaded not guilty in Tokyo on Tuesday to charges of embezzlement and inflating corporate financial accounts.
The turbulence may be far from over, too, as rival bitcoin enthusiasts are set to adopt two competing software updates at the end of July. This has raised the possibility that bitcoin will split in two, an unprecedented event that would send shockwaves through the market.
Volatility is nothing new for cryptocurrency buyers, who have faced losses in recent months as exchanges grapple with outages and poor performance, struggling to keep up with the volume surge that has swept the market amid speculation about the potential for widespread adoption of virtual assets and blockchain technology.
"It is easy to look at the appreciation that we have seen this year and conclude that we are witnessing a bubble," said Martin Garcia, vice president of sales and trading at Genesis Global Trading. "While I understand that the prices we are seeing now a more than a little frothy, I think that we are in the very early stages of the development of an entirely new asset class."