Global revenue passes $100 billion for the first time fueled by smartphone use
EghtesadOnline: Revenue from computer games exceeded $100 billion globally in a single year for the first time, while China has overtaken the U.S. as the "gamer capital of the world" in terms of market size, according to a report published by London-based venture capital firm Atomico.
The 600 million gamers in China generated $24.6 billion of the industry's $101.1 billion global market value over 2016, just ahead of the U.S.'s $24.1 billion. In 2015, the global games industry was worth $91.8 billion according to data from research house Newzoo. A notable contributor to the growth has been Apple's mobile app store in China. In 2016, China accounted for 31 percent of the total $18 billion generated by games on iOS, compared with just 3 percent of the $2.4 billion total in 2012, Bloomberg reported.
Tom Wehmeier, principal and head of research at Atomico and author of the report published Thursday, said a number of other major milestones were passed in 2016. "We've got to the point today where there are now more than two billion gamers globally, and mobile has really taken over to the extent that it's the largest segment overall," said Wehmeier.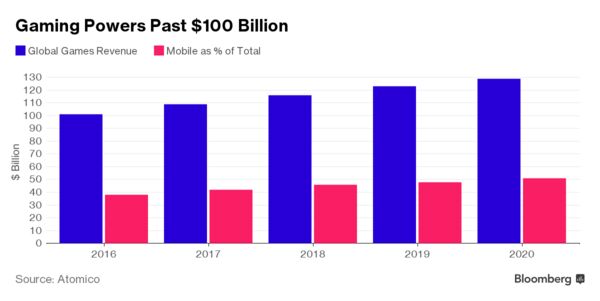 Mattias Ljungman, a partner at Atomico and one of its co-founders alongside Niklas Zennström, said "the average revenue per user is higher in China than the U.S., which to me would probably make most people fall off their chairs."
China's importance to the growth of the global gaming industry is not difficult to see. Tencent Holdings Ltd., China's largest internet company by market value and one of the 10 largest public technology companies in the world, has seen enormous success from its mobile gaming and advertising divisions, including social networking platform WeChat and desktop game League of Legends. It also owns Honour of Kings, which analysts have estimated will contribute more than 50 percent of Tencent's smartphone game revenue this year and recorded monthly gross revenue of as much as 3 billion yuan ($440 million) in April.
In Europe and the U.S., numbers are still rising alongside investor confidence, according to Atomico. The global games industry will generate revenue of an estimated $109 billion in 2017, of which 42 percent will come from mobile titles. That will rise to as much as $129 billion by 2020, at which point mobile will overtake the combined value of all traditional platforms for games — console and PC — by generating 51 percent of the total revenue for the industry.
"Games have become truly mass market and it's a massive, massive opportunity that's only going to get bigger," Ilkka Paananen, the chief executive officer Supercell, the developer of the popular Clash of Clans mobile game, said in the report. "One of these days somebody's going to build a game that reaches a billion users a month."
Much of China's gaming market is contained at home, with little international appeal. Atomico's report, citing research house App Annie, states that as much as 93 percent of all money spent by Chinese gamers go to titles developed by Chinese-based companies. This compares to 56 percent of U.S. gamers spending on U.S.-developed games, and 36 percent of Europeans spending on games developed in the EU.
Breaking into this Chinese market will require a pairing of international development talent with local Chinese expertise, says Teemu Huuhtanen, the chief executive officer of Next Games Oy and previously vice president of mergers and acquisitions at Rovio.
"You probably need a local partner and localize the game more than just the language," Huuhtanen said in the report. "You're better off working with a Chinese partner and really taking the time to localize the game for their specific market."
Ljungman said that such models are going to continue to evolve. "I think things like joint ventures are going to be something that can become a lot more interesting and allow people to be engaged but still keep focus on their Western businesses," he said.
A model like a joint venture "gets you quicker into the market and allows you to integrate better, develop things more quickly and still retain a lot of value," he said. "I think it's something worth considering."
Many Chinese industrial companies, from chemical solvent producers to poultry processors, have recently been buying up Western games companies as a way of boosting their overall profit margins, thanks to the high margins so many of these entertainment businesses command. Bloomberg previously reported that as much as 70 percent of all acquisitions of games companies since 2015 have been made by Chinese buyers.