EghtesadOnline: A year ago, Abdulrahman Tarabzouni was working on Google's Project Fi trying to disrupt the telecommunications industry. Now he's back in his native Saudi Arabia with a mission to bring the country's national phone carrier, Saudi Telecom Co., into technology investing.
Since returning to Riyadh to run Saudi Telecom's STVentures in October, Tarabzouni persuaded the board to put $100 million into Dubai-based ride-hailing app Careem Networks FZ. He now plans to lead a delegation to his previous locale in the Silicon Valley to find venture capital and technology firms interested in partnering with Saudi Telecom, or STC, on further deals.
According to Bloomberg, STC needs new sources of growth after profit fell in eight of the past 10 quarters. The end of its monopoly in 2005 led the company to embark on a flurry of international acquisitions as it sought to expand. It is now looking to exit some of those investments and turn itself into something more akin to Japan's SoftBank Group Corp., which owns stakes in fixed-line and mobile carriers along with e-commerce, web advertising and semiconductor businesses.
"We are in a race against time to transform STC," Tarabzouni said in an interview in his office in Riyadh. "Value is shifting away from legacy telecom assets into new industries globally, so we want to leverage those existing assets now to get a leg into the future."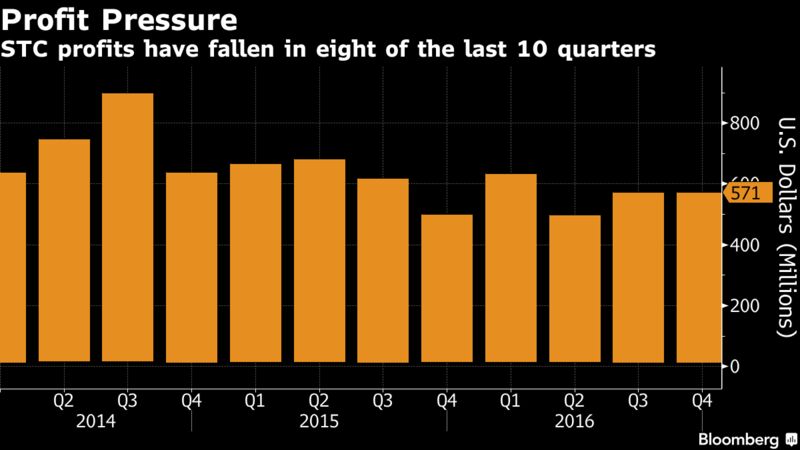 Tarabzouni helped introduce Saudi Arabia's Public Investment Fund to Uber Technologies Inc. -- which led to the kingdom's wealth fund investing $3.5 billion in the ride-hailing app. At STC, he is planning to invest in fintech, drones, wearable technology, virtual reality and machine learning. The goal is to "arm ourselves with a world-class portfolio of next-generation technologies that will be used to build the future of Saudi Arabia," he said.
The plan to get STC, 70 percent owned by the Public Investment Fund, as the kingdom's wealth fund is known, to do more technology investments dovetails with a broader government push to diversify the Saudi economy away from oil. Technology deals will play a key part in this. In addition to Uber, the fund has put $500 million into a regional e-commerce venture, and it may put as much as $45 billion into a fund run by SoftBank.
'Dumb Telco Money'
Besides seeking partnerships with firms he used to work alongside in the U.S., Tarabzouni has recruited Saudis working in the U.S. at technology firms including Microsoft Corp., Tesla Inc. and Space Exploration Technologies Corp. to come back to home and help bolster his team. Potential partnerships with Asian technology companies including SoftBank and Alibaba Group Holding Ltd. are also under way.
"We want to get away from the perception of dumb telco money chasing the next big thing," Tarabzouni said. "We want to do investments that can create a feedback loop to create value for STC, and also for the country that helps realize the ambition to diversify the economy and create jobs."
Tarabzouni led the STC team that worked on the Careem Networks investment, which valued the ride-hailing app at about $1 billion. The total size of Tarabzouni's fund hasn't been established.
Silicon Valley
A computer science graduate from Massachusetts Institute of Technology, Tarabzouni worked at Morgan Stanley and Oracle Corp. before becoming head of emerging Arabia at Google in 2009. He moved to the search giant's Mountain View headquarters in 2015 to become head of new business and partnerships for the Android mobile operating system, and was one the people leading the team working on Project Fi, Google's attempt to cut out traditional carriers by launching its own mobile network.
This is not the first time STC has tried to diversify. The company joined state-owed Middle Eastern operators including Ooredoo QSC and Emirates Telecommunications Group Co. that plowed more than $10 billion into a wave of acquisitions of foreign telecoms companies from 2005 to 2010, data compiled by Bloomberg show.
STC is exploring options for its indirect stake in Maxis Bhd., the second-largest Malaysian wireless carrier by market value, people with knowledge of the matter told Bloomberg in September. The Saudi carrier sold its stake in PT Axis Telekom Indonesia in 2013.
"Telcos are not well-known for making a success of going outside their core business," Tarabzouni said. "We want to change that."