EghtesadOnline: Islamic State claimed its first attack on Iran, as suicide bombers and gunmen struck at the heart of the country's political and religious establishment on Wednesday.
According to Bloomberg, assailants entered the parliament building in Tehran and the shrine of the Islamic Republic's founder, Ayatollah Ruhollah Khomeini, to the south of the city.
At least two people were killed in the legislature, Tasnim news agency reported, in addition to four militants. Fars news agency reported both incidents were over.
The Sunni extremist group Islamic State claimed both attacks using its Amaq News Agency, saying they were carried out by its fighters and were the group's first in Iran -- the Middle East's Shiite power.
The rare violence in the usually safe capital comes as Iranian security forces and allied militias are involved in offensives against the jihadist group and other militant groups in both Syria and Iraq. U.S.-backed Syrian fighters on Tuesday launched an offensive to retake Islamic State's self-declared capital of Raqqa, pushing the group further onto the defensive.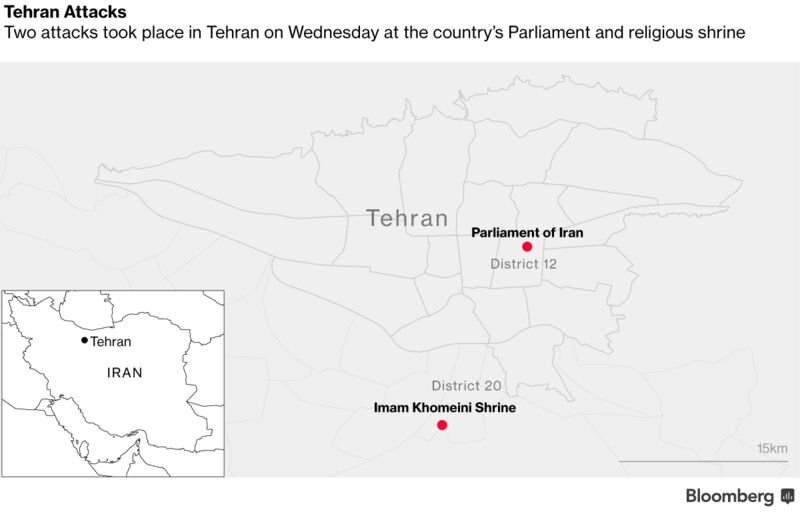 Iran's Interior Ministry will hold an emergency security meeting. Roads leading to parliament in downtown Tehran were closed. Photographs circulated via state media showed security forces stationed outside the building.
"Terrorists are trying to create problems here," Parliamentary Speaker Ali Larijani was shown on television as telling lawmakers. "The security forces will surely deal with them strongly."
Four attackers entered parliament using the public entrance wearing women's clothes, Tasnim cited Deputy Minister Hossein Zolfaghari as saying, and a firefight with security forces began immediately. Hours later, the Intelligence Ministry said a suicide bomb went off. More than 30 people were wounded, Zolfaghari said.
In a separate incident on the outskirts of the city, gunmen entered the Khomenei shrine and opened fire before an explosion hit the site, Tasnim said. Images of the blast were shown on Press TV, which said one assailant was shot dead before he could set off his explosives, but another succeeded in detonating a bomb.
This week, an alliance of Saudi Arabia, two other Gulf monarchies and Egypt sparked the biggest diplomatic crisis in years in the region, with a coordinated effort to punish Qatar over its closer relations with Tehran and alleged support for Islamist extremists.