EghtesadOnline: When OPEC's new chief starts next week, he'll take over an organization that's largely reconciled internal differences after a two-year fight over strategy. But as oil prices sink again, that unity could be at risk.
Nigerian Mohammed Barkindo will be the first new top official at the Organization of Petroleum Exporting Countries in almost a decade. He comes to the role after a dispute over output policy split OPEC's richest and poorest nations and marked the final months of his predecessor's tenure. While members now back Saudi Arabia's tactic of pumping without restraint to choke off supply from rivals such as U.S. shale drillers, many struggle with its effects.
Oil's 53 percent recovery since January hasn't boosted prices enough to relieve the economic pain that pushed some members, notably Venezuela, into a state of crisis. Worse still, crude is sliding back toward $40 a barrel as demand growth slows and the slump in U.S. production levels off, with drilling again on the rise.
"Barkindo is taking the post at a critical time for the organization," said Abdulsamad al-Awadhi, who was Kuwait's national representative to OPEC from 1980 to 2001. "His success will not only rely on his relations to Saudi Arabia" and its Gulf allies, "he has to win the confidence of the other founding members: Iran, Iraq and Venezuela," he said.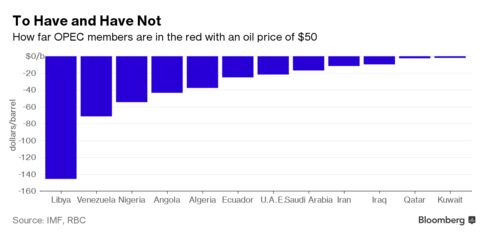 Venezuela, Iraq, Nigeria, Algeria and Libya were dubbed by RBC Capital Markets as OPEC's 'Fragile Five,'' the countries most at risk of political turmoil as they struggle to balance their budgets. Only Kuwait and Qatar are close to their fiscal break-even points with oil prices at $50 a barrel, according to the International Monetary Fund. Saudi Arabia, while needing higher prices, can tap its foreign currency reserves, the world's fourth largest, to cover any shortfall.
"Clearly, it's a very divided organization," Mike Wittner, head of oil market research at Societe Generale SA in New York, said by phone. "There's the haves and have-nots. The haves are the core Gulf countries, and then there's everybody else. In a long and painful down cycle, those divisions become starker than ever."
West Texas Intermediate crude futures, the U.S. benchmark, lost as much as 1.4 percent to $40.57 a barrel on Friday before bouncing back to a 0.8 percent gain. They were still headed for their biggest monthly loss in a year.
Venezuela's embattled socialist government is struggling to pay for vital imports and service debt, while enduring the sharpest contraction in a decade and the highest inflation rate in the world. Barkindo's native Nigeria is suffering a recession for the first time since 1991 and a plunge in its currency to a record low as the oil rout is compounded by militant attacks on pipelines and other facilities.
El-Badri Exits
The schism between OPEC's richest and poorest states widened in the run-up to Barkindo's appointment, as the wealthy Gulf nations insisted on unfettered production to defend market share, while a bloc led by Venezuela urged them to cut output and boost prices.
While Barkindo's predecessor, Libya's Abdalla El-Badri, had been due to stand down in 2012 after serving the maximum two terms allowed by OPEC's rules, he was repeatedly asked to stay on as members failed to agree on a successor.
In December 2015, frustrated by their failure to reverse Saudi Arabia's strategy, Venezuela and its allies insisted that by mid-2016 a replacement should be found for El-Badri, who had defended the market-share policy. Barkindo was chosen as his successor when the group next gathered on June 2.
Barkindo was acting secretary general in 2006 and served for several years as one of Nigeria's OPEC representative. He also was managing director of state-owned Nigerian National Petroleum Corp. in 2010.
'Skillful Negotiator'
"He is a highly skillful negotiator and middleman" and these qualities "will be tested significantly" by the divisions in OPEC, said Ed Morse, head of commodities research at Citigroup Inc. in New York. "Barkindo will be as successful as anyone could be, more successful than most others," having learned from experiences in Nigeria's oil industry how "to forge agreements through compromise," he said.
Although the secretary general doesn't set policy, the role is important as the organization's public representative and, as was often the case with El-Badri, its top internal diplomat, resolving disputes between members. There are now 14 with the recent addition of Gabon.
Tensions between OPEC's members have always been a feature of the organization and haven't prevented the group's latest maneuver from being successful, said Societe Generale's Wittner.
OPEC Cohesion
Still, cohesion has been key for some of OPEC's most effective actions, such as the record supply cuts that helped revive prices after the 2008 financial crisis. Coordination may be needed again in the future as rising fuel demand and the rout in non-OPEC supply makes the world more reliant on new supplies from OPEC, Wittner said.
As OPEC's present strategy is to remain passive while the market corrects itself, Barkindo's first challenge may be to define the organization's function in this new context, said Jamie Webster, an independent analyst in Washington who regularly attends OPEC meetings.
"The big thing he's going to have to deal with is trying to show they're still relevant," said Webster. "They're searching for relevance in an era when they're not really making any decisions. Not dead, but certainly in hibernation."