EghtesadOnline: The dollar tumbled versus the euro after the Federal Reserve kept interest rates unchanged while underscoring a gradual pace toward tighter monetary policy, casting doubt on officials' willingness to raise borrowing costs before year-end.
According to Bloomberg, the greenback erased gains against a basket of 10 of its major peers after officials repeated that "economic conditions will evolve in a manner that will warrant only gradual increases in the federal funds rate."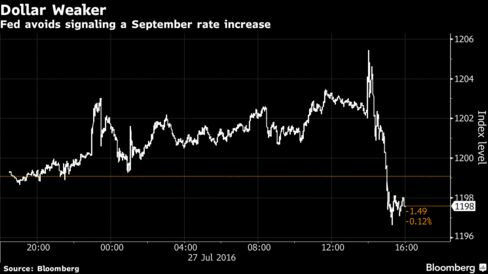 Traders had bid up the dollar over the past month as data on jobs, retail sales and industrial production buoyed the outlook for growth, boosting speculation a strengthening U.S. economy will spur officials to raise rates for the first time this year. The dollar slumped in the absence of signs that Fed policy is set to further diverge from that of the Bank of Japan and European Central Bank, which are boosting monetary stimulus as they seek to spur flagging growth.
"There's no commitment to action in any of the observations that they made," said Greg Anderson, global head of foreign-exchange strategy in New York at Bank of Montreal. "The initial spin people put on the FOMC was that somehow this increases the likelihood of September. As people have taken a more careful read of it, it doesn't say anything."
After initially rallying, the dollar dropped 0.7 percent to $1.1062 per euro as of 4:40 p.m. in New York.
Traders are pricing in just a 45 percent probability the central bank raises rates by the end of the year, based on the assumption that the effective fed funds rate will trade at the middle of the new Fed target range after the next increase. Fed policy makers gather three more times this year, with the next meeting set for Sept. 20-21.
Hedge funds and other money managers increased net bullish bets on the dollar against eight major currencies for the last two weeks, according to data from the Commodity Futures Trading Commission. Wagers that the currency would rise outnumbered bearish positions by 111,931 in the week to July 19 from 96,234 the previous week, the data showed.
The dollar's gains were a "knee-jerk reaction" that dissipated after market participants had time to digest the Fed statement, Lindsey Piegza, chief economist of Stifel Nicolaus & Co., said by phone from Chicago. "The Fed is very much engaged with the rest of the world in terms of central bankers sitting on the sidelines," and it didn't convey any sense of urgency in terms of its rate path.