EghtesadOnline: U.S. stocks fell with Mexico's peso after the FBI said it's reopening an investigation into Hillary Clinton's use of an unauthorized e-mail server. Bonds rose, while the dollar slumped as traders pared bets on a Federal Reserve hike this year.
American equities erased gains and Mexico's peso, which is seen as a proxy for market perception on the U.S. vote, declined against most major currencies. The greenback slipped from a seven-month high, while Treasuries rose as futures data now show wagers on a 70 percent probability of a rate increase by December, down from 74 percent earlier Friday. Crude sank as an OPEC committee discussed production targets, reports Bloomberg.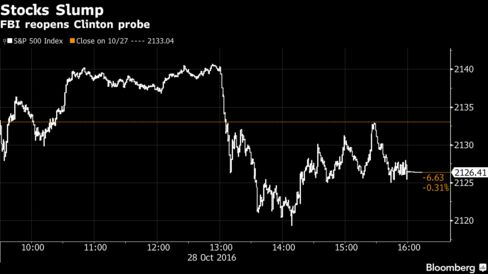 It's not the first time U.S. stocks have been sensitive to perceptions about Clinton's political prospects. Futures on the S&P 500 rallied three-quarters of a percent during the first presidential debate, when her odds of winning shot up on online prediction markets. A Donald Trump win would reduce the value of the U.S. benchmark gauge, the U.K., and Asian stock markets by as much as 15 percent, economics professors Justin Wolfers and Eric Zitzewitz said in a paper released by Brookings Institute.
"As soon as the Hillary Clinton news went across, everything went down," said Stephen Carl, principal and head equity trader at Williams Capital Group LP. "The election is at the forefront, and with a lack of other market-moving news right now, that's what people are focusing on."
The FBI's announcement came after investigators unearthed new e-mails through a separate probe of Clinton aide Huma Abedin's estranged husband, former Representative Anthony Weiner. The bureau is investigating illicit messages that Weiner allegedly sent to a 15-year-old girl in North Carolina, an inquiry that gave them access to devices used by the couple, according to the New York Times.
"In connection with an unrelated case, the FBI has learned of the existence of emails that appear to be pertinent to the investigation," Director James Comey said in a letter to eight committee chairmen in Congress. "I agreed that the FBI should take appropriate investigative steps designed to allow investigators to review these emails to determine whether they contain classified information."
Clinton has been cruising toward a win in the election. She held an average four-point lead over the Republican in polls that include independent candidates as of Friday, according to Real Clear Politics. Some recent polls have been far worse for Trump; the Associated Press said on Oct. 26 that its poll showed Clinton with a 14-point lead. The election projection site FiveThirtyEight.com assessed her odds of a win at 82 percent on Friday.
Stocks
The S&P 500 fell 0.3 percent to 2,126.41 at 4 p.m. in New York, posting the longest slide since June. Earlier gains came as data bolstered speculation a stronger economy may lift corporate earnings.
Equity markets have been wagering on a Clinton victory, with the latest RealClear Politics poll average showing her with an advantage of about 5 points. Stocks have been stuck in a range of about 65 points since August as the looming presidential election and expectations for higher interest rates upstage a recovery in corporate profits.
"Clinton is clearly priced to win, and anything that disrupts the market's predictions will have an adverse reaction," said Michael Antonelli, an institutional equity sales trader and managing director at Robert W. Baird & Co. in Milwaukee. "The market has to re-price for a new level of uncertainty, and we're now dealing with a big heaping teaspoon of it. It has to change its probabilities and change how it's thinking."
An avalanche of earnings announcements added to concerns about the health of European companies, with the region's shares slipping for five days straight. For banks, though, the week was good: They're no longer the year's worst-performing industry.
While results at companies from Novo Nordisk A/S to Anheuser-Busch InBev NV disappointed investors, UBS Group AG was among the lenders that reported better-than-projected earnings. The region's banks rallied more than any other industry group this week, losing their spot as biggest decliners of the year. A gauge tracking the industry moved in opposite directions to the benchmark Stoxx Europe 600 Index for a third week out of four.
Currencies
The Bloomberg Dollar Spot Index, which measures the U.S. currency's performance against a basket of 10 major counterparts, fell 0.3 percent, leaving its weekly gain at 0.2 percent. The gauge is up 2.2 percent this month.
The politically explosive development less than two weeks before the presidential election extended the dollar's losses against the euro and the yen. The greenback strengthened against the Mexican peso, which is viewed as a gauge of the likelihood of Trump beating Democrat Clinton in the ballot. The peso tends to fall when he gains ground, reflecting concern about his pledges to renegotiate the countries' free-trade agreement and deport millions of undocumented immigrants.
"The market will be concerned that this tips the balance of risks towards Trump again," said Shaun Osborne, chief foreign-exchange strategist in Toronto at Bank of Nova Scotia. "I don't think the market necessarily believes this means Trump will win, but it raises the level of uncertainty significantly."
Brazil's real posted the biggest loss in emerging markets as commodities slid and traders said dollar inflows connected to a repatriation law slowed.
The yuan headed for the biggest monthly drop since last year's shock devaluation, spurring concern that China's policy makers are becoming more tolerant of declines as exports slump.
Bonds
Yields on U.S. two-year notes, the coupon maturity most sensitive to Fed policy expectations, fell three basis points, or 0.03 percentage point, to 0.86 percent, according to Bloomberg Bond Trader data.
"This is a small glimpse into what the bond market thinks is going to happen if Trump is elected," said Thomas Roth, senior Treasury trader in New York at MUFG Securities Americas Inc. "The market has made it clear that they think a Trump victory would be bad for stocks and would create more uncertainty in the economy. And therefore, it might hold the Fed off from raising rates."
German bonds headed for their worst month since 2013 as a global selloff deepened amid speculation major central banks are moving closer to reining in stimulus.
Yields on Europe's benchmark 10-year securities rose earlier to the highest in almost six months. Ten-year debt yields in the U.S. and Australia also climbed to levels last seen in May, buoyed by expectations that the Fed will raise interest rates this year and amid signs that global inflation is accelerating.
Commodities
Oil fell 2.1 percent in New York on Friday. Brazil will attend the Organization of Petroleum Exporting Countries gathering Saturday in Vienna as the bloc that pumps about 40 percent of world output seeks non-member cooperation on curbing production. The South American nation will join other exporters from outside the group, including Russia.
"Oil traders are reacting to the weakness in the S&P 500," said Tim Evans, an energy analyst at Citi Futures Perspective in New York. "There's still an abundance of supply and we need to hear some details about what OPEC is going to do."
West Texas Intermediate for December delivery dropped $1.02 to $48.70 a barrel on the New York Mercantile Exchange. Brent for December settlement dropped 76 cents, or 1.5 percent, to $49.71 a barrel on the London-based ICE Futures Europe exchange. It was the lowest close since Sept. 30.