EghtesadOnline: Gold's best run since 2010 pushed Canadian equities to the top spot among developed-market stocks this year. Crude at $50 a barrel will give them an opportunity to stay there.
That's the view of strategists who follow the nation's resource-heavy stock market. They expect energy producers will rally into the end of the year as the most expensive crude in 15 months delivers a surge in earnings. The group will take over the baton from the S&P/TSX Materials Index that rallied as much as 65 percent this year before fading in the third quarter, reports Bloomberg.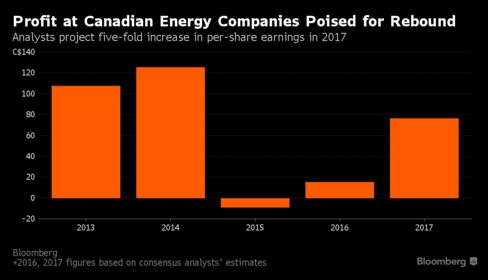 A year after commodities producers dragged the S&P/TSX Composite Index to its worst result since the financial crisis, companies that mine metals and produce oil and gas have fueled a 14 percent surge in the benchmark for Canadian equity that's left it the best performer among 24 developed markets tracked by Bloomberg. With crude trading above $50 a barrel for the first time in 18 months, analysts see energy producers poised to deliver a five-fold profit increase in 2017 that will propel share gains.
"There's still long-term quality names out there, especially in energy names that got thrown out with the bath water," said Craig Fehr, Canada market strategist with Edward Jones in an interview from St. Louis. His firm manages more than $900 billion globally. "It's a reflection that $26 oil was too low. Energy stocks will benefit from the transition to a much easier year-over-year comparables period."
Energy shares are poised to add to their 28 percent surge through Oct. 20 as the price of crude emerges from an 18-month slump that took it to a 13-year low in February. The group's profits have started to rebound and are projected to post earnings of C$15.65 per share after a C$8.96 loss in 2015 that was the first since at least 2002 according to available data. Analysts forecast earnings will rise some 390 percent to C$76.70 in 2017.
With crude holding near $50 a barrel, prices are back to levels where oil producers around the world have said they can start investing again after billions of dollars of spending cuts and thousands of job losses over the past two years. U.S. shale field explorers are adding rigs, boosting oilfield work to the highest since February.
"The oil story going into 2017 looks pretty darn positive, and positive for the TSX," said Philip Petursson, chief investment strategist for Manulife Investments. Manulife's asset management unit oversees about $334 billion. "Higher oil prices don't just benefit oil producers, it also benefits industrials, financials."
Commodities Producers
Commodities producers comprise one-third of Canada's benchmark stock index, and the 32 best performers in the S&P/TSX this year through Oct. 20 come from that contingent.
Teck Resources Ltd., the nation's largest diversified mining company, has surged more than five-fold in 2016 as its earnings have improved amid rising prices for commodities from metallurgical coal to zinc.
Meanwhile Bonavista Energy Corp. is the top energy stock with a 161 percent rally. The oil and natural gas producer has raised production projections this year and agreed in September to swap non-core properties in British Columbia for assets in the Deep Basin and west central Alberta core regions to concentrate its holdings.
The nation's two largest lenders have also contributed to gains, with Royal Bank of Canada and Toronto-Dominion Bank adding at least 9.5 percent so far this year to push the stocks to record highs this week as the Fed inches closer to raising interest rates and after the Canadian government introduced new mortgage rules designed to stabilize the housing market. Financial services stocks are the biggest single industry in the S&P/TSX.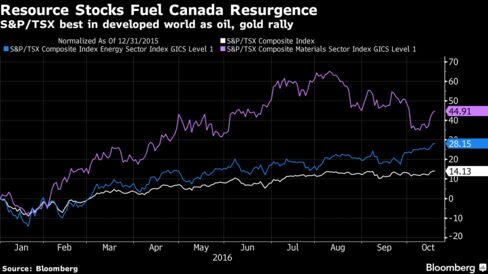 It was raw-materials miners that drove gains in the first eight months of the year, powering higher by 65 percent. Gold in New York surged 29 percent to the highest in two years in August as the Federal Reserve's decision to keep monetary policy loose bolstered the metal's appeal. As the odds for higher interest rates rose in the third quarter, the rally in miners faded.
Manulife's Petursson says the run isn't over for gold producers as the negative impact from any Fed rate hike will likely quickly reverse. Tightening would also imply an increase in inflation that would make the metal more appealing as a store of value. Gold futures have fallen 7.7 percent since the August high to settle Oct. 20 at $1,267 an ounce in New York.
"The fair value for gold is $1,500, so there's quite a ways to go," Petursson said. "The drag on the TSX in the last few weeks, we could see that reverse course. You could treat it as a buying opportunity."
Petursson figures the S&P/TSX has about 8 percent to 10 percent upside in 2017, with energy producers beginning to see a lift in earnings thanks to better year-over-year comparables as early as the fourth quarter of 2016 or more likely in the first quarter of next year.
Fehr says investors who've missed the massive rallies in commodity producers this year can still benefit. "There was a lot of pain in these sectors in 2015 so we've seen in 2016 the pendulum swing back towards more economic optimism," he said. "While I don't expect a repeat performance in 2017, mid-single digit return is reasonable."
Oil's gradual recovery has set the stage for a run up in Canadian equity prices, Matt Barasch, chief Canadian equity strategist at RBC Capital Markets, said in an interview in Toronto Oct. 4.
"The set-up is quite positive," he said.