EghtesadOnline: Tara Flynn, a rising star in show development at TV studio Fox 21, walked into her boss's office in August to announce she was leaving for a job at Netflix Inc.
Her boss said she was under contract, and Flynn replied that she wasn't asking permission, according to people familiar with the conversation. She had little to lose. Netflix said her contract wasn't enforceable in California, and promised to cover any legal fees, said the people, who asked not to be identified discussing private information.
Flynn's departure is just one of the latest examples of Netflix's aggressive hiring as it builds its own empire. Netflix plans to release 1,000 hours of original video next year, up from 600 this year, and is taking on dozens of new employees to help it find, produce and market TV shows and movies. That ambition is ruffling feathers in Hollywood, a place where professional jealousies and big egos are the norm, reports Bloomberg.
Netflix plans to spend $6 billion on programming next year, up 20 percent from 2016. Much of that will be spent on shows and movies produced by rival media companies, but more and more is devoted to original shows. Headcount almost doubled last year to 3,700, and the company has 36 open job listings for marketing and 24 for public relations, almost all tied to original productions.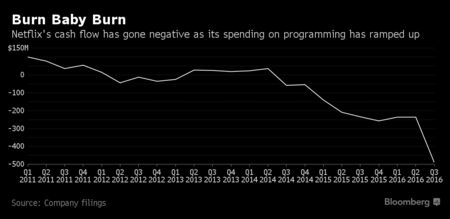 The company is about to move into a swanky new office tower in the heart of Hollywood that will serve as one of its hubs for original programming. The 323,000 square-foot (30,000 square-meter) new building, which includes stages and production offices, was the largest office lease in Hollywood history when Netflix signed it last year.
By producing a show from soup to nuts, Netflix controls global rights, which are key as the company attempts to offer a similar library of shows and movies around the world. Companies like Amazon.com Inc. have stepped up to start bidding against Netflix for those rights.
"The more they own, the more they control, the more flexible they can be at deploying shows around the world," said Joe Dennison, an associate portfolio manager at Zevenbergen Capital Management. "It's a smart investment upfront since the return takes a long time."
Netflix wants to determine "how we continue to maintain exclusivity, where we're not seeing the content against our wishes go into other markets, into syndication and DVD and others," Ted Sarandos, the company's chief content officer, said on a call with analysts this week. "We're able to produce it at a very high quality and also much more efficiently."
Big Ambitions
FX Chief Executive Officer John Landgraf has warned that Netflix's ambitions are so great that it could develop a monopoly over content production, just like its Silicon Valley peers have grabbed large market share in social networking, search and mapping. FX just had a banner year, even though it lost out on the rights to a couple hits to Netflix, such as Aziz Ansari's "Master of None."
Parent company 21st Century Fox Inc. took its grievances a step further, suing Netflix last month for allegedly encouraging Flynn and a film marketing executives to break their contracts. "Netflix is defiantly flouting the law by soliciting and inducing employees to break their contracts," the media company said in its statement. "We intend to seek all available remedies to enforce our rights and hold Netflix accountable for its wrongful behavior." Netflix declined to comment on the suit. Flynn referred questions to Netflix.
While Hollywood relies on fixed-term contracts, they aren't enforceable, Netflix has said. The company wants to set a precedent that it can take employees from other companies -- if those employees want to leave.
Media company complaints about Netflix have grown much louder as its value has grown along with its user base. It was only six years ago that Time Warner Inc. CEO Jeff Bewkes dismissedNetflix as being as threatening as the Albanian army.
In the past few years, Netflix has offered hefty raises, sometimes double, over many mid-level employees' salaries if they join the company, according to people familiar with the matter. To develop hundreds of hours of programming in just a few years, the company has had to hire executives away from many of its partners and competitors to satisfy its ever-growing needs.
The company has recruited development executives to identify promising scripts and acquire projects, production executives to get the projects made and marketing and public relations executives to promote the finished product. Most of Netflix's senior programming executives hail from major media companies.
Growth Stock
One of the things that most needles partners is that Netflix can spend billions of dollars without needing to deliver a profit, since it still has the cachet of a hot Silicon Valley growth stock. While HBO, Showtime, FX and others must show consistent growth in both sales and profit to please their parent companies, Netflix is singularly focused on adding customers, and it's on course to surpass 100 million next year.
To create and license all its programming, Netflix is bleeding cash. The company said this week it will have negative free cash flow of $1.5 billion this year and will soon raise more debt. Making its own shows is more cash-intensive at first, but costs less in the long term than acquiring programming because of lower overhead and more licensing opportunities, the company said.
"Netflix spending is out of control," said Wedbush Securities Inc. analyst Michael Pachter, a longtime bear on the stock, citing a $40 million deal Netflix reportedly did for two stand-up films starring comedian Chris Rock. "I cannot see how they ever get a return on that 'investment.'"
The programming budget will grow indefinitely, executives said Monday on an earnings call. Originals like "Luke Cage'' and "Making a Murderer" could eventually account for half of all the programming on Netflix, Chief Financial Officer David Wells said at an investor conference last month.
Many of those shows are still produced and owned by other companies, like Walt Disney Co.'s Marvel Entertainment and Sony Corp. But Netflix is funding and producing more on its own. "Stranger Things," a summer sensation that helped attract millions of new subscribers, is one example of an in-house Netflix show.
Though known for serialized dramas, Netflix has been meeting with top TV producers in search of a hit procedural show like "Bones'' or "NCIS,'' according to people familiar with the matter. Science fiction and supernatural horror programs are also high on its list.
Fox Suit
While the Fox suit garnered a lot of attention, executives at most other media companies say losing the occasional employee is par for the course. If they do lose employees, it's because Netflix is an attractive new company offering gigantic raises.
Nor is Netflix abandoning studios. It worked with Sony to produce "The Crown," a drama about Queen Elizabeth II created by Peter Morgan, and works with Walt Disney Co.'s Marvel Entertainment on shows like "Luke Cage" and "Daredevil.''
And for urban crime drama "Seven Seconds,'' Netflix is teaming for the first time on a wholly original show with a new partner.
Its collaborator on the project? Fox.