EghtesadOnline: The dollar strengthened versus all of its major peers ahead of a European Central Bank policy meeting, while European stocks retreated and Asian shares advanced. Mexico's peso touched a six-week high after the final U.S. presidential debate.
The Bloomberg Dollar Spot Index rose for the first time this week as the euro reached its weakest level since July ahead of the ECB meeting, which may shed light on the outlook for the authority's record stimulus. Australia's dollar slumped following an unexpected drop in employment and the peso, which tends to appreciate when Donald Trump's U.S. election prospects dim, fluctuated. The Stoxx Europe 600 Index fell as crude oil retreated from a 15-month high, while energy shares led gains in Asia, reports Bloomberg.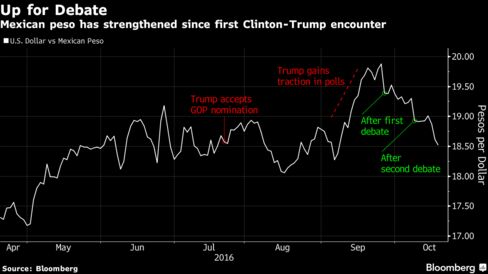 The latest debate between Hillary Clinton and Donald Trump did little to shed new light on their policies and had less impact on financial markets than their two previous exchanges, which triggered jumps of at least 2 percent in the peso. A CNN/ORC poll of debate watchers showed 52 percent judged Clinton the winner, compared with 39 percent for Trump. Investors are counting down to the Nov. 8 election and a Bloomberg Politics national poll conducted Oct. 14-17 showed a nine percentage-point lead for the Democratic nominee.
"With the polls so heavily in Clinton's favor, markets are priced for her victory," said Sean Callow, a senior strategist at Westpac Banking Corp. in Sydney. "There probably would only have been a sharp move in markets if Trump had performed extremely well, which wasn't the case."
While the ECB is seen leaving policy unchanged at Thursday's review, investors will be looking for signals regarding the outlook for its quantitative-easing program. Indonesia also has a central bank meeting and 46 percent of the economists surveyed by Bloomberg forecast interest rates will be cut in Southeast Asia's biggest economy.
Currencies
The Bloomberg Dollar Spot Index advanced 0.2 percent as of 8:22 a.m. London time, rebounding from a one-week low.
The euro fell as much as 0.2 percent versus the greenback as traders await the ECB's policy statement and a press briefing by the authority's chief, Mario Draghi. Most economists in a Bloomberg survey predict the central bank will prolong its 1.7 trillion-euro ($1.9 trillion) bond-buying program in December and won't start to taper its asset purchases before the second half of 2017.
Mexico's peso was down 0.4 percent after strengthening as much as 0.4 percent in the wake of the debate to 18.4558 per dollar, the strongest level since Sept. 8. The currency has risen more than 4 percent this month as opinion polls pointed to a growing likelihood that Trump will lost the coming election. The peso has been sensitive to Trump's fortunes because he's proposed renegotiating or ending trade deals with Mexico and blocking remittances to force the country to pay for a wall along the U.S. border.
The Aussie weakened 0.8 percent after data showed employment fell by 9,800 in Australia last month, compared with an increase of 15,000 forecast by economists in a Bloomberg survey.
Stocks
The Stoxx Europe 600 Index declined 0.2 percent from a two-week high. Nestle SA dropped 1.4 percent after the world's biggest food company cut its full-year sales forecast. Pernod Ricard SA climbed to a 14-month high after the distiller reported sales growth that beat estimates.
The MSCI Asia Pacific Index was 0.3 percent higher, with a gauge of energy shares surging 1.1 percent. Japan's Topix index rose 1 percent to record its best close since May, while Taiwan's Taiex index climbed to a three-month high.
Futures on the S&P 500 Index were little changed, after gaining as much as 0.3 percent following the debate.
Commodities
Crude oil declined 1 percent to $51.07 a barrel in New York, after surging 2.6 percent on Wednesday. Official data showed U.S. supplies dropped by 5.25 million barrels last week to the lowest level since January, while all 10 analysts surveyed by Bloomberg had forecast an increase. Many nations are willing to jointhe Organization of Petroleum Exporting Countries in cutting production, according to Saudi Arabia's energy minister.
Bonds
U.S. Treasuries due in a decade were little changed and yielded 1.74 percent. The securities have slumped in October as a bond-market gauge of inflation expectations rose to the highest in five months. The probability of a U.S. rate increase by December has climbed to 64 percent, fed fund futures indicate, from 59 percent at the end of September.
"If you want to buy bonds, it's not a good time," said Hiroki Shimazu, an economist and strategist at the Japanese unit of MCP Asset Management in Tokyo. "Whoever wins the presidential election will be negative for the bond market because they'll plan a large economic stimulus package. There's higher inflation."