EghtesadOnline: Deutsche Bank AG, Germany's biggest bank, is considering options such as scaling back U.S. operations as part of a wider overhaul to lower costs, according to several media reports.
A U.S. pullback was already discussed by the supervisory board and would be more likely than a sale of the asset-management business, Sueddeutsche Zeitung reported, citing an undisclosed person familiar with the matter. No decision has been taken, according to the German newspaper. Deutsche Bank doesn't plan a full U.S. retreat, according to Reuters. Renee Calabro, a spokeswoman for Deutsche Bank in New York, declined to comment.
Chief Executive Officer John Cryan is under pressure to lower cost further as mounting legal expenses threaten to undermine profitability. While a sell-off in the shares accelerated last month, when the U.S. Justice Department requested $14 billion to settle a probe tied to residential mortgage-backed securities, Cryan has said he doesn't plan to raise capital and expects U.S. authorities to scale back their initial demand, reports Bloomberg.
The shares closed at 12.24 euros on Friday, up 2.04 percent on the day. The company has lost about 46 percent of its market value this year, making it the fourth-worst performer on the Bloomberg Europe Banks and Financial Services Index, which slipped 22 percent.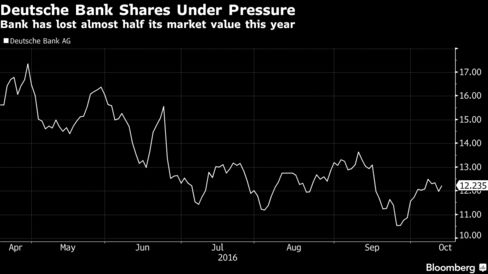 A report by Germany's Die Welt am Sonntag that Deutsche Bank may be forced to shrink its U.S. activities as part of a deal with the Department of Justice was disputed by one person briefed on the matter. The person, who asked not to be identified because the matter is private, said the lender is reviewing its U.S. operations and capital requirements but no decision is imminent.
Deutsche Bank had 10,842 employees in North America at the end of 2015, about 10 percent of the 101,104 it employs worldwide. Under Cryan's restructuring plans announced last year, the lender is seeking to eliminate 9,000 jobs, including 4,000 positions in its home market.
Deutsche Bank spokesman Armin Niedermeier declined to comment on the report by Die Welt am Sonntag when contacted by Bloomberg on Saturday.
As part of his overhaul, Cryan has cut risky assets, suspended dividends and scrapped bonus awards. The CEO has already said that the lender may fail to be profitable this year and that he may have to deepen cost cuts.
In a message to divisional chief operating officers on Wednesday, Deutsche Bank said hiring will be put on hold with immediate effect, people familiar with the matter toldBloomberg. The hiring freeze affects all divisions excluding some control functions such as compliance, the people have said.
Deutsche Bank, which houses Europe's largest investment bank, is also holding informal talks with securities firms to explore options including raising capital should mounting legal bills require it, people familiar with the matter have said. The lender would also revisit selling its Deutsche Postbank consumer unit or parts or all of its asset-management division, they said.
The lender is scheduled to release third-quarter earnings on Oct. 27.