Trump's schizophrenia on defense (along with a few other problems) is putting people with a military connection in play as never before. Can Clinton make inroads along the Eastern front?
EghtesadOnline: For the first time since the dawn of the Cold War, Republicans have nominated a presidential candidate who's often been proudly more dovish than his Democratic opponent—and that's only the beginning of Donald Trump's problems with American voters who have connections to the military.
One of the most persistent untruths of the campaign—Trump's insistence that he opposed the 2003 invasion of Iraq before it occurred—may be notable less for the shamelessness with which it has been repeated than the end it is supposed to serve. Fifteen years after Sept. 11, 2001, the Republican nominee for president is working assiduously to distance himself from his party's defining foreign-policy initiative of the era, attacking Hillary Clinton for being too ready to use force, according to Bloomberg.
Trump's slightly schizophrenic foreign-policy posture—a tough guy, but with hands-off instincts—carries with it policy confusion to match. He wavers on whether he would seek to increase or reduce military budgets, and threatens to "beat the hell out of ISIS" while never being clear about whether he would deploy American troops to do so. And his disparaging remarks about John McCain and the Khans, whose son was killed in Iraq, are sharply at odds with the usual GOP rhetoric.
Trump's idiosyncrasies—along with Clinton's hawkishness and impressive array of medal-festooned endorsers—may be creating a surprising opening for the Democrat among military families. A Military Times survey of its active-duty subscribers showed him winning 49 percent of their votes ("representative of the services' more senior and career-oriented members," per the paper) against 23 percent for third-party candidates and 20 percent for Clinton. Trump's lead looks substantial—but it is far smaller than that seen by past Republican nominees. In October 2008, theMilitary Times survey showed McCain leading Barack Obama by 45 percentage points. Four years later, Obama trailed Mitt Romney by a slightly smaller 40-point margin. At the same time, Trump's refusal to embrace a Bush-era foreign policy may help to explain why polls indicate that Libertarian and Green candidates, each skeptical of American intervention abroad, are pulling more voters from the Democrat from the Republican.
The catastrophic impact of Trump's Access Hollywood tape among traditional GOP voters may open this door even wider. Clinton appears primed to lean even more on national-security themes, having determined that it is one of two major issue areas she could use to convince newly disaffected Republicans "as to why she should be their choice," according to communications adviser Jennifer Palmieri.
Such messaging is likely to dominate in areas where Clinton's persuasion targets strongly identify with military institutions. Nowhere are these people likely to represent as large a share of the electorate as the lower Atlantic Seaboard, 600 miles of shoreline bookended by naval bases in Jacksonville, Florida, and Norfolk, Virginia, studded throughout with other service installations, and populated by veterans who seek out the area in retirement. (This is the same area menaced most directly last week by Hurricane Matthew.) Five of the country's nine states with the largest populations of military employees lie along that coast.
Clinton's ability to eat into such traditionally Republican constituencies stands to shape not only next month's results, but also the electoral map in years to come. Democrats have already made inroads in Virginia and North Carolina—historically Republican states made battlegrounds by Obama—and aspire to do the same in Georgia, and, to a lesser degree, South Carolina. Both states are about 30 percent black, and Georgia in particular has quickly growing Latino and Asian-American communities. The military, by contrast, is slightly whiter, at 80 percent, than the country at large.
Investing get-out-the-vote resources to mobilize minority voters won't be enough to ensure victory the way it might in traditional battlegrounds like Michigan and Pennsylvania. Persuading right-leaning suburban whites—often in households with a military connection—has to be a crucial part of that strategy, too.
Virginia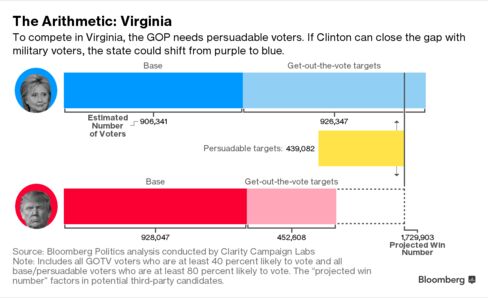 Virginia is the longest of swing-state shots for Trump. Democrats have twice as many get-out-the-vote targets as Republicans—of voters Clinton wants to mobilize, about 60 percent are female, 40 percent young, and 20 percent African-American—leaving Trump with little room for error with his smaller coalition. The Republican's only path to his projected win number includes converting a large tranche of persuadable voters, 67,000 of whom live in households that include a veteran: that's 15 percent of campaigns' persuasion targets.
These households, which include 13 percent of the state's registered voters, nearly a quarter of the Republican base, and 17 percent of the Democratic one, represent their own distinct constituency in Virginia politics. Almost a quarter of likely voters in these households are Republican women. These are some of Clinton's most appealing persuasion targets.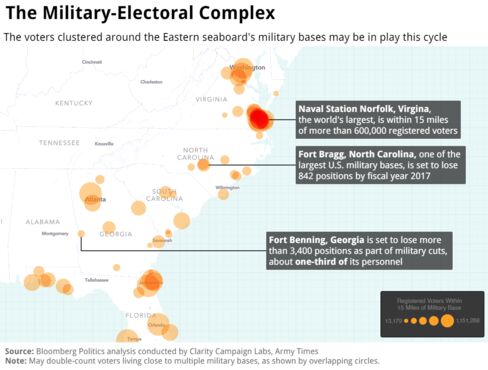 Trump's vulnerabilities among Virginians with a personal connection to military life were evident in the results of the March primary. The eventual nominee barely eked out a win—he beat Marco Rubio by less than 3 percentage points—and struggled particularly in the northern Virginia suburbs, home to the Pentagon, where much of the booming local economy is dependent on its munificence.
Trump might stanch some of the bleeding by clarifying his position on military spending. In communities surrounding military installations—which are still contending with cuts from the 2013 government sequester that claimed 40,000 jobs nationally—reliable Republicans outnumber reliable Democrats two to one. Some 133,000 working-age registered voters live in a 15-mile radius of the Army logistics center at Fort Lee, which lost 127 soldiers in those cuts. Another 758,000 registered voters—46,705 of them persuadables—are in the communities surrounding Fort Belvoir, which lost 250 soldiers to cuts.
Georgia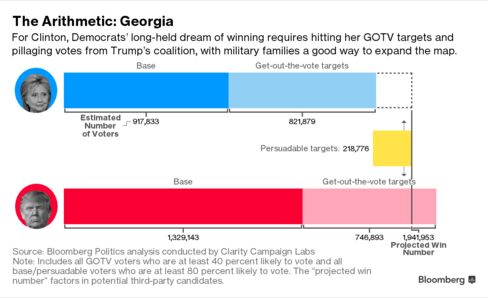 The Democratic Party's standard fantasies about turning Georgia purple have usually involved its vast universe of traditional get-out-the-vote targets rather than its abundant supply of military families. And up to now, the Clinton campaign has not been particularly ambitious about Georgia, pairing it with Arizona under the classification of "expansion" states, a sort of battleground-lite status, where the objective is long-term competitiveness rather than short-term necessity.
The reason for this may be Clinton's weakness within the Obama coalition. Thirty-seven percent of the Democrats' GOTV targets are under the age of 35, compared to 11 percent of the party's base. Barely one in five is white. Even if Clinton is able to raise support levels among these younger voters, enthusiasm will be a problem. This is the type of mobilization-demanding state where large-scale volunteer activity is a prerequisite to Democratic victory.
At least, that was the case before Trump may have put military families in play. Messaging on national-security themes should help her with the one-fifth of Republican base voters who live in households with a veteran—a category that includes more voters than all of the state's persuadables—and another 46,000 are in communities surrounding a military installation.
South Carolina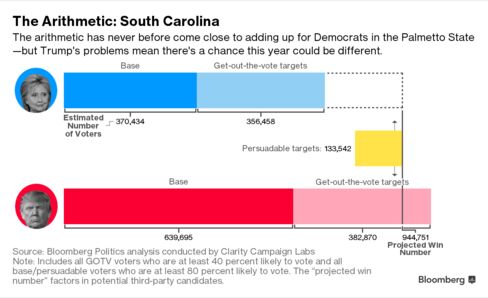 The Palmetto State is a heavier lift. Democrats haven't carried South Carolina in a presidential election since Jimmy Carter, from neighboring Georgia, did so in 1976, and the partisan imbalance in the population appears to put it permanently out of reach. Just trying to grow the party's existing coalition requires talking to two very different electorates at once: 84 percent of Democratic GOTV targets are African-American, but only 3 percent of persuasion targets are.
Yet Clinton's team has seen surprisingly good news from the state, where she handed Bernie Sanders one of his most comprehensive defeats. Trump romped during South Carolina's primary in February, but ever since then he has yet to consistently dominate polls there. The most recent statewide poll, released by Winthrop University in late September, showed Trump with a lead of only 4 points in a state Romney carried by more than 10.
That same poll showed that South Carolina voters actually view Clinton a smidgen more favorably than Trump—37 percent for her to his 36—and see her as more capable than him by a margin of 7 points.
In South Carolina, a Democrat would have to get at least 85,000 Republicans to defect to see any plausible path to get a winning math to add up. If Clinton can leverage her current position to turn out two-thirds of her GOTV targets—a hard job, given that she has not built a real field organization in South Carolina—and carries three-fourths of persuadable voters, she still would still need to find nearly a quarter-million votes elsewhere. She could start with the 143,311 reliable Republican voters who have a veteran in the household.
This group, which constitutes 22 percent of the party's total base, could not be farther from the Sanders-friendly millennials who occupy the campaign's persuasive attentions elsewhere: they are overwhelmingly white, split almost evenly along gender lines, and 84 percent are over the age of 50.
Clinton has yet to advertise in South Carolina, so any move she makes there is likely to be felt first in the Piedmont region, which borders North Carolina—one in nine South Carolina persuasion targets receives broadcast signals over the border from Charlotte. Priorities USA, the pro-Clinton super-PAC, has spent close to a million dollars on broadcast television in that market over the past month. They put close to half of that money behind an ad that features Trump declaring "I love war." The group's Charlotte buy supplements the more than $1.2 million Clinton has spent there since August. Another spot in rotation shows veterans watching Trump claim that he knows more about the Islamic State than military generals. It couldn't be clearer who her campaign is aiming at.