EghtesadOnline: Qatar's royal family is considering increasing its stake in Deutsche Bank AG to as much as 25 percent, according to people with knowledge of the matter.
Sheikh Hamad Bin Jassim Bin Jabr Al Thani, former Prime Minister of the Gulf State, and the former Emir of the country, Sheikh Hamad bin Khalifa Al Thani are exploring increasing their current stake of about 10 percent in Germany's biggest lender, the people said, asking not to be identified as the information is private. No final agreements have been reached.
According to Bloomberg, a spokeswoman for the Frankfurt-based lender declined to comment. Representatives for the Sheikhs didn't immediately respond.
The stock jumped as much as 3.2 percent in U.S. trading and was up 2 percent at $13.80 at 12:16 p.m. in New York. The shares have dropped about 46 percent in German trading this year, giving the company a market valuation of 17 billion euros ($19 billion).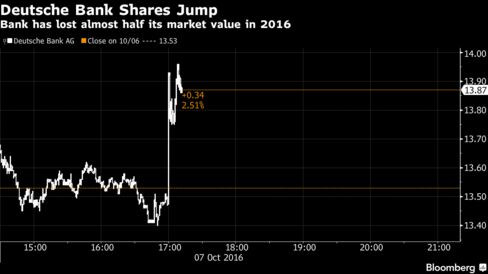 Qatar's royal family, together with other investors, is mulling building a holding to a size that would give them greater control over the lender, Germany's Der Spiegel reported on Friday, without saying where it obtained the information. The move could also trigger changes to management, according to the magazine.
DOJ Talks
Deutsche Bank Chief Executive Officer John Cryan, 55, has been under pressure to restore confidence in the company's ability to withstand pending litigation costs. The lender has informally spoken to potential anchor investors, including new and existing shareholders, to back a possible capital increase. The bank is in settlement talks with the U.S. Department of Justice after an initial request that the company pay $14 billion over claims that it misled investors about the quality of securities backed by mortgages.
S&P Global Ratings on Friday affirmed its BBB+ credit grade on the German lender, saying that it has "sufficient financial flexibility" to absorb a settlement, which will probably be "materially" lower than the $14 billion requested.
The bank's biggest shareholders include the Qatari royal family, BlackRock Inc. and Norges Bank, according to data compiled by Bloomberg. Qatar injected about 1.75 billion euros into Deutsche Bank in 2014 to shore up capital of the lender.
Share Sale
The Gulf state has invested billions in emergency fundraising by Barclays Plc in 2008, making it one of the London-based bank's largest shareholders. In 2008, Qatar and Saudi Arabia were among investors that Credit Suisse Group AG tapped for 10 billion Swiss francs ($10 billion) as the global financial crisis roiled markets.
Senior advisers at top Wall Street firms are speaking to representatives of the lender about ideas including a share sale and asset disposals, said the people, who asked not to be identified because the plans are private. Deutsche Bank could also revisit selling its Deutsche Postbank unit or parts or all of its asset-management division, the people said. A spokeswoman for Frankfurt-based Deutsche Bank declined to comment.
The banks are offering to help underwrite a stock sale to raise about 5 billion euros should the bank need it, the people said. That is about the maximum amount in discounted shares Deutsche Bank can sell without needing shareholder approval, the people said. The firm could also go to shareholders to request approval for more funds.
Deutsche Bank is deliberating whether to sell the shares once it reaches a settlement with the Justice Department in the probe tied to residential mortgage-backed securities, said the people. No final decisions have been made and the bank could decide against a capital increase, they said.