EghtesadOnline: The Federal Reserve is back in the financial-market spotlight, with strengthening speculation that an interest rate hike is imminent buoying the dollar for an eighth day against the yen, dragging gold lower, and spurring the yield on two-year Treasuries to the most in 10 years versus German notes.
The dollar climbed against most of its peers following further evidence that the world's biggest economy is sufficiently robust to cope with higher borrowing costs. Bunds halted a three-day losing streak before the European Central Bank releases an account of its last policy meeting. Banks in the region rose for a third day, with the Stoxx Europe 600 Index fluctuating, while emerging-market equities climbed toward a two-week high. Gold extended its longest losing streak since May, and crude fell from its highest level since June, reports Bloomberg.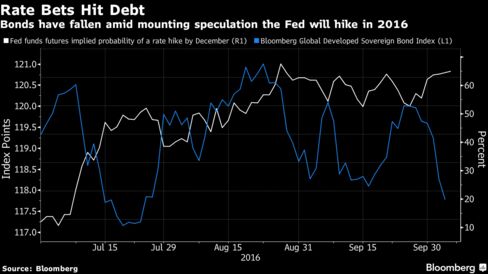 The outlook for monetary policy in the world's biggest economies is dominating investor sentiment this week, with bets on a Fed rate increase by the end of this year mounting. Friday's key payroll data will be closely watched for indications of the likely trajectory of borrowing costs before the nation's earnings season kicks off next week. Ultra-low rates are not necessarily here to stay, Fed Vice-Chairman Stanley Fischer saidon Wednesday.
Positive economic reports this week have hinted that "tomorrow's payrolls data has some scope to surprise to the upside" said Manuel Oliveri, a currency strategist at Credit Agricole SA in London. "If you have indications that the labor market continues to improve, it's something that may actually put the Fed closer to tighten monetary policy in December. That's the main reason why the dollar is very much in demand for now."
Currencies
The greenback extended its longest run of gains against the Japanese currency since July 2014.
The market-implied probability of a Fed hike by December rose to 62 percent from 51 percent at the start of last week, according to futures data compiled by Bloomberg. Non-farm payrolls data Friday will show U.S. employers added 172,000 jobs in September, compared with 151,000 in the previous month, according to a Bloomberg economist survey.
The dollar added 0.2 percent to 103.66 yen at 10:42 a.m. in London, after strengthening more than 3 percent in the previous seven days.
The pound resumed its decline as concern the U.K. is headed for a deal that would deny it unfettered access to the European Union's single market prompted investors to keep selling. The slide followed a recovery on Wednesday, when traders took advantage of sterling's drop to a 31-year low against the dollar and the weakest level since 2011 versus the euro to buy.
Bonds
The yield premium investors earn for holding two-year Treasuries over similar-maturity German debt widened to the most since July 2006, indicating traders see U.S. rates rising sooner and faster than in Europe.
While reports this week speculating on a paring of ECB stimulus weighed on the region's bonds, the spread signaled that the policy-divergence view regarding the Fed and the ECB is still intact. Shorter-dated bonds are more sensitive to the outlook for monetary policy than longer maturities.
U.S. 10-year Treasuries were little changed, with the yield near a two-week high. A Bloomberg index of developed-market sovereign debt ended Wednesday at the lowest level since July.
The yield on German bunds fell four basis points to minus 0.04 percent, after rising 11 basis points over the last three days.
Commodities
Crude oil declined 0.1 percent to $49.76 a barrel in New York, after advancing 2.3 percent to a three-month high on Wednesday. U.S. stockpiles fell below 500 million barrels last week for the first time since January, official data show. The oil rally will stall at $55 a barrel, according to Goldman Sachs Group Inc.
"There is a bit of a cap for oil at about $50 because above that level, once we head up toward $55 a barrel, there's concerns that U.S. shale producers will jump back into action," said Michael McCarthy, chief market strategist in Sydney at CMC Markets. "The draw in crude stockpiles is clearly one of the factors contributing to the positive momentum."
Gold fell 0.1 percent, extending its losing streak to eight days, the longest since May. Nickel gained for the first time this week in London as investors assess a Philippines mining audit that could prompt shutdowns in the world's biggest supplier, and news that Indonesia may resume some sales of nickel ore.
Stocks
The Stoxx 600 fell 0.3 percent in London, after Wednesday halting its longest streak without losses in a year on concern that the ECB is turning less accommodative. Banks posted the best performance of the equity benchmark's 19 industry groups.
EasyJet Plc slid 5.8 percent after posting its first decline in annual profit since 2009 as terror attacks clipped demand and the weaker pound inflated foreign-currency costs. Dialog Semiconductor Plc added 4.2 percent after the Apple Inc. supplier reported higher preliminary sales than forecast.
Merger and acquisition activity was also in focus Thursday, spurring moves in the following stocks:
UniCredit SpA rose 1.2 percent after a report that Amundi SA is ready to offer a more-than-expected 4 billion euros ($4.5 billion) for its Pioneer Global Asset Management SpA unit.
Osram Licht AG surged 11 percent after a report that a Chinese company is planning to bid for the German maker of light bulbs and LEDs by mid-October.
Sompo Holdings Inc. jumped by the most since February in Tokyo after the insurer said it agreed to buy New York-listed Endurance Specialty Holdings Ltd. for about $6.3 billion.
Fujitsu Ltd. climbed 5.7 percent after the company was reported to be in talks to sell a majority stake in its personal-computer business to Lenovo Group Ltd., which advanced 1.5 percent in Hong Kong.
Twitter Inc. tumbled 11 percent in premarket New York trading following a report that Alphabet Inc.'s Google isn't interested in buying the social-networking service.
S&P 500 Index futures slipped 0.2 percent, after U.S. equities gained 0.4 percent in the last session.
The MSCI Asia Pacific Index added 0.3 percent with a measure of energy stocks surging 1.9 percent, for the best performance among 10 industry groups.
The MSCI Emerging Markets Index rose 0.2 percent, heading for the highest close since Sept. 23. Shares in Hong Kong led gains, with the Hang Seng China Enterprises Index climbing 1.4 percent. The gauge has rallied 3.8 percent this week, while mainland markets remained shut for holidays.
South Korea's Kospi index increased 0.6 percent. Samsung Electronics Co. jumped 4.5 percent, the most in almost two months, after activist investor Elliott Management Corp. urged the company to restructure its business.