EghtesadOnline: When the leaders of India, Iran and Afghanistan gathered in Tehran in the spring for a ceremony marking India's development of a strategic Iranian port, they recited Persian poetry and said their partnership would "alter the course of history."
On a recent visit, roughly 13 years after India first agreed to develop the port of Chabahar, a single ship floated at the main jetty. Most of the cargo containers scattered in an asphalt lot bore the logo of the state-owned Islamic Republic of Iran Shipping Lines. In an adjacent harbor, a dozen wooden dhows, or traditional fishing boats, bobbed in the water, reports Bloomberg.
Months after the ceremony in May and pledges by India to inject $500 million into the project, the much-heralded port of Chabahar remains a sleepy outpost – as well as a shadow of the Chinese-built port of Gwadar, 100 kilometers (62 miles) to the east across Iran's border with Pakistan.
"What you're seeing is the problem with many of the Indian commitments abroad," said Sameer Patil, an analyst at Gateway House, a research organization in Mumbai. "Once a prime minister makes that commitment, the parties find it difficult to move the process forward. The Indian bureaucracy takes its sweet time."
Chabahar was supposed to be an easy win: India would bankroll a hub to rival the China-Pakistan partnership at Gwadar, Iran would get a major ocean port outside the Strait of Hormuz and spur growth in its poor eastern region, and Afghanistan would gain road and rail links to a deep-water port that could boost its war-ravaged economy. But more than a decade on, the strategic asset is languishing, even as China sinks $45 billion into the China Pakistan Economic Corridor that winds down to Gwadar.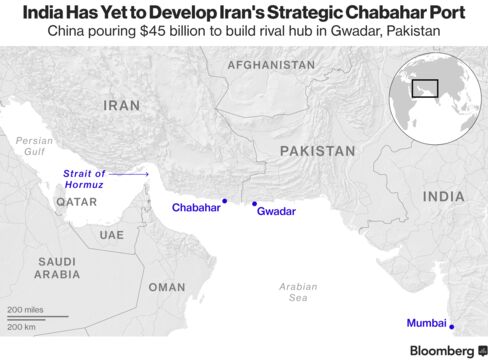 "They should've given the contract to the Chinese," said Zheng Ke, a 37-year-old businessman from China, speaking in Persian at his supermarket in Chabahar's free trade zone as Iranian customers snapped up Chinese-made clothes and kitchen utensils and streamed through check-outs staffed by Chinese workers. "They'd get the port done in no time."
Despite the project's importance, Indians and Iranians haggled for two years over who would pay $30 million of excise duties on port equipment imported into Iran, according to Iranian diplomat Hamid Mosadeghi.
"The slowness comes from these small things," said Mosadeghi, who heads the economic section at Iran's embassy in New Delhi. "Both sides want to expedite this."
For Prime Minister Narendra Modi, Chabahar could aid his goals of integrating South Asia's economies and boosting India's stature in the region. However, the slow pace of its development has drawn criticism.
"With China and Pakistan developing Gwadar just a few kilometers away, India cannot afford either delay or inattention to this vital port," said Shashi Tharoor, a lawmaker with India's opposition Congress Party and chairman of a parliamentary committee on foreign affairs.
Chabahar could be a linchpin for the region's economy. It's close to the western Indian ports of Kandla, Mundra and Mumbai and could help India's farmers get cheaper access to fertilizers and other commodities from central Asia and beyond.
New Jetties
"We are dependent substantially on urea, ammonia and fertilizers, and given Chabahar's geographic proximity, the transport costs are negligible," India's ambassador to Iran, Saurabh Kumar, said in an interview in Tehran.
Chabahar is also crucial for land-locked Afghanistan. The deal includes a north-southrailroad that could help the country exploit an estimated $1 trillion of untapped mineral wealth and reduce its reliance on aid.
India will invest $85 million in equipment and lend $150 million for the first phase, which includes two terminals and five jetties, according to Kumar. Transport ministers from Iran, India and Afghanistan met last week in New Delhi to assess progress.
"We have not fallen behind in the Chabahar port development plans,'' Iranian Transport Minister Abbas Akhoundi said after the meeting on Sept. 28. "This plan is being carried out at the appropriate speed."
Geopolitical 'Race'
Chabahar may even benefit China. The country, which deepened trade ties with Iran after the U.S. and European Union tightened sanctions in 2012, could cash in on the gradual re-opening of the Islamic Republic's $400 billion economy.
Beijing is also expanding its footprint elsewhere in the Gulf: A unit of China's biggest shipping group, Cosco Shipping Co., signed a deal on Sept. 28 to build and operate a container terminal in the United Arab Emirates.
"There is a race," said Patil, the Gateway House analyst. "But the ground reality is that the Chinese commitments in the region are already up and running, while Indian's proposals remain proposals."
Islamic Militants
For Iranians, the new investment can't come soon enough. Sanctions, which were eased in January, exacerbated poverty in Sistan-Baluchestan, Iran's poorest province, where security forces are fighting insurgents and face a threat from Islamic State militants across the border in Pakistan and Afghanistan.
Once developed, Chabahar will be able to handle large cargo ships and will no longer need U.A.E. ports to act as intermediaries by off-loading goods on to smaller boats.
The project will also lessen Iran's vulnerability to possible disruptions in the Strait of Hormuz, said Abdolrahim Kordi, deputy head of economic affairs at the Chabahar Free Trade Zone. If the Strait, a shipping bottleneck at the mouth of the Gulf, were to be blocked due to regional hostilities, Chabahar would be "the only point that can connect Iran to open seas," he said.
At Zheng's supermarket overlooking the port, any payoff from Chabahar's development remains a distant prospect.
"It'll bring more goods here of course, but who knows when it'll be done," Zheng said.