EghtesadOnline: As the price of oil stays stubbornly low, investors in the Middle East are turning to deals. Mergers and acquisitions activity in the Persian Gulf region is set to accelerate as lower oil prices force governments and corporations to consolidate fragmented industries, according to Bank of America Corp.
"The drop in oil prices has made people in the region go back to the drawing board and seriously analyze their existing portfolio and investments," Wadih Boueiz, co-head of corporate and investment banking for Middle East and North Africa, said in a phone interview. "They are taking bold decisions to rationalize existing portfolios, reduce reliance on leverage and encourage consolidation."
Crude's more than 50 percent plunge since the middle of 2014 has already pushed governments from Saudi Arabia to the United Arab Emirates to cut spending, privatize state assets and consolidate businesses in sectors such as banking. Money spent acquiring companies in the Middle East and Africa rose almost 300 percent last quarter to about $30 billion, the most in at least 12 years, according to data compiled by Bloomberg.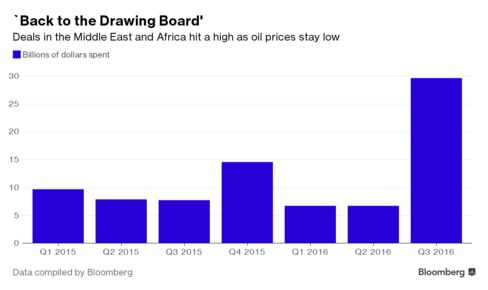 'Transformational' Change
In one of the largest-ever deals in the region, Abu Dhabi agreed to merge National Bank of Abu Dhabi PJSC and First Gulf Bank PJSC earlier this year to create a lender with assets of about $175 billion and combined market value of almost $30 billion. Boueiz said he expects further consolidation in the regional banking industry as a move to cut costs and improve efficiency among lenders.
In Saudi Arabia, Deputy Crown Prince Mohammed bin Salman is overseeing an unprecedented shakeup of the biggest Arab economy. The country plans an initial public offering Saudi Arabian Oil Co., which the prince said may value the company at more than $2 trillion. Its sovereign wealth fund invested $3.5 billion in U.S. ride-hailing company Uber Technologies Inc. earlier in the year to diversify its assets with more overseas acquisitions.
"What's happening in Saudi Arabia is transformational," Boueiz said. "That will encourage a lot of other governments in the region to also think very seriously about where they need to get to with their own fiscal and economic plans."
Bin Salman unveiled the country's National Transformation Plan in June. As part of the plan, the country will reduce the public-sector wage bill and subsidies by 2020, scaling back the state largess that helped ensure political loyalty in the largest Arab economy. The program seeks to create 450,000 jobs in the private sector and aims to revamp industries such as health care.
Sovereign Wealth
Boueiz, who also runs the bank's business with sovereign wealth funds, said the groups have been selectively deploying capital in sectors such as infrastructure, health care and education.
"Sovereign wealth funds are selectively deploying capital," Boueiz said. "It's not like the world has stopped for them."
Qatar Investment Authority bought almost 10 percent of Empire State Building owner Empire State Realty Trust Inc. in August, seeking to boost investments in North America and the Asia-Pacific region. Some Middle Eastern wealth funds have teamedup with Canadian investors to bid for a controlling stake in the domestic gas network of National Grid Plc, people familiar with the matter said in April.
United Arab Shipping Co., owned by several sovereign wealth funds in the Middle East -- including majority shareholder Qatar Investment Authority and Saudi Arabia's Public Investment Fund -- agreed to merge with Germany's Hapag-Lloyd AG in June.
Doncasters, Sadia
Sales of assets in the Middle East and Africa also surged last quarter, up almost 200 percent to $8.7 billion, according to the data.
Charlotte, North Carolina-based Bank of America was one of the advisers chosen to work on Dubai International Capital LLC's sale of British engineering group Doncasters Group Ltd., people familiar with the matter said in August.
The U.S. lender also advised Dubai-based Media.net on its $900 million sale to a Chinese consortium in August, and the bank is assisting BRF SA, Brazil's biggest processed-food maker, on the potential IPO of its Sadia Halal unit, people familiar with the matter said last month.