EghtesadOnline: Iran, fresh from an OPEC meeting where it won significant concessions from regional rival Saudi Arabia, will accelerate the rejuvenation of its sanctions-ravaged energy industry on Tuesday when the state producer signs a new-model oil investment contract.
National Iranian Oil Co. will complete a $2.5 billion deal with a group of local companies, according to an oil ministry official. The new type of contract, designed to better reward investment in crude and natural gas production, is seen by Oil Minister Bijan Namdar Zanganeh as crucial in increasing the country's long-term export potential, reports Bloomberg.
Although it may take years for new investment deals to bear fruit, the signing will cap a good few days for Zanganeh, who returned from last week's OPEC meeting in Algiers having secured Iran's right to pump more oil even as Saudi Arabia and its Gulf Arab allies agreed to curb output. President Hassan Rouhani's government has argued that it should be allowed to return production to levels achieved before international sanctions curbed shipments.
"Iranians feel that they've missed out on a big, big party because of sanctions," Francisco Blanch, head of commodities research at Bank of America Merrill Lynch, said in an interview. "Sanctions basically took a lot of production out at a time when oil prices were very, very high. Iran doesn't really have to cut production, and it's going to get a higher price."
The prospect of higher oil -- benchmark prices in London traded at a three-month high above $50 a barrel on Monday -- coupled with increased investment in the energy industry will also be a boost to Rouhani, who faces a reelection battle next year when he must convince voters that rapprochement with the West is paying off economically. Brent crude slipped 0.4 percent to $50.70 a barrel at 9:57 a.m. in Dubai
Even if the real test for Rouhani's government would be to convince international oil companies to invest in the country, the oilfield development contract to be signed Tuesday will be evidence of progress, together with rising crude exports. The local companies, which haven't been identified publicly, will develop part of the Yaran field in southwest Iran, near the Iraqi border.
The International Monetary Fund said Monday that economic conditions in Iran are improving substantially and forecast growth of at least 4.5 percent in 2016-17.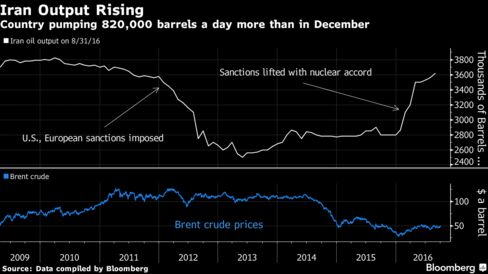 Iran aims to increase exports to 2.35 million barrels a day in coming months from about 2.2 million barrels a day, state news agency Islamic Republic News Agency reported Sunday, citing Mohsen Ghamsari, NIOC's international affairs director. The country has raised export capacity to 4 million barrels a day, NIOC's managing director Ali Kardor said, according to an IRNA report on Monday.
Iran told the Organization of Petroleum Exporting Countries that it wants to produce about 4 million barrels of crude a day to regain its pre-sanctions share of the market, Zanganeh said last week. Iran produced 3.62 million barrels a day in August, data compiled by Bloomberg show.
A previous attempt to reach a freeze agreement in April failed when Saudi Arabia insisted that Iran should participate even without recouping the production levels it lost under international sanctions. Saudi Arabia, OPEC's biggest producer, softened its stance in Algiers, with Energy Minister Khalid Al-Falih saying that Iran, along with Libya and Nigeria, should be allowed to "produce at the maximum levels that make sense."
OPEC Quotas
Iran's eventual production cap isn't clear. While OPEC agreed on a new overall range for production, it will set up a committee to decide on output quotas for individual members, before it meets again in Vienna next month.
Iran may already be near its maximum output in the absence of new investment, Jaafar Altaie, managing director at consultants Manaar Energy Group, said by phone from Abu Dhabi. The country needs foreign money and technology to counter the natural decline of its aging fields and to push production capacity much beyond 3.8 million barrels a day, he said.
Paolo Scaroni, the former chief executive of Italy's Eni SpA, said Iran is able to pump as much as 4.1 million to 4.2 million barrels daily. Any increase from there will take time and foreign investment, said Scaroni, who is now a vice chairman at NM Rothschild & Sons Ltd., speaking in a Bloomberg television interview from London on Monday.
"The pressure is on NIOC to show they can bring additional barrels to the market," Manaar Energy's Altaie said.