EghtesadOnline: China is plowing ahead with its year-end targets for cutting unneeded coal production capacity while also seeking to ease production controls on selected miners to cool rising prices.
According to Bloomberg, the world's biggest producer is doing "extremely well" cutting overcapacity in both coal mining and steel making and is likely to surpass its annual goals, Xu Shaoshi, chairman of the National Development and Reform Commission, said in an interview Friday in Beijing. The same agency in recent weeks has allowed selected large miners to boost production to cool prices that have risen more than 50 percent this year as the country's output drops by a tenth.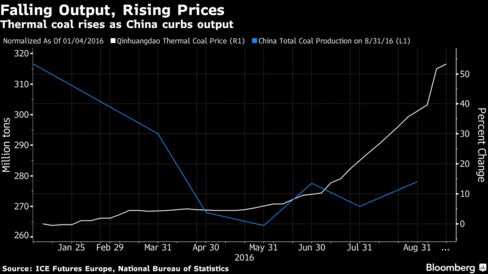 "We are most likely to complete the target in cutting overcapacity in steel and coal earlier than planned," Xu said. "We will exceed the goal by the end of the year."
Both industries are at the heart of President Xi Jinping's "supply side structural reforms" as his government seeks to reduce industrial overcapacity and shift the world's second-biggest economy toward consumer-driven growth.
The NDRC warned miners and steel makers in August to speed up closures that were behind schedule. About 95 million metric tons of coal capacity had been cut by the end of July, or 38 percent of the annual target of 250 million tons, the NDRC said last month. Steel was reduced by 21 million tons, only 47 percent of its 45 million ton target.
Balancing Act
China has struggled to balance capacity cuts against rising prices. Along with the boost in thermal coal, a rebound in steel prices from the lowest in more than 12 years has encouraged mills to increase output to a record and helped the price of coking coal, used in the steelmaking process, to more than double this year.
The government earlier this year pursued policies aimed at eliminating outdated and inefficient coal producers while helping support larger, modern miners that were struggling with prices that tumbled to the lowest in almost a decade. The ensuing output decline pushed up prices so quickly that regulators scrambled to fine tune their plans.
Policy makers have intensified efforts to raise coal production in recent weeks. One week after deciding on Sept. 23 to allow some miners to boost activity to raise the country's output by 500,000 metric tons a day, the NDRC met again with miners to discuss the possibility of raising the daily extra production target to 1 million tons.
'Advanced' Miners
The new policies aimed at lowering prices are "unlikely to lead to a decline as demand may also jump during winter, and the current inventory level is low," Michelle Leung, a Hong Kong-based Bloomberg Intelligence analyst wrote in a report Monday. "The decision to allow greater output is to make sure there will be enough coal for heating during the winter, which is expected to be colder than in the past. "
The NDRC is also allowing some "advanced" and "high efficiency" miners to raise production from Oct. 1 to Dec. 31, the China Economic Herald reported Thursday, citing an NDRC official whom it didn't identify.
China Shenhua Energy Co., the nation's biggest miner, was up 2.2 percent at HK$15.50 as of 10:53 a.m. Hong Kong time, while China Coal Energy Co. gained 0.2 percent. The city's benchmark Hang Seng Index added 1.3 percent.