EghtesadOnline: European stocks rose with U.S. equity index futures as oil stabilized below $45 a barrel before major producers meet to discuss output constraints in Algiers. The dollar strengthened versus most peers.
Resource producers led gains on the Stoxx Europe 600 Index, while Japanese shares led losses in Asia as most of the Topix index's members began trading without the right to a dividend. Crude fluctuated, having slumped 2.7 percent in the last session as speculation faded that a deal will be struck at Wednesday's OPEC talks. A gauge of the greenback's strength rose from a two-week low ahead of U.S. data on durable goods orders and remarks by Federal Reserve officials including Chair Janet Yellen. Bonds advanced in Japan and Germany, according to Bloomberg.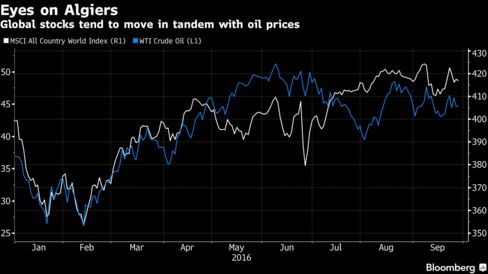 Crude prices, a key determinant of global stock moves this year, have been whipsawed over the past week as prospects for an accord swung to and fro. Saudi Arabia and Iran have said there's little chance of an agreement being reached in the Algerian capital, while leaving open the possibility of a deal when the Organization of Petroleum Exporting Countries next meets in November. An output freeze was first proposed in February and the International Energy Agency sees a global oil glut persisting until late 2017.
"OPEC members are peddling their self interests, and while that's the case, there can't be a cooperative effort," said Michael McCarthy, chief market strategist in Sydney at CMC Markets. "There is little possibility of that coming together. Oil is trapped between $40 and $50 a barrel, and at this stage, there doesn't appear to be anything on the horizon to break prices out of that range."
Stocks
The Stoxx Europe 600 Index gained 0.8 percent as of 8:13 a.m. London time ahead of a speech by European Central Bank President Mario Draghi. Deutsche Bank AG rallied 3.2 percent after agreeing to sell its U.K. insurance unit Abbey Life Assurance Co. for 935 million pounds ($1.2 billion). Shareholders of SABMiller Plc will vote Wednesday on whether to accept Anheuser-Busch InBev NV's $104 billion takeover offer.
The MSCI Asia Pacific Index declined 0.7 percent and was near a one-week low. The Topix fell 1.4 percent as some 1,095 stocks on the gauge went ex-dividend, while Taiwan's markets were shut for a second day owing to a hurricane. Postal Savings Bank of China Co. edged up 0.2 percent in Hong Kong as it made its trading debut following the world's biggest first-time share sale of the year.
Futures on the S&P 500 Index rose 0.1 percent. The underlying gauge gained 0.6 percent on Tuesday, buoyed by a report showing American consumer confidence rose to the highest level since 2007.
Commodities
Crude oil was up 0.1 percent at $44.71 a barrel in New York, having posted moves of more than 2 percent for each of the last five days. Prices steadied after industry data indicated U.S. supplies fell by 752,000 barrels last week. The OPEC meeting in Algiers, which is also being attended by Russia, is due to start at 3 p.m. local time.
Gold declined 0.3 percent following a 0.8 percent drop in the last session that marked its steepest slide this month. Copper rose 0.4 percent in London, rebounding after its biggest loss in a month.
Currencies
The Bloomberg Dollar Spot Index rose 0.1 percent, gaining for the first time this week before data that's forecast to show durable goods orders fell in August. Yellen will address lawmakers on Wednesday and the lineup of Fed officials due to make speeches includes Loretta Mester and Esther George, both of whom voted in favor of an interest-rate increase at last week's policy review. The central bank held borrowing costs steady on Sept. 21 and futures prices reflect coin-toss odds of a hike by December, down from 61 percent a week ago.
"The market is waiting on fresh direction, potentially from some Fed speakers tonight," said David Forrester, a foreign-exchange strategist at Credit Agricole SA's corporate and investment-banking unit in Hong Kong. "The dollar is likely to be subject to some temporary downside risk ahead of the U.S. presidential election and will be especially dependent on the opinion polls."
New Zealand's dollar weakened 0.3 percent versus the greenback, the biggest loss among 16 major currencies. The ringgitapproached a three-month low as Tuesday's drop in oil prices worsened prospects for Malaysia, Asia's only major net exporter of crude.
Bonds
Japanese sovereign bonds due in a decade climbed, pushing their yield to a one-month low of minus 0.09 percent. That compares with the Bank of Japan's target of about zero for the rate and Mitsubishi UFJ Morgan Stanley Securities Co. said yields are approaching levels that could convince the authority to slow its debt purchases.
U.S. Treasuries due in a decade were little changed, keeping their yield near a three-week low at 1.56 percent. The government is scheduled to sell $28 billion of seven-year notes and $13 billion of two-year floating-rate notes on Wednesday.
New Zealand's 10-year bonds rose for a sixth day, pushing their yield down by two basis points to 2.34 percent. The rate on similar-maturity notes in Germany fell one basis point to minus 0.15 percent.