EghtesadOnline: Gold may be in for a bumpy ride in the final quarter as Republican candidate Donald Trump now has a 40 percent chance of winning the presidential election and investors will be preparing for the possibility of higher U.S. interest rates, according to Citigroup Inc.
According to Bloomberg, volatility in bullion and foreign-exchange markets may increase, according to a commodities report from the bank as it raised the odds on a Trump victory over Democrat Hillary Clinton in November from 35 percent. There would probably be a single U.S. hike by year-end, it said. A Bloomberg Politics poll has Trump and Clinton deadlocked before a debate later today.
Bullion has rallied 26 percent in 2016, rebounding from three years of losses, as low or negative interest rates have bolstered demand. Political uncertainty has also played a part, with the U.K.'s vote to quit the European Union spurring haven demand. Forecasters including Singapore-based DBS Group Holdings Ltd. have said that the U.S. contest may buttress prices amid concern about the possible implications of a Trump presidency.
"Polls have started to tighten ahead of the U.S. presidential election, and Citi has raised the probability of a Trump victory," the bank said in the note. "We expect a Trump win would bring out higher volatility in gold and forex, which in turn should lead to higher volumes in other precious metals."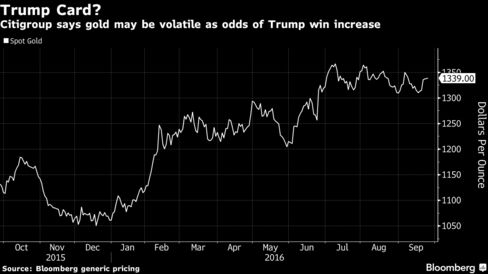 Gold was at $1,337.23 an ounce by 12:57 p.m. in London, with Citigroup seeing futures at $1,350 on a three-month basis and $1,270 on a six- to 12-month view. Under the bank's base case it may be at $1,320 in the final quarter, or $1,425 under the bull case, which included the possibility of a Trump win.
The Republican and Democratic nominees each get 46 percent of likely voters in a head-to-head contest in the latest Bloomberg Politics national poll, while Trump has 43 percent to Clinton's 41 percent when third-party candidates are included.
Trump has proven to be a resilient if unconventional candidate, courting controversy with blunt remarks throughout his run for the White House to see off a crowded Republican field of contenders and face the former secretary of state. Among policy proposals, he's attacked U.S. trade policy and threatened to build a wall along the border with Mexico.
The candidates are set to square off at Hofstra University in Hempstead, New York, on Monday, an event forecast to be one of the most-watched television events in U.S. history. Nationally, Clinton leads Trump by an average of 2.5 percent, according to polls tracked by the RealClearPolitics website.
"Citi's base case is for a Clinton victory and mostly continuity in policies, which would leave U.S. and global growth expectations relatively unchanged," the bank said, while describing the U.S. contest as "increasingly bizarre."
"But a Trump victory is a wild card and Citi expects this, among lingering uncertainties from Brexit and elsewhere, may cap the prospects for global growth to pick up in the remainder of the year," it said.