EghtesadOnline: For at least one group of bond investors in Turkey, the country's downgrade to junk at Moody's Investors Service was a signal to jump in after yields became too attractive to ignore.
As the country's debt and equity markets suffered the biggest losses in emerging markets on the first trading day since Friday's cut, an auction of new government 10-year notes on Monday received the most bids in almost two years. Yields at the sale rose 22 basis points from a sale last month, to 9.94 percent, more than double the average yield on emerging-market sovereign debt in a Bloomberg index.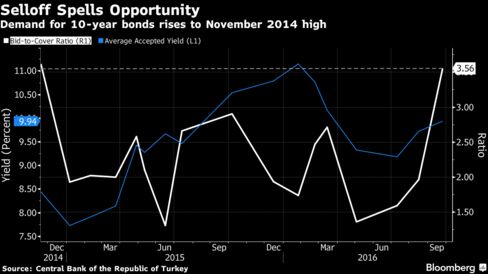 Turkey's most successful local bond sale since 2014 is a signal that many are calling the bottom of a selloff that's outpaced all emerging-market peers this quarter. While domestic banks and investors account for the biggest holders of lira debt, foreign money managers, including Aberdeen Asset Management and Union Investment Privatfonds GmbH, say prices may have fallen far enough to herald a rebound.
"Investors have been waiting for the downgrade, keeping their powder dry, so the interest was high for the first auction," said Ogeday Topcular, a managing partner at Ram Capital in Geneva who helps oversee $300 million in fixed-income assets and has a "neutral-to-negative" position in Turkish assets.
Higher Yields
Yields on the country's 10-year climbed as much as 50 basis points to briefly cross 10 percent before closing at 9.80 percent. Turkey's borrowing costs increased 58 basis points this quarter as an attempted coup in July spooked investors, while peers including Brazil and Russia saw their rates fall. Demand at Monday's bond auction exceeded supply by more than 3.5 times while the bid-to-cover ratio on a sale in August was 1.96.
The turmoil hasn't deterred foreign investors entirely, with $4.37 billion flowing into the country's sovereign bonds this year, according to data from the central bank. The Moody's cut to Ba1 comes two months after S&P Global Ratings took a similar step in the days following the attempt by military faction to overthrow the government. Many of the world's biggest funds require investment-grade scores from two of the three largest ratings companies, prompting JPMorgan Chase & Co. to estimate in July that such a move by Moody's risked setting off as much as $7.2 billion in forced selling of sovereign notes.
Tempting Prospect
Turkish debt with yields near 10 percent present a tempting prospect to investors looking for antidotes to the near-zero rates on equivalent developed-world bonds. Union Investment is considering adding to its "substantial holdings," according to Frankfurt-based money manager Sergey Dergachev.
"It's difficult to find attractive yields nowadays," said Viktor Szabo, a money manager at Aberdeen Asset Management in London, who helps oversee about $10 billion in emerging-market securities and holds a "long" position on the country's bonds. "The rise in yields today surely will be more interesting for many."
Not all analysts are convinced. Turkey's debt still has further to fall, according to Morgan Stanley, which calls current valuations "not cheap enough to buy," and predicted investment-grade only funds will pull as much as $3 billion more from the country's bond market.
The selloff since the Moody's cut to junk "has been muted so far" because many investors were already underweight, Morgan Stanley analysts including Ercan Erguzel said in a note on Monday. Still, the downgrade means one uncertainty that had loomed over the market is now resolved and Morgan Stanley stands "ready to buy" Turkish government debt maturing in 2026 if yields rise to 10.3 percent.
Moody's action may also "trigger" Amundi Asset Management to add to a neutral position on Turkish local bonds, Esther Law, an emerging-markets investment manager at Amundi in London, said last week.
"I think yields are now more attractive after the sell off today," Law said on Monday.