EghtesadOnline: Egypt's central bank, which unexpectedly left borrowing costs unchanged last week, is keeping its powder dry for what one economist called a "super" rate increase.
Five out of 8 economists in a Bloomberg survey had expected the Monetary Policy Committee to raise its key rate on Thursday to curb accelerating inflation and lay the ground for a widely anticipated devaluation. The meeting was likely the last before Egypt secures a $12 billion loan accord with the International Monetary Fund to finance a program that includes imposing value-added taxation and adopting a flexible exchange-rate.
Hany Genena, head of research at investment bank Beltone Financial, said policy makers wanted to retain the "power to surprise" investors over the timing of the currency move. He said a "super rate hike" and a possible flotation of the currency will now likely come outside scheduled central bank meetings, reports Bloomberg.
First Devaluation
The central bank weakened the pound by more than 10 percent in March in a bid to attract investments, a move that ultimately wasn't enough to crush a black market that flourished amid a crippling dollar shortage. Economists and investors say another devaluation is essential to restore confidence.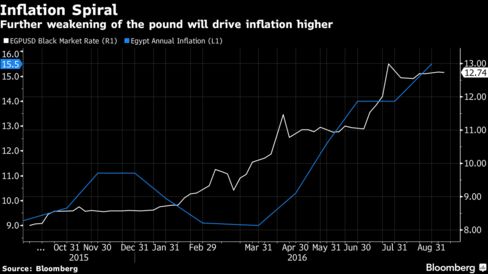 The MPC, led by Governor Tarek Amer, kept the overnight deposit and lending rates at 11.75 percent and 12.75 percent, respectively, the highest in more than a decade. Explaining its decision, it said a surge in inflation to 15.5 percent in August was mainly due to seasonal factors and the prices of "regulated items," playing down the effect of the March devaluation.
Mohamed Abu Basha, a Cairo-based economist with investment bank EFG-Hermes, wrote that the central bank "may want to see the impact of the VAT on inflation before raising rates, as well as save more ammunition for a potential Egyptian-pound adjustment."
He predicted rates will increase by as much as up to 200 basis points this year. Jason Tuvey, an economist at Capital Economics in London, said the overnight deposit rate may increase by 450 basis points by the end of next year.
Not everybody is convinced a rate increase is necessary.
With 10-year Egyptian Treasury Bonds yielding a record 16.4 percent, the fixed-income market is already attractive to foreign investors, said Radwa El Swaify, an economist at Pharos Holding in Cairo.
Attracting foreign investments isn't just a matter of attractive interest rates, she said, but also "a matter of confidence in the banking system, exchange rate stability," as well as the absence of a black market for dollars, she said.
"If these prerequisites are secured, lower rates should actually follow in order to spur investment and steer the wheel of the economy."