EghtesadOnline: London's luxury homes will slump the most since 2008 this year after Britain voted to leave the European Union, according to Savills Plc.
Prices will drop 9 percent, the broker said Wednesday. It estimated in October that values would be unchanged this year. Uncertainty surrounding the outcome of the U.K.'s negotiations to leave the EU will accelerate declines that began when higher sales taxes were introduced last year, Bloomberg quoted Savills as saying.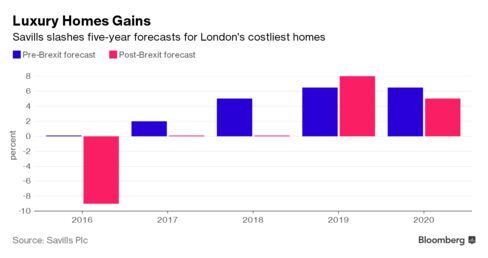 Savills, which had estimated values would surge 21.5 percent in the five years through 2020, cut that forecast to 3.2 percent.
The high volume of homes being completed in the best districts will test rental demand and investors' yield expectations, Savills said. As a result, developers will probably complete projects over a longer period to lower the risk of oversupply, according to the report.
"Brexit has clearly been a reality check for the high-value end of the market which had already been the most affected by a succession of property tax hikes," said Savills Research Director Lucian Cook. "It's difficult to see where upward pressure on pricing will come from until we know the outcome of the negotiations."
Luxury-homes owners were already struggling to sell their properties after the stamp duty sales tax rose to as much as 15 percent in April of this year for landlords and second-home owners. Following the referendum, potential buyers will wait to assess how Brexit negotiations proceed and the economic impact if the U.K doesn't secure passporting rights to sell financial services into the EU, Savills said.
The city's most expensive homes have been the worst performers in central London's best districts in the last five years, the report shows. The value of homes priced at 10 million pounds ($13 million) or more has risen 1 percent in the period compared with a gain of almost 35 percent for those priced from 500,000 pounds to 1 million pounds. Properties declined 8.9 percent in Chelsea and 6.8 percent in Knightsbridge from January to August, broker Knight Frank LLP said this month.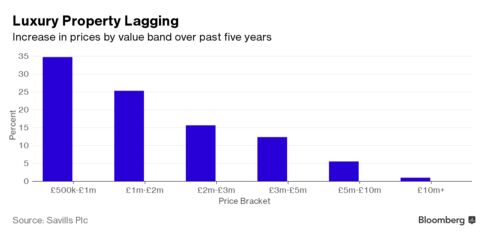 There was a three-percentage point increase in stamp-duty sales tax for landlords and second-home owners in April, which followed an increase in the charges for all luxury-home buyers in 2014. For owner occupiers, the hike means that a 12 percent tax rate is paid on the portion of the value above 1.5 million pounds.